Working Together: Human Rights, the Sustainable Development Goals and Gender Equality
by The British Academy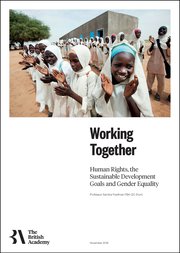 Year

2018

ISBN

978-0-85672-631-4

Number of pages

52
Summary
For the UN's Sustainable Development Goals (SDGs) to be truly transformative for women, it is crucial to ensure that they are infused with a transformative understanding of gender equality. Rather than simply focusing on like treatment or aggregate outcomes, this requires attention to be paid simultaneously to four dimensions of equality: redressing disadvantage; addressing stereotyping, stigma, prejudice and violence; facilitating voice and participation; and systemic or institutional change. This report uses the lens of transformative equality to compare the ways in which the SDGs and human rights address two main issues: women and reproductive health, and women and poverty. The aim is to construct an evaluative framework based on a multi-dimensional understanding of substantive equality and apply it to selected topics to illuminate areas of potential synergy.
The report emphasises that furthering transformative gender equality requires a concerted effort on many fronts. The SDGs, with their many interlocking goals touching on gender equality, represent great promise. However, their focus on aggregate outcomes pays too little attention to the qualitative dimensions of substantive gender equality; while the inadequacy of the accountability mechanisms leaves the attainment of the SDGs vulnerable to political will. The human rights framework, for its part, adds a greater level of accountability and more attention to the individual, as well as aiming to put in place ways to achieve the ultimate goals, and checking that these in turn are human rights compliant. However, the substance of human rights, through the prism of gender equality, is still contested, particularly in relation to women in poverty. Moreover, the accountability structures, while in principle legally binding, are only as strong as the political will of signatory states to implement them.
This report argues that it is crucial for the two structures (human rights and SDGs) to work together in a synergistic manner to achieve transformative gender equality and to ensure that the ambitious promises of the SDGs are not simply fleeting hopes. This, in turn, depends on sustained civil society action, to hold governments to account both for their promises under the SDGs and under the human rights framework, mobilising all relevant forums both internationally and domestically. The importance of bringing together the SDGs and human rights with a view to achieving transformative gender equality can be seen by considering an issue of pressing importance: adolescent pregnancy. Pregnancy and childbirth complications are the second most prevalent cause of death among 15 – 19-year-olds, with as many as 70,000 adolescents affected every year. Early and unintended pregnancy also has major detrimental effects on adolescent girls' social and economic opportunities, as well as that of their families and future generations. Addressing these issues requires a holistic approach encompassing all the dimensions of substantive equality. 
Sign up to our email newsletters