Inequalities and Cohesion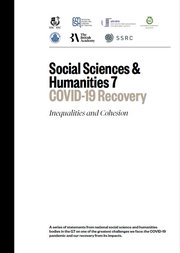 Year

2021

Publisher

The British Academy

Number of pages

4
The UK is the host of this year's G7. In recognition of this, the British Academy has convened a virtual forum of SSH7 – social science and humanities representative bodies of every country in the G7. Our world-leading humanities and social sciences sectors across the G7 are coming together to provide a global platform for this research excellence and for the vital contribution these disciplines can bring to major societal, behavioural and environmental challenges of today. We have agreed a series of statements on one of the greatest challenges we face, namely the COVID-19 pandemic and our recovery from its impacts.
This statement on inequalities and cohesion focuses on how COVID-19 has affected and highlighted inequalities and relationships between communities of people, and senses of community and belonging.
It outlines some of the key insights from the humanities and social sciences on the importance of social cohesion and solidarity in response to the pandemic and on attending to the inequalities, that were highlighted and deepened by the pandemic. Plans for redevelopment in the post-crisis recovery will need to take account of the inequalities that exist within and between communities.
Sign up to our email newsletters