Indigenous thinking about nature-based solutions and climate justice
by Mercia Abbott, Tokintekai Bakineti, Lyn Carter, Anita Latai-Niusulu, Willy Missack, Ihaia Puketapu and Rebecca Kiddle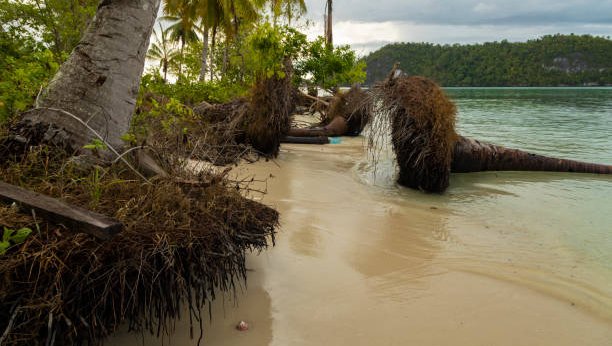 In keeping with efforts to activate decolonisation, we will be transparent about our politics and privilege which always shapes analysis but is often hidden behind the anonymity of an author's name. We will introduce ourselves and our backgrounds, the parts of our lived experience that helped frame our world view and set out what we are hoping to communicate to readers of this paper as brief author positionality statements. This follows the tradition of Indigenous research methodologies.i
Merica Abbott (Ngāti Kahungunu and Ngāi Tahu). I was born in Ōtautahi but grew up in Te Whanganui-a-Tara, Aotearoa New Zealand. I am of Māori descent with iwi and hapū affiliations to Ngāti Kahungunu and Ngāi Tahu. I acknowledge the inherent disconnect and mourning experienced at the loss of not truly knowing my own culture and that this is the by-product of colonisation. Challenging the locus of power and control of an imported imperial view that favours Eurocentric led ideals as the norm, requires a process of decolonisation. My research looks at weaving climate change science, ecologies and mātauranga Māori (Māori knowledge) through spatial constructs. This mahi (work) is guided by relationships to the environment and incorporates a strong emotional and embodied Māori way of knowing that works with kaitiaki (guardians) and is grounded in mātauranga Māori.
Tokintekai Bakineti. I am I-Kiribati. I am a trained Community Development Specialist with a key focus on improving community resilience and adaptation to the impact of climate change and disaster risks. I am currently involved in research activities that aim to describe the vulnerability situations of communities, marginalised social groups, and islands to support informed decision making at the national level.
Dr Lyn Carter (Kai Tahu, Kāti Māmoe, Waitaha, Te Rapuwai). I have a PhD from the University of Auckland, Aotearoa New Zealand and before retirement I was a Senior Lecturer at Te Tumu: School of Māori, Pacific and Indigenous Studies at the University of Otago, teaching in the programme for Indigenous Development. My main research area is environmental literacy with a key focus on Indigenous development and sustainability in the context of climate change. I represent my Rūnaka, Kāti Huirapa ki Puketeraki on the Queenstown Lakes District Council Spatial Plan working group; and the Queenstown Lakes District Council Climate Reference Group. I represent the three Otago Rūnaka on the Otago Regional Council, Strategy and Planning Committee. My publications include: Indigenous Pacific Approaches to Climate Change: Aotearoa/New Zealand (2018), Palgrave.
Dr Anita Latai-Niusulu. I am a Senior Lecturer at the Department of Social Science, Faculty of Arts for the National University of Samoa.
Willy Missack. I am ni-Vanuatu. I am the National Project Coordinator for the Food and Agriculture Organisation of the United Nations, and also work in Secretariat Support for the Vanuatu Climate Action Network. I hold positions as the Queen Young Leader from Vanuatu, a Royal Commonwealth Society Associate Fellow, and am a PhD candidate supported by a NUWAO scholarship.
Ihaia Pukutapu (Te Āti Awa, Ngāti Ruapani, Ngāi Tūhoe). I grew up in the communal marae community at Waiwhetū, Lower Hutt, and live there today. I trained through Tohunga Whakairo, under Rangi Hetet, and was influenced by learning about the connection between tribal migrations over centuries long passed and the associated development between pā building, iwi dialects and whakapapa connections, as well as oral histories from many related tribes.
Dr Rebecca Kiddle (Ngāti Porou, Ngā Puhi). I have expertise in urban design. Specifically: Decolonising Aotearoa New Zealand Cities and Indigenous place identities; Māori housing and urban design; Spatial Justice; Rangatahi (youth) involvement in built environment decision-making; Urban and suburban spaces for community building and third places; and the politics of the production of place. I have worked as a senior academic at Te Herenga Waka Victoria University of Wellington and am now Head of Urban Development at Hutt City Council, in Aotearoa New Zealand. I am co-author of Imagining Decolonisation (2020), BWB Texts.
Acknowledgements:
This paper was co-authored by members of the NUWAO (Nature-based Urban design for Wellbeing and Adaptation in Oceania) research project.ii NUWAO aims to develop nature-based urban design solutions, rooted in Indigenous knowledges that support climate change adaptation and individual and community wellbeing in different contexts across Oceania. NUWAO is led out of Te Wānanga Aronui O Tāmaki Makau Rau Auckland University of Technology and Te Herenga Waka Victoria University of Wellington, both in Aotearoa New Zealand. NUWAO is funded by a Royal Society of New Zealand Marsden grant. The NUWAO team is spread across Aotearoa, and the Pacific. NUWAO's Dr Maibritt Pedersen Zari connected authors, facilitated logistics, and helped to structure and revise this written work for publication, and Dr Paul Blaschke supported the revision of written work.
We acknowledge Alison Anitawaru Cole (South Taranaki Ngāruahine, Ngāti Ruanui, and Taranaki Whānui), who led and coordinated the writing of this report. Alison is from Taranaki in Aotearoa New Zealand. She conducted the initial draft of this report based on her experience negotiating at COP26 as the representative for the Iwi Chairs Forum, which is the collective of Māori leaders who chair their respective legal entities established following grievance proceedings against the Crown. Her research into nature-based solutions is informed by her own lived experience as a decolonising-Māori and Pākeha (white) woman. Through NUWAO, there was an agreement to collaborate on this paper in an effort to share with the British Academy community (and beyond) the nuance and critiques of nature-based solutions. Her hope is that this paper will help readers engage in critical questioning to unpack the Trojan horse of nature-based solutions and support Indigenous leadership in meaningful climate protections.
We acknowledge the voices of Indigenous peoples across the world whose thoughts, comments, and work we have accessed through a wide range of publication types, rather than just traditional academic journal publications and conference papers. This is in acknowledgement of the inaccessibility of these kinds of publications to many Indigenous peoples.
Indigenous peoples, as 5% of the world's total population, protect over 80% of the world's biodiversity.iii
Underpinning an Indigenous approach to nature-based solutions is the commitment to climate justice. Climate justice is founded on the truth that power and privilege cut across climate policy and climate law.iv Climate causes, consequences and remedies must be informed by analysis of power and intersectional identities. Climate justice recognises and seeks to empower Indigenous knowledge. This is explained by Climate Justice Taranaki, a community organisation in Aotearoa New Zealand which supports Indigenous knowledge in climate justice:
… The urgent action needed to prevent climate change must put priority on community-led solutions and the well-being of local communities, Indigenous Peoples and the global poor, as well as biodiversity and intact ecosystems. Indigenous Peoples, peasant communities, fisherfolk, and especially women in these communities, have been able to live harmoniously and sustainably with the Earth for millennia. They are now not only the most affected by climate change, but also the most affected by false solutions to climate change such as agrofuels (that replace food crops and further deforestation) / biofuels (notably tree crops that release isoprene and forms ozone), mega-dams (that flood ecosystems and displace communities), genetic modification (that leads to privatisation and bio disasters), tree plantations (that displace Indigenous tribes and destroy natural ecosystems), carbon offset schemes (which actually increase greenhouse gas emissions) and geoengineering (quick fixes with unmanageable side-effects).v
We argue that these kinds of solutions described above, though they involve 'nature' are not in the spirit of what 'nature-based solutions' should mean. This is important when we carefully consider how underlying worldview relates to the eventual outcomes of nature-based solutions. As the ICUN point out, 'nature-based solutions are actions to protect, sustainably manage, and restore natural and modified ecosystems that address societal challenges effectively and adaptively, simultaneously benefiting people and nature'.vi Essentially, 'nature-based solutions' must have wellbeing of people and the ecosystems they are part of at their core, not the wellbeing of some people over others, or of profit margins and a preservation of 'business as usual' economic thinking that, as established, is the root cause of the biodiversity and climate crises. It is important that the meaning of the terms we use is shared, and that the term nature-based solutions is not co-opted by projects or strategies that do not have human and ecological wellbeing outcomes as their motivation.
Indigenous knowledge is increasingly leading innovative thought-leadership on building meaningful contributions to change.vii It is certainly time for systematic analysis of Indigenous-led solutions and world-wide systems revolution.viii More people are understanding that Indigenous peoples not only should be at the table of decision making, but that they hold the knowledge needed to create meaningful systems change. In a climate justice framework, we must also be vigilant that accessing this knowledge does not become another source of injustice for Indigenous peoples. As Battiste and Henderson explain:
Industrialised societies are demanding that Indigenous peoples share their knowledge, their hearts, bodies, and souls so that Eurocentric society can solve the various problems that its worldview has created. In view of the history of relations between colonisers and the colonised, this is an extraordinarily bold request. The colonising peoples have done nothing to create trust or to build relationships with our ecologies or with our knowledge. They have contaminated the land, and they have refused to have respectful relations with the forces of the ecologies. Indeed, they have competed with these forces. Now they are beginning to suffer the consequences implicit in their actions, and they look toward Indigenous peoples for help.ix
How can Nature-based Solutions be re-claimed?
The question remains whether there are effective and empowering nature-based solutions. Despite the distortion of nature-based solutions through extractive neo-colonialist models, there are positive examples of working with nature to adapt to climate change, including those found among the NUWAO community.x A strong determinator of positive impacts is when nature-based solutions are community initiated and locally led. By ensuring nature-based solutions are as close to nature as possible, and are centred on human-nature relationships as determined by the communities who live with nature and protect ecologies, there are in-built processes to monitoring whether nature-based solutions risk becoming a false-solution to climate change mitigation or adaptation and therefore work to support neo-colonial carbon-capitalism. The following sections outline examples of positive Indigenous-led nature-based solutions along with lessons learnt.
Community Education & Youth Action in Vanuatu 
Since 2008, communities in the central part of Tanna in Vanuatu have been building resilience strategies to address climate change and environmental degradation in the area. Some of the communities, such as the people of Namasmeten and Lownare, recognised that the climate challenge is also a social challenge. The question became how to build social awareness, understanding, and action.
The community decided the priority was to build local capacity by developing young people through the Preparation to Social Action (PSA) program offered by the Betterment of Society (FBS) a Baha'i inspired organisation. The program helps young people to develop skills to understand the natural environment and develop nature-based solutions to climate change. This led to a Junior Youth group establishing conservation areas as one of their service projects to the communities as a model of NbS through ecological protection. The framework for this nature-based solution was integrated and aligned with local Indigenous practice of conservation, named "Imalaka"xi which had been practiced by the community for the thousands of years. In effect, the concept of nature-based solutions is actually an Indigenous method that already guided local practices. This is a central lesson for positive nature-based solution examples, namely, following local leadership and local ecological conservation practices.
In addition to benefitting from the knowledge, insights and experiences offered by the PSA Program, the community put in place a committee connected with other NGOs and governmental bodies. The PSA conservation project eventually was able to receive funding to run a workshop on environmental practices and the positive effects of the work were amplified through inviting neighbouring communities to the workshop. The community members strongly believe that the well-being of their environment is connected with the well-being of the other communities. The capacity building process enabled the community members to draw up their own workshop material based on local Indigenous knowledge and insights from the PSA training. The participants of the workshop were the Chiefs and some members other neighbouring communities who were carefully selected by the Conservation Area Committee.
Following the success of this community conservation program, more communities took initiatives to establish their own conservation areas, started restoring degraded land, and instituting sustainable agriculture and land management practices. This is an on-going organic process of learning led by local communities in partnership with the PSA. The main lesson is that it is necessary to continuously build individual capacities to contribute to the well-being of their communities and to the health of their environment. Effective nature-based solutions to climate change must be eventually self-sustaining through community support and adoption, such that nature-based solutions also contribute to the well-being of the individual, the community, and humanity at large. The success of this project was a result of the harmony between science, community religion, and local practices, and Indigenous knowledge. This harmony can only be attained through uplifting local leadership as the reference point for international climate law and policy, and action.
Mangrove and forest conservation at Saanapu, Samoa 
Across Samoa, there are examples of local leadership from traditional owners of lands who are building nature-based solutions with their communities on their forested and marine areas with technical and financial assistance from the Samoan government and international environmental organisations.  One example is the Saanapu community building mangrove conservation and forest planning project designed to address climate change impacts.
Saanapu lies on a gently sloping ridge on the south coast of Upolu island in Samoa. The coastal part, commonly known as Saanapu-tai, is characterised by a few small houses and community buildings (fale).  All are closely located on a narrow strip of land separating the sea and the Sataoa-Saanapu Mangrove Forest Conservation Area (figure 2).  A barrier reef is located offshore. The majority of Saanapu's approximately 1000 inhabitants lived on the coast before the 1990s,xii but now only 18 families remain, as most have shifted inland to live in their plantation lands. This part of the village is now called Saanapu-uta.  The shift inland accelerated after the 1990s cyclones which destroyed much of the village,xiii and again after the 2009 tsunami so only 143 people now live in the coastal area, the former heart of the village.
As in most other villages in Samoa, all Saanapu households are represented by their chiefs on the village council, which meets every month.  There have been efforts by the village council to deal with issues of reduced productivity of the land and diminishing marine resources by establishing its mangrove conservation area and forest reserve. The reserve was established in the 1990s with assistance from the government and funding from external agencies such as the United Nations Development Programme (UNDP) and the Global Environment Facility (GEF). In addition, the council opened the area for eco-tourism and educational purposes where the village earned money to improve the area and other infrastructure. The village council developed rules that prohibit the unsustainable use of mangroves, water sources and marine resources.xiv For instance, destructive fishing methods have been banned by the council.

An elder of the village commented:
The village has long banned some unsustainable fishing methods such as the use of dynamite and ava niu kini (Derris elliptica) for fishing.xvi  Some people grow ava niu kini in their plantations. They dig the roots of the crop, mix it with water and pour it on the sea. Soon you will see that part of the sea would be milky white, like coconut cream has been poured on the sea.  And then you will see fish starting to pop up and float on the surface, dead.  Even the small fish are dead.  People take what they want and leave the rest. Dynamite has the same effect… Soon after the dynamite explodes you will see dead fish.  Coral and small fish would also be killed…Another fishing technique that was also banned, for about 20 years now, is called faamoa. This method of fishing involves crushing certain parts of the reef while a fishing net lies await on the other side. Angelfish and damselfish living in the coral would escape in the direction of the net and therefore are trapped… The shift to nets has created problems because they are much bigger and people have then crushed larger areas of coral.  In those days, people from Salamumu (nearby village) would come and practice faamoa on parts of our reefs all the way to Vaiee…. It's very easy to note these events going on because many canoes would be congregating in the sea.  They would try and get away, but we see them.xvii
The empowering role of the village council is crucial in the sustainability of these village resources.  Villagers continue to experience other benefits and livelihood opportunities from their reserve. For instance, local school visits, coastal protection and a good supply of fish and crabs. Many villagers report that the village council needs to continuously be proactive in its role of managing vital resources such as forested areas and water sources. Council members need to assure the villagers of the benefits of protecting these areas. Not only does the council need to monitor the reserves but they also need to encourage activities that support the livelihoods of village households. This could be done by the council conducting regular inspections of family plantations and monitoring village hygiene practices to prevent people throwing rubbish into the mangrove and forested area.
Co-designing biodiversity habitats in Aotearoa New Zealand 
Since 2002 iwi and hapū (groups of Māori that are related) from the Kuku rohe (area) in Horowhenua, on the southwest coast of Te Ika-a-Māui (North Island), Aotearoa New Zealand have worked alongside a collaborative team of multidisciplinary researchers and key stakeholders invested in protecting the Indigenous coastal farming communities. These areas are at risk from climate change risks such as coastal erosion, storm surges, groundwater inundation by salt water and extreme weather and flooding events.
All research and work conducted over the years have been grounded in a Māori framework that is based on mātauranga Māori; a body of knowledge that draws from and reinforces the holistic connection that Māori have to the land. A mātauranga Māori approach means an emotionally connected knowledge acquired through lived and embodied experiences with nature as teacher and guide. It is a relationship that is heightened and experienced more deeply because it draws on inherent connections to the ecosystem, spiritual beings and other living species that we share the land and water with. This cultural knowledge alongside climate change science, geomorphology, ecological economics and design principles is used, in order to inform new paradigms for resilience and adaptation.
In this project, communities have developed nature-based solutions that are building resilience to climate change by protecting coastal dunes and wetlands; by establishing buffers as a line of defence for sensitive plant, shellfish and shorebird biodiversity on the coast; and by diversifying farming practices, including the revitalisation of the harakeke (flax) industry. This work has been conducted and actioned through a series of phases, which reflect the organic development of the project in line with the priorities of local Indigenous families and communities. For example, local concerns around taonga species (ones which have particular cultural and spiritual value; ones which are 'treasures'), have guided researchers to develop restoration programs for tuna (eel) and īnanga (whitebait). The central focus was to co-design solutions between researchers and families with local knowledge, to maximise the effectiveness of constructed wetland habitats to support taonga species through their lifecycle.
Through these efforts, it is clear that nature-based solutions can only be effective when Indigenous science and knowledge is not separated from western science. It is essential to follow local leadership in weaving these knowledge systems together, in directly co-designing nature-based solutions with local communities.
Nature-based solutions, climate justice, & ethics for a country facing extinction: Kiribati 
Kiribati is one of the lowest-lying countries in the world. It rises to only approximately 3 meters above sea level at its highest point, making it extremely vulnerable to the impacts of climate change and sea level rise. Our central motivation must be our forefathers and ancestors who built our cultural practices and life values in harmony with the pristine environment of our island nation. Our Indigenous knowledge embedded in our cultural practices enhances our resilience and ability to adapt to the changing environmental and weather conditions. The heritage of our Indigenous knowledge which connects people to land, sea, sky and the stars, all form part of our livelihood. It is this livelihood which is under threat as our natural environment is destroyed by climate change. This poses the greatest ethical challenge encountered in the history of the human species. There is no nature-based solution which can save Kiribati from being submerged by the oceans which gifted our ancestors the life and culture we live today, if only perhaps for a few more years. This is unjust and immoral.
We live every day with the burden of the happy memories of our past. This is our daily motivation in our effort to maintain the integrity of our Indigenous culture in our continuing effort to address the global climate crisis. The rights of Indigenous people are now enshrined in documents such as the United Nations Declaration on the Rights of Indigenous People (UNDRIP) which are translated to the local context and are reflected in the policies of governments and the strategies of conservation organisations. Although UNDRIP may be viewed as a potential tool to work with Indigenous rights in fighting the global climate crisis, it also triggers concerns on how much Indigenous peoples' voices are able to be heard in such forums, if their voices are literally being drowned out by the rising tides?  The risk of losing Kiribati's heritage of Indigenous knowledge highlights the need to build new strategies for a more culturally inclusive and rights-based approach to climate change adaptation to ensure the survival of our cultural traditions of communities. Listening to the voices of those who are the first to be silenced as the sea level rises, would better inform COP negotiations through the lens of Indigenous justice and ethics.
Meanwhile, leaders of countries at risk of climate destruction will do what they can. Aligning to the nature-based solutions concept, the Kiribati "whole of island approach" was developed and implemented to link various village-based and sector-based adaptation and risk reducing programs under a common integrated vulnerability approach to assessment, planning, implementation, and monitoring and evaluation under the island governance level for the benefit of I-Kiribati people. Even in settings where nature-based solutions are meaningful or effective, there is little hope while global economies refuse to end the fossil fuel industries driving emissions. The biggest risk of nature-based solutions is that they are a distraction while Kiribati and other low-lying atolls continue to be washed away while the carbon-economy continues unchecked.
Nature-based solutions must work with Indigenous and local knowledges and be primarily aligned to generating just wellbeing for people and ecosystems. Without this focus, climate actions that happen to involve 'nature' may be called nature-based but still be perpetuating ongoing harm to ecosystems and to people. Indigenous peoples are more likely to be impacted negatively by market-based, neo-colonial mechanisms, particularly related to climate change mitigation and/or carbon-trading. It is crucial then that nature-based solutions centre Indigenous knowledge within a context of Indigenous leadership, self-determination, and access to financial resources. Without this, nature-based solutions risk becoming a mechanism of further colonisation and ultimately damage. This is not in the spirit of working with nature to further human and ecological wellbeing that we argue is the true meaning of the term 'nature-based solutions'.
Key lessons learnt from case studies of successful and positive nature-based solutions in Oceania led by Indigenous peoples as discussed in this paper include:
Nature-based solutions must be lead and/or co-designed with local communities. Local people must lead the work.
Nature-based solutions must work with local practices and knowledge in concert with western science models. This is more likely to be attained through enabling and following local Indigenous leadership as the reference point for the development of actions, practice, implementation plans, and policy.
Nature-based solutions must centre and work with local values, knowledge, culture, and hierarchies of power and decision making.
Nature-based solutions should be based upon local well-being paradigms and not solely on western-science understandings or measurements of climate change impacts or ecological health.
Nature-based solutions proponents and projects must understand the political nature of climate change actions and climate justice in general and become advocates for system change.
To conclude, the climate and biodiversity crises all life on earth is experiencing must be addressed. We must do things differently, and at pace. Just nature-based solutions should be part of a raft of ways to address our changing climate and ecological context. What will not work is reliance on the same colonial, exploitative, and damaging capitalistic ways of seeing the world, interacting with each other, and the rest of earth's life and living systems. A new way of approaching change, or more aptly a return to an older way of relating to each other and seeing ourselves as part of all connected life must be underpinned by Indigenous knowledge and just power sharing. Proponents and practitioners of nature-based solutions must work to find their role within his new paradigm and become advocates of it rather than work against the necessary transformation.
i Smith, L.T (2012). Decolonizing Methodologies, Otago University Press: Dunedin
ii For more details of NUWAO and extended team biographies see: www.nuwao.org.nz
iii Ogar, E., G. Pecl, and T. Mustonen (2020). Science must embrace traditional and indigenous knowledge to solve our biodiversity crisis. One Earth 3.2, 162-165.
iv Harlan, Sharon L., David N. Pellow, and J. Timmons Roberts, with Shannon Elizabeth Bell, William G. Holt, and Joane Nagel. (2015). "Climate Change and Inequality." In Climate Change and Society: Sociological Perspectives, edited by Riley E. Dunlap and Robert J. Brulle. Oxford Scholarship Online. Page 127.
v Climate Justice Taranaki (2021)Taranaki community transition plan wants fossil fuel phase out by 2030. Online: https://climatejusticetaranaki.wordpress.com/2021/04/09/taranaki-community-transition-plan-wants-fossil-fuel-phase-out-by-2030/. Date accessed: September 2022.
vi ICUN (2022) Nature-based Solutions. Online: https://www.iucn.org/our-work/nature-based-solutions. Date accessed: September 2022.
vii Latulippe, N., and N. Klenk (2020). 'Making room and moving over: knowledge co-production, Indigenous knowledge sovereignty and the politics of global environmental change decision-making'. Current Opinion in Environmental Sustainability 42, 7-14.
viii Kiddle, G.L., et al (2021). 'An Oceania urban design agenda linking ecosystem services, nature-based solutions, traditional ecological knowledge and wellbeing'. Sustainability 13.22,12660.
ix Battiste, Marie, and James Youngblood (Sa'ke'j) Henderson (2000). Protecting Indigenous Knowledge and Heritage: A Global Challenge. Saskatoon: UBC Press, Page 11
x For more information about NUWAO see: www.nuwao.org.nz. Date accessed September 2022.
xi This translates to "tabu" in the local language of South West Tanna, Tana Asul Tribe. It is a form of temporary environmental protection afforded to a particular place.
xii Samoa Bureau of Statistics. (2011) Population and housing census 2011. Analytical report, Apia: Government of Samoa; Samoa Bureau of Statistics. (2016) Population data for eight study villages in Samoa: 1961- 2011; pers.comm with Dr Latai-Niusulu May 31.
xiii Ward, R.G., and P. Ashcroft. (1998). Samoa: Mapping the diversity. The National University of Samoa: Apia
xiv The Village Fono Act (1990) provided for the exercise of chiefly authority in accordance with Samoan custom and to recognise the primacy of village rights. The act recognises and empowers village councils to develop and enforce village rules regarding the development and use of lands, sea and water sources and the maintenance of hygiene in the village. In addition, to direct any person or persons to do any work (as defined under the Act) required for the village. The act also empowers village councils to impose punishments when village rules are breached. Punishments normally include fines paid in money, fine mats, live animals or food, and imposition of orders for an offender to undertake work on village land. The punishment is levied against the matai (chief / authority) of the family of an offender, who is held responsible for the conduct of his 'aiga (extended family group) in the village. In most cases, all members of the family would assist, by giving whatever they can afford to the offender in paying the fine. It is also common practice to exclude from participation in village governance a matai who does not abide by village rules. The legislative powers of the village council are limited because everyone in Samoa is bound by national criminal and civil laws.
xv Source: Latai- Niusulu, A. (2017). Exploring resilience to climate change and other environmental challenges in Samoan communities (Thesis, Doctor of Philosophy). University of Otago. Retrieved from http://hdl.handle.net/10523/7461
xvi The roots of this plant have long been known as a fish poison to Indigenous people from areas where it is native
xvii Interview conducted by Dr A. Latai-Nuisulu, October 29, 2014.
Summary
Published

© The authors. This is an open access publication licensed under a Creative Commons Attribution-NonCommercial- NoDerivs 4.0 Unported License
Sign up to our email newsletters