History for the taking?
by Dr John Curtis OBE, FBA Professor Michael Fulford CBE and FBA Professor Anthony Harding FBA Dame Fiona Reynolds DBE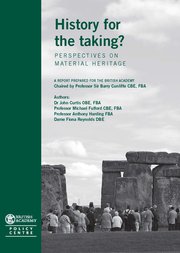 Year

2011

Number of pages

124
Summary
In the current climate, heritage is at risk of slipping further away from the mainstream agenda, despite its significance to the society, economy and culture of present and future generations.
This report brings together four essays on various problems threatening archaeology and built heritage in particular, and explains why each poses a danger. Cultural tourism, redevelopment, war and the trade in illicit antiquities: in all four, current human activities have the potential to damage or destroy material heritage.
It is the task of government to ensure its preservation for future generations, to introduce mitigation strategies where erosion of heritage assets is unavoidable and to have in place robust legislation to curtail exploitation. Each essay makes recommendations to policymakers and academics on how to take steps to better protect material legacies of the past.
Chaired by Professor Sir Barry Cunliffe CBE, FBA
Essays by:
Dr John Curtis OBE, FBA
Professor Michael Fulford CBE, FBA
Professor Anthony Harding FBA
Dame Fiona Reynolds DBE
Sign up to our email newsletters