Business and Management Provision in UK Higher Education
by the British Academy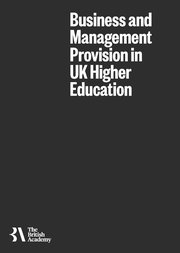 Year

2021

Number of pages

55
Business and management is the biggest discipline in the UK – and it is growing.
Business and management continues to be the subject group with most students in UK higher education. Of approximately 2.5 million students across the sector, business and management accounted for 412,815 (16.3%) in 2019 / 20, followed by subjects allied to medicine with 295,520 students (11.7%). Approximately one in six undergraduate students are enrolled on a business and management course, increasing to one in five for postgraduate students.
Time-series analysis shows that, while there have been fluctuations in enrolment over the past decade, uptake across postgraduate and undergraduate levels has increased overall. The sheer proportion and volume of students on business and management courses suggests that any threats to enrolments could significantly impact the wider UK higher education ecosystem, particularly where international student numbers are concerned.
Business and management provision is diverse, with unique distinguishing features.
Business and management is perhaps best understood as an interdisciplinary field which encompasses, and is underpinned by, a variety of subjects – from accounting, marketing, finance and information systems through to leadership and strategy, organisational and economic sociology, and consumer behaviour.
Its breadth and depth of character is reflected in the range of institutional profiles offering the subject, staff and student makeup, course and programme models, research foci, curricula, and graduate employment outcomes. Business and management is also marked by features which set it apart from most other SHAPE subjects. This includes the provision of executive education and accreditation – a process whereby providers undergo rigorous evaluation in compliance with international benchmarking standards.
A significant number and proportion of Business and Management students and staff are international.
In 2019/20, 159,230 business and management students were international – accounting for 39% of total business and management students and 28% of the entire international student population. The geographical distribution of student domiciles is similar across all business and management providers, with a strong focus on overseas recruitment at postgraduate level and, within this subgroup, heavy reliance on Chinese and Indian markets.
In 2019/20, business and management had the second highest total number of international staff across all disciplines (6,670) preceded only by clinical medicine (8,310). In relative measures, international business and management staff make up 37.9% of the discipline's total staff count – higher than the average for SHAPE subjects and the wider sector, which stands at 32% for both.
Business and management research receives relatively less UK funding than other social science subjects.
The discipline received low levels of external research funding per staff head. Interviews with UK providers point to high student numbers (and consequent focus on teaching activity) and staff who may be based across many disciplinary areas as possible factors.
According to 2018/19 HESA finance data, Business and Management received £7,303 per head as compared to an average of £25,409 for social science disciplines. This includes all funding from research councils, national academies, government departments, charities, industry, and the European Union, but does not include recurrent research funding through QR mainstream. Not dissimilarly, REF 2014 panel data shows that Business and Management received £19,111 research funding per head in 2012/13 as compared to a mean average of £33,861 across social science subjects.
Of the total research income for Business and Management in 2018/19, EU funding comprised a significant portion – £17.9 million – signalling an important relationship between the health of research activity in the discipline and continued access to EU framework programmes or alternatives.
Ethical business practice and equality, diversity and inclusion are increasingly on the business and management agenda.
The representatives of the subject community we spoke to consistently flagged the above areas as strategic priorities. Moreover, providers also noted that they are increasingly developing activity in this area – from embedding these themes in the curriculum, to leading co-curricular events decolonising business schools, to leading research on social equity and environmental sustainability.
Relatedly, the discipline's ability to keep abreast of societal trends and integrate them into academic provision and research was consistently highlighted as a key reason for its popularity as a subject of study with students.
While student numbers continue to grow, Business and Management faces both opportunities and challenges.
Growing international and private sector provision complicate an already competitive landscape for the UK – a threat which is heightened by Brexit and COVID-19 creating financial and practical barriers for key student markets. Meanwhile, academic employment data suggests organisational and structural inequalities across the discipline, notably for female staff from Black and 'Other' minority ethnic backgrounds.
In addition, interviews with providers flagged the position of business schools within their wider institutions as an intrinsic risk. The reasons for this include the historical culture of separatism from other departments, the use of business and management as a source of easily generated income for the institution via increased student numbers and, correspondingly, an overreliance on Chinese and Indian recruitment markets.
Sign up to our email newsletters