Briefing: The Arbitration and Mediation Services (Equality) Bill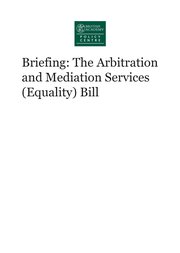 Year

2012

Number of pages

4
Summary
The British Academy Policy Centre has published a briefing to inform debate around the Bill which covers:
• The existing academic evidence about minority legal orders, of which sharia is only one;
• The demand from women for religious tribunals;
• How protecting women is a concern in relation to religious tribunals;
• Alternatives to prohibiting minority legal orders and the ways in which the state can work with minority legal orders.
The briefing is based on a report by Professor Maleiha Malik that the British Academy Policy Centre, Minority legal orders in the UK. The report and briefing examine the presence of law‐like institutions which are used by members of minority groups within society, misleadingly called 'parallel legal systems' but more accurately described as 'minority legal orders'. It looks at the possible strategies that may be used by the state in dealing with them, and the research evidence available.
---
All Policy Centre publications put rigorous, peer reviewed academic evidence into the public sphere to open up and inform policy and public debate. Views expressed in the report are those of the author and while not necessarily endorsed by the British Academy, are commended as contributing to public debate. 
Sign up to our email newsletters