Dr Wendy Erb
Wendy Erb is a biological anthropologist based at Rutgers University, USA. For the duration of her Visiting Fellowship she is hosted by the University of Exeter.
Project status

Ongoing

Programmes

Departments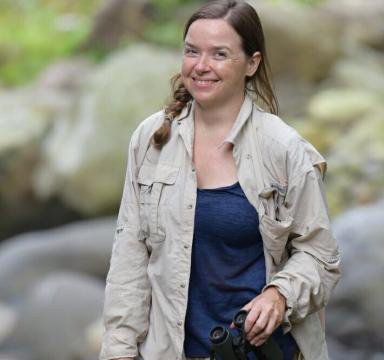 Dr Erb studies the ecological bases of primate behaviour and the influence of environmental change, while leading initiatives to support biological conservation through community partnerships in Indonesia. With UK collaborators, she aims to establish a long-term ecological and ethnographic research programme to underpin conservation of the threatened Rungan River landscape.
One of the largest relatively intact lowland forests in Borneo with no formal protection, Rungan comprises diverse habitats and houses a rich fauna, including large populations of endangered orangutans and gibbons. Yet, most of the area is designated for conversion to plantation or as timber concessions. Significant conservation challenges for this area are to develop cost-effective methods to monitor ecological responses to anthropogenic change and to understand how and why stakeholder decisions are made.
Sign up to our email newsletters