Serena Medal
The Serena Medal is awarded annually for eminent services towards the furtherance of the study of Italian history, philosophy or music, literature, art, or economics.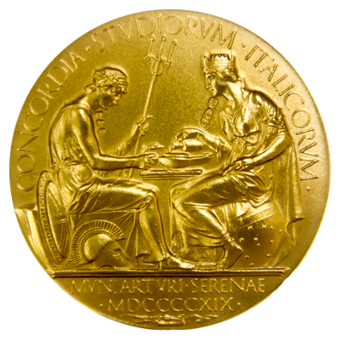 History of the prize
It was endowed by Mr Arthur Serena after Great Britain's alliance with Italy in the First World War. The medal was first awarded in 1920.
Eligibility
a) In 2021 the Serena Medal will be awarded to scholars in Italian economics.
b) In 2022 eligible nominations must be for scholars in Italian literature.
How to nominate
Nominations for the Serena Medal are currently closed. Nominations will open again in December 2021.
---
2021 winner (Italian economics)
Professor Lucrezia Reichlin FBA is awarded the 2021 Serena Medal for her outstanding work and contribution to economics and econometrics.
Lucrezia Reichlin obtained her B.A. in economics at the University of Modena and her Ph.D. at New York University. She has been a Professor of Economics at the London Business School since 2008, having previously held professorships at the Université Libre de Bruxelles and at Columbia University. In 2019-2020 she was invited Professor at the Collège de France where she lectured on the European Central Bank and the European Monetary Union. From 2005 to 2008 she was Director General of Research at the European Central Bank. Lucrezia's early career focused on econometrics and time series. With her co-authors she pioneered work on methods for estimation and forecasting with large data sets. These methods have since been applied widely to problems that require the understanding the dynamic interaction between the economies of multiple regions, sectors or individuals, an important task in many areas of economics. These methods were subsequently adapted to study the problem of exploiting timely information to obtain early estimates of the current state of the economy (now-casting). The framework that Lucrezia and her co-authors developed is now widely used in many central banks, public institutions and investment companies around the world. In the last fifteen years, Lucrezia has worked on wider macroeconomic problems such as monetary policy, the interaction between monetary and fiscal policy and the governance of the monetary union. She has been elected Fellow of the British Academy, Fellow of the Econometric Society and Honorary Foreign Fellow of the American Economic Association. Lucrezia has also a number of responsibilities in the policy, research and corporate world. She is trustee of the International Financial Reporting Standard Foundation for which she is leading the project on sustainability reporting and she is a trustee of the Center of European Policy Research. In 2021 she was a member of the G20 High Level Independent Panel on Financing the Global Commons for Pandemic Preparedness and Response. She regularly contributes to the public debate on economic and societal issues as a columnist of Corriere della Sera and Project Syndicate.
"I am very proud to have received the Serena Medal for 2021. As an economist teaching in Britain and working on the European economy and the monetary union, receiving this prize has a particular meaning for me. The mission of the Serena award seems especially important today, after the exit of the UK from the European Union, as a way to maintain mutual understanding between the British and Italian societies alive."
- Professor Lucrezia Reichlin
---
Previous winners
2020 Professor Jill Kraye, University of London and the Warburg Institute
2019 Professor John Foot, University of Bristol
2018 Professor Roger Parker, King's College London
2017 Professor Martin McLaughlin, University of Oxford
2016  Professor Geoffrey Nowell-Smith, Queen Mary University of London
2015  Dr Brian A'Hearn, University of Oxford
2014  Professor Chris Wickham FBA, University of Oxford
2013  Professor Pier Vincenzo Mengaldo, University of Padua
2012  Professor Richard Bellamy, University College London
2011  Professor Patricia Fortini Brown, Emeritus Professor, Princeton University
2010  Professor Anna Lepschy, Emeritus Professor, University College London
2009  Professor Giorgio Chittolini, Professor of Medieval History, University of Milan
2008  Professor Philip Gossett, Robert W Reneker Distinguished Service Professor of Music, University of Chicago and Professore Ordinario "di chiara fama", Università "La Sapienza", Rome
2007  Professor Conor Fahy
2006  Professor Paul Ginsborg
2005  Mr Ronald Lightbown
2004  Professor William Weaver
2003  Professor Stuart Woolf
2002  Professor John Woodhouse
2001  Professor Michael Hirst FBA
Sign up to our email newsletters