Serena Medal
The Serena Medal is awarded annually for eminent services towards the furtherance of the study of Italian history, philosophy or music, literature, art, or economics.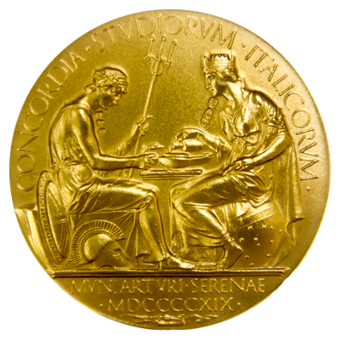 History of the prize
It was endowed by Mr Arthur Serena after Great Britain's alliance with Italy in the First World War. The medal was first awarded in 1920.
Eligibility
In 2023, eligible nominations be for scholars in Italian Music.
How to nominate
Nominations for the Serena Medal are currently closed and will open again on 1 December 2023.
If you have any queries about submitting a nomination, please email [email protected]
---
2023 winner (Italian Music)
Bonnie J. Blackburn has been awarded the 2023 Serena Medal, for her outstanding contributions to the study of Italian Renaissance music through the discovery, study and interpretation of musical, theorical and archival sources.
Bonnie J. Blackburn, elected to the British Academy in 2005, is a musicologist specialising in the music and music theory of the Middle Ages and Renaissance. She taught briefly in the States before moving to England in 1990, where she developed a second career as a freelance editor and copy-editor. Much of her scholarly career has been devoted to archival research, beginning in Milan in 1970 and widening to Rome, Venice, Brescia, Mantua, and most recently Modena, where the records of the Este family of Ferrara are located. She gave the Serena Lecture in 2011: 'Myself when Young: Becoming a Musician in Renaissance Italy—or Not'. Together with Edward Lowinsky and Clement Miller she edited and translated a collection of 110 letters by sixteenth-century Italian music theorists, published as A Correspondence of Renaissance Musicians (Oxford University Press, 1991).
"The awarding of the Serena Medal came as a complete surprise to me, especially since I have not followed an ordinary career path. Perhaps that is why the lives of musicians under difficult circumstances have particularly appealed to me and are traced in numerous of my articles."
- Bonnie J. Blackburn FBA, August 2023.
---
Previous winners
2022 Professor Zygmunt Barański, University of Cambridge
2021 Professor Lucrezia Reichlin FBA, London Business School
2020 Professor Jill Kraye, University of London and the Warburg Institute
2019 Professor John Foot, University of Bristol
2018 Professor Roger Parker, King's College London
2017 Professor Martin McLaughlin, University of Oxford
2016  Professor Geoffrey Nowell-Smith, Queen Mary University of London
2015  Dr Brian A'Hearn, University of Oxford
2014  Professor Chris Wickham FBA, University of Oxford
2013  Professor Pier Vincenzo Mengaldo, University of Padua
2012  Professor Richard Bellamy, University College London
2011  Professor Patricia Fortini Brown, Princeton University
2010  Professor Anna Lepschy, University College London
2009  Professor Giorgio Chittolini, University of Milan
2008  Professor Philip Gossett, University of Chicago Università "La Sapienza" Rome
2007  Professor Conor Fahy
2006  Professor Paul Ginsborg
2005  Mr Ronald Lightbown
2004  Professor William Weaver
2003  Professor Stuart Woolf
2002  Professor John Woodhouse
2001  Professor Michael Hirst FBA
Sign up to our email newsletters