Landscape Archaeology Medal
The Landscape Archaeology Medal is awarded annually for distinguished achievements in landscape archaeology.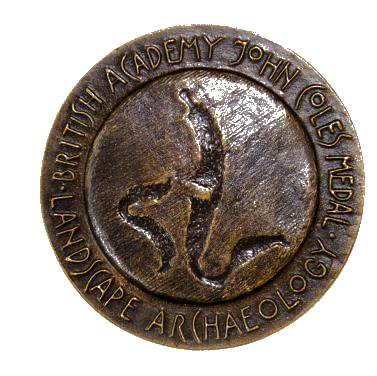 History of the prize
The award was created following the decision of Professor John Coles, a Fellow of the Academy since 1978, to establish an academy medal for this field. This medal was awarded for the first time in 2007.
Eligibility
Eligible nominations can be for landscape archaeology in any part of the world and in any period, provided that the nominated scholar is based in Britain or Ireland.
How to nominate
Nominations for this award are open from 1 December to 31 January and may only be made by Fellows of the British Academy. Entries should be submitted electronically to [email protected].
In the body of the email, clearly state:
Name of the prize or medal
Name of nominee
Nominee's position/institution and email address
Nominee's principal area of academic distinction
Supporting statement (250 words)
Nominator's name and your British Academy section
Declaration of any institutional or personal interest
The deadline for submissions is 31 January each year. Nominations will be reviewed, and the winner selected, by the relevant panel.
If you have any queries submitting a nomination, please email [email protected].
---
2023 winner
Professor Carenza Lewis is awarded the 2023 Landscape Archaeology Medal for her major impact on popularising archaeology in the UK and in getting countless people involved with the archaeological study of sites and landscapes and revolutionising understandings of medieval rural settlement.
Carenza Lewis is Professor for Public Understanding of Research in the School of Humanities and Heritage at the University of Lincoln. She began her career first as a field investigator for the Royal Commission on the Historical Monuments of England analysing earthwork sites in southern England and specialising in medieval settlements, then as a post-doctoral researcher at the University of Birmingham investigating historic settlement development in the east midlands. From 1993-2005 she was one of the original presenters on Channel 4's Time Team archaeology series and has recently been part of its online return. Teaching medieval archaeology at the University of Cambridge from 1998, in 2004 she set up a public outreach unit, involving thousands of people over the next decade in hands-on research-driven participatory programmes investigating the rural landscape, generating new insights into the development of scores of settlements in eastern England and the wider impact of events such as the Black Death. Since moving to the University of Lincoln in 2015 she has further broadened her work, researching the health benefits of public engagement with heritage, introducing participative community archaeological excavation of historic settlements in half a dozen European countries, and convening online symposia exploring the impact of infrastructure archaeology on rural settlements in sixteen European states.
"I was stunned and absolutely delighted to be awarded the British Academy Landscape Archaeology medal 2023! Such a very prestigious award has to be a pinnacle of anyone's career, and I am both immensely proud of, and humbled by, this honour, not least on behalf of all the wonderful people – literally thousands – who have taken part in exploring historic places we all share. It has been an absolute privilege to work with them over the years in developing so many new insights into the past development of historic settlements and landscapes in the UK and Europe, in benefitting so many people and places in the present, and in widening access to historic landscape archaeology for the future."
– Professor Carenza Lewis, August 2023
---
Previous winners
2022 Professor Charles French, University of Cambridge
2021 not awarded
2020 Professor Keith Branigan, Emeritus Professor at the University of Sheffield
2019 Professor Dominic Powlesland, Landscape Research Centre
2017 Professor Tom Williamson, University of East Anglia
2015  Dr David Hall, University of Exeter
2013  Mr Christopher Taylor FBA, Formerly Head of Archaeological Survey, Royal Commission on the Historical Monuments of England
2011  Dr Conor Newman, Senior Lecturer, Department of Archaeology, National University of Ireland
2009  Professor Tony Wilkinson FBA, Professor of Archaeology, Durham University
2007  Professor Andrew Fleming, Emeritus Professor, University of Wales Trinity St David
Sign up to our email newsletters