Burkitt Medal for Biblical Studies
The Burkitt Medal is awarded annually in recognition of special service to Biblical Studies, for Hebrew Bible studies (in odd years) and in New Testament studies (in even years).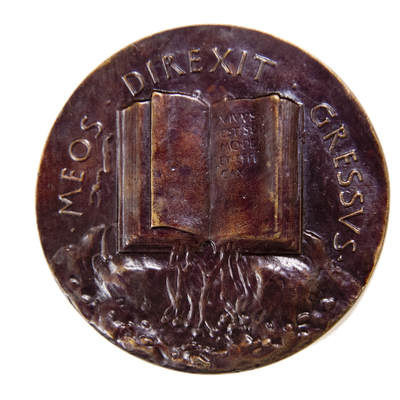 The award was established in 1923 following the decision of Professor Francis Crawford Burkitt (1864–1935), elected a Fellow of the Academy in 1905, to strike a number of bronze medals for presentation by the Academy to scholars of Biblical Studies. After his death in 1935 the awards became known as Burkitt Medals. The Medal was first awarded in 1925.
Eligibility
In 2020 eligible nominations must be for special service to New Testament Studies.
In 2121 eligible nominations must be for special service to Hebrew Bible studies.
---
2019 winner
Professor John J. Collins for his contribution to Old Testament Studies and Second Temple Judaism.
John J. Collins is Holmes Professor of Old Testament at Yale Divinity School. His most recent books are The Invention of Judaism. Torah and Jewish Identity from Deuteronomy to Paul (University of California, 2017); The Dead Sea Scrolls. A Biography (paperback ed.; Princeton, 2019), and What Are Biblical Values? (Yale, 2019).
He is co-editor of the Eerdmans Dictionary of Early Judaism and the Oxford Handbook of the Dead Sea Scrolls. He is general editor of the Anchor Yale Bible and Anchor Yale Bible Reference Library. He holds honorary doctorates from University College Dublin, and the University of Zurich.
"I am deeply honored to be associated with the long line of Burkitt Medal recipients, from R. H. Charles to Christopher Rowland, and grateful to my friends in the British Academy who thought to nominate me."
- Professor John J. Collins, August 2019
---
Previous winners
2018 Professor Christopher Rowland, University of Oxford
2017 Professor Takamitsu Muraoka, University of Leiden
2016  Professor Dr Dr h.c. Barbara Aland, University of Münster
2015  Professor David J A Clines, University of Sheffield
2014  Professor N Thomas Wright, University of St Andrews 
2013  Professor Ronald Ernest Clements DD, King's College London
2012  Professor Christopher Tuckett, University of Oxford
2011  Professor Andrew Mayes, formerly Erasmus Smith Professor of Hebrew, Trinity College, Dublin
2010  Professor Ulrich Luz, Emeritus Professor of New Testament Studies, University of Bern
2009  Revd Professor Ernest Nicholson FBA, formerly Provost of Oriel College, Oxford
2008  Professor Richard Bauckham FBA, FRSE, Professor of New Testament Studies and Bishop Wardlaw Professor, University of St Andrews
2007  Professor Jan Alberto Soggin
2006  Professor Graham Stanton
2005  Revd Professor Pierre-Maurice Bogaert, OSB
2004  Professor Morna D Hooker
2003  Professor Bertil Albrektson
2002  Professor Gerd Theissen
2001  Professor Rudolf Smend FBA
Sign up to our email newsletters