Burkitt Medal for Biblical Studies
The Burkitt Medal is awarded annually in recognition of special service to Biblical Studies, for Hebrew Bible studies (in odd years) and in New Testament studies (in even years).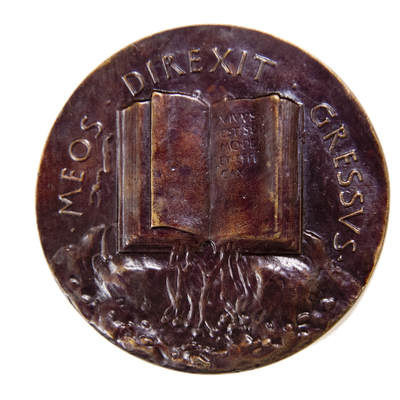 History of the prize
The award was established in 1923 following the decision of Professor Francis Crawford Burkitt (1864–1935), elected a Fellow of the Academy in 1905, to strike a number of bronze medals for presentation by the Academy to scholars of biblical studies. After his death in 1935 the awards became known as Burkitt Medals. The medal was first awarded in 1925.
Eligibility
a) In 2022 eligible nominations must be for special service to New Testament studies.
How to nominate
Nominations for the Burkitt Medal are currently open and may only be made by Fellows of the British Academy.
Entries should be submitted electronically to prizes@thebritishacademy.ac.uk and should state in the email subject line "Nomination Burkitt Medal 2022".
In the body of the email, clearly state:
Name of nominee
Nominee's position /institution and email address
Nominee's principal area of academic distinction
Supporting statement (250 words)
Nominator's name and your British Academy section
Declaration of any institutional or personal interest
The deadline for submissions is 31 January 2022. Submissions received after this date will not be considered.
Nominations will be reviewed, and the winner selected, by the Burkitt Medal panel specialising in New Testament studies:
Professor John Barclay FBA
Professor Richard Bauckham FBA (panel chair)
Professor David Parker FBA

If you have any queries submitting a nomination, please email prizes@thebritishacademy.ac.uk
---
2021 winner
Professor Rainer Albertz is awarded the 2021 Burkitt Medal for his enduring contributions and service to the field of Hebrew Bible Studies.
Rainer Albertz is Emeritus Professor of Old Testament at the University of Münster. Born in 1943 he studied Protestant Theology in Berlin and in Heidelberg. He completed his doctorate, 'The Creation of the World and the Creation of man investigated in Second Isaiah, Job and the Psalms' in 1972. Albertz was Assistant-Professor of the Old Testament under the guidance of Professor Claus Westermann, until 1977. His Habilitation in 1977 focused on "Personal Piety and Official Religion. Internal Pluralism in Israel and Babylonia" (1978). This became an important topic in his life's work and was comprehensively summarised in the extensive volume "Family and Household Religion in the Levant" (2012). Between 1980 and 1995 he held professorships in Heidelberg and at the University of Siegen. Between 1995 and 2008 Albertz was Professor of the Old Testament at the Westfälische Wilhelms-Universität in Münster where he founded the research group, Arbeitskreis zur Erforschung der Religions- und Kulturgeschichte des antiken Vorderen Orients (AZERKAVO). In 2000 the group of 30 scholars started a large research program (Sonderforschungsbereich 497), 'Functions of Religion in Ancient Societies of the Middle East and the Eastern Mediterranean World' and built up academic communications with Israel, Greece, Turkey and the United States.
In 1995 he received the Biblical Archaeological Society Publication Award for his book 'A History of Israelite Religion' and received the University of Muenster 2003 Research Award for his book 'Die Exilszeit' (published in English under the title 'Israel in Exile').
Albertz was President of the Association for Biblical Studies (EABS) between 2004 and 2007, and Senior Professor at the Cluster of Excellence 'Religion and Politics in Pre-modern and Modern Cultures' from 2007 to 2015.
In the last 10 years he has devoted himself to the Pentateuchal Theory, including writing commentary on the book of Exodus. His collected essays on that topic were published in 2018 and a recent volume on the Joseph Story in the Pentateuch will appear in the series FAT.

A special statement of thanks
"I was quite surprised and I felt very much honoured when I heard that you have kindly decided to award me with this year's Burkitt Medal. Moreover, I am deeply moved, because my teacher, Prof. Claus Westermann, was honoured with this precious medal long ago, in the year 1977. I was his assistant at this time in Heidelberg and vividly remember, how much he appreciated this high international decoration for his academic work. Of course, he was better than me as he got this decoration already at age 68. I had to work hard ten years longer before the esteemed British Academy took notice of me and acknowledged my life's work in such nice manner. Of course, I am very happy to be associated with my teacher and the long line of other famous recipients of this precious medal, for which we have to thank the vision of Francis Crawford Burkitt.
I regard the fact that you decided to pass your highest award for Biblical Studies of the year 2021 to a German Old Testament scholar as a statement that Brexit should not disturb our good academic cooperation between Great Britain and continental Europe. Thank you for this clear statement! Many thanks to all colleagues and friends in the British Academy."
- Professor Rainer Albertz
---
Previous winners
2020 Professor Beverly Gaventa, Baylor University
2019 Professor John J. Collins, Yale Divinity School
2018 Professor Christopher Rowland, University of Oxford
2017 Professor Takamitsu Muraoka, University of Leiden
2016  Professor Dr Dr h.c. Barbara Aland, University of Münster
2015  Professor David J A Clines, University of Sheffield
2014  Professor N Thomas Wright, University of St Andrews 
2013  Professor Ronald Ernest Clements DD, King's College London
2012  Professor Christopher Tuckett, University of Oxford
2011  Professor Andrew Mayes, formerly Erasmus Smith Professor of Hebrew, Trinity College, Dublin
2010  Professor Ulrich Luz, Emeritus Professor of New Testament Studies, University of Bern
2009  Revd Professor Ernest Nicholson FBA, formerly Provost of Oriel College, Oxford
2008  Professor Richard Bauckham FBA, FRSE, Professor of New Testament Studies and Bishop Wardlaw Professor, University of St Andrews
2007  Professor Jan Alberto Soggin
2006  Professor Graham Stanton
2005  Revd Professor Pierre-Maurice Bogaert, OSB
2004  Professor Morna D Hooker
2003  Professor Bertil Albrektson
2002  Professor Gerd Theissen
Sign up to our email newsletters