Burkitt Medal for Biblical Studies
The Burkitt Medal is awarded annually in recognition of special service to Biblical Studies, for Hebrew Bible studies (in odd years) and in New Testament studies (in even years).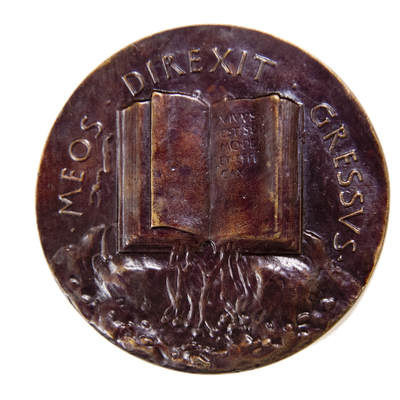 History of the prize
The award was established in 1923 following the decision of Professor Francis Crawford Burkitt (1864–1935), elected a Fellow of the Academy in 1905, to strike a number of bronze medals for presentation by the Academy to scholars of biblical studies. After his death in 1935 the awards became known as Burkitt Medals. The medal was first awarded in 1925.
Eligibility
In 2023 eligible nominations must be for special service to Hebrew Bible studies.
How to nominate
Nominations for the Burkitt Medal for Biblical Studies are currently closed and will open again on 1 December 2023.
If you have any queries about submitting a nomination, please email [email protected]
---
2022 winner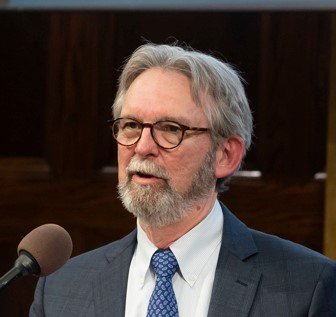 Emeritus Professor Richard B. Hays is awarded the 2022 Burkitt Medal for his internationally recognized and influential work on the Gospels, the letters of Paul, and on New Testament ethics.
Richard B. Hays is the George Washington Ivey Professor Emeritus of New Testament at Duke University. Born in 1948 he received his B.A. in English literature (1970) and M.Div. degree (1977) from Yale University. He completed his doctoral thesis at Emory University (1981) which was subsequently published in the SBL Dissertation Series as The Faith of Jesus Christ: The Narrative Substructure of Galatians 3:1-4:11.
Hays was appointed to the faculty of Yale Divinity School in 1981 where he stayed until 1991 when he accepted a professorial appointment at Duke University.  In 2002 he was promoted to a senior chair as the George Washington Ivey Professor of New Testament, a position he held until his retirement in 2018.  From 2010-2015, he served as Dean of Duke Divinity School.
Professor Hays's work has bridged the disciplines of biblical criticism and literary studies, exploring the innovative ways in which early Christian writers interpreted Israel's Scripture.  He has also consistently sought to demonstrate how close reading of the New Testament can inform theological reflection.  His most important books include Echoes of Scripture in the Letters of Paul (1989), The Moral Vision of the New Testament: Community, Cross, New Creation (1996), First Corinthians (Interpretation Commentary, 1997), The Conversion of the Imagination: Paul as Interpreter of Israel's Scripture (2005), Reading Backwards: Figural Christology and the Fourfold Gospel Witness (2014), Echoes of Scripture in the Gospels (2016), and Reading with the Grain of Scripture (2020).
Hays has taken a leadership role in collaborative scholarly projects and in professional societies, including the Center of Theological Inquiry in Princeton. His collaborations with Prof. Stefan Alkier of Frankfurt likewise yielded two co-edited volumes: Die Bibel im Dialog der Schriften: Konzepte intertextueller Bibellektüre (2005) and Revelation and the Politics of Apocalyptic Interpretation (2012).  As Dean of the Divinity School at Duke, he played a significant role in launching Duke Initiatives in Theology and the Arts.
Professor Hays has chaired the Pauline Epistles Section of the Society of Biblical Literature, as well as the Seminar on New Testament Ethics in the Studiorum Novi Testamenti Societas, and served on several editorial boards.
In 2007, Professor Hays received an honorary Doctor of Divinity degree from St. Mary's Seminary and University (Baltimore, Maryland), and was awarded the Dr. theol. honoris causa from the Johann Wolfgang Goethe University in Frankfurt in 2009.  He is a Life Member of Clare Hall, University of Cambridge.

A special statement of thanks
"I am honoured by the wholly unexpected news that I am to receive the 2022 Burkitt Medal from the British Academy.  I am grateful for this recognition of my work, and amazed to be included in the company of the distinguished recipients of this medal.  It is gratifying to me to note that among those past recipients was Professor W. D. Davies, one of my predecessors in the Ivey Chair at Duke University.  
"Because I read English literature as an undergraduate at Yale, I have long held an appreciation and fondness for England's rich cultural heritage, and I have cherished friendships with colleagues in the UK.  For that reason, it is especially meaningful to me to receive this generous honour from the British Academy.  
"As I grow older, I become more aware that all our scholarly pursuits are, as Eliot saw, "a raid on the inarticulate."  I am grateful that the Academy has recognized my work as a useful contribution to that raiding mission.  My deepest thanks for the award of the Burkitt Medal."
- Richard B. Hays, Ivey Professor Emeritus, August 2022
---
Previous winners
2021 Professor Rainer Albertz, University of Münster
2020 Professor Beverly Gaventa, Baylor University
2019 Professor John J. Collins, Yale Divinity School
2018 Professor Christopher Rowland, University of Oxford
2017 Professor Takamitsu Muraoka, University of Leiden
2016  Professor Dr Dr h.c. Barbara Aland, University of Münster
2015  Professor David J A Clines, University of Sheffield
2014  Professor N Thomas Wright, University of St Andrews 
2013  Professor Ronald Ernest Clements DD, King's College London
2012  Professor Christopher Tuckett, University of Oxford
2011  Professor Andrew Mayes, formerly Erasmus Smith Professor of Hebrew, Trinity College, Dublin
2010  Professor Ulrich Luz, Emeritus Professor of New Testament Studies, University of Bern
2009  Revd Professor Ernest Nicholson FBA, formerly Provost of Oriel College, Oxford
2008  Professor Richard Bauckham FBA, FRSE, Professor of New Testament Studies and Bishop Wardlaw Professor, University of St Andrews
2007  Professor Jan Alberto Soggin
2006  Professor Graham Stanton
2005  Revd Professor Pierre-Maurice Bogaert, OSB
2004  Professor Morna D Hooker
2003  Professor Bertil Albrektson
2002  Professor Gerd Theissen
Sign up to our email newsletters