British Academy Book Prize for Global Cultural Understanding: past winners
About the prize
The British Academy Book Prize, formally known as the Nayef Al Rodhan Prize for Global Cultural Understanding, was launched in 2013 in partnership with Professor Nayef Al-Rodhan with the aim of establishing a significant force in global publishing and prizegiving.
Since then, the prize has recognised a distinguished array of shortlisted authors and eventual winners. Their work explores many different aspects of global cultural understanding and combines original academic enquiry with engaging story-telling to reach the broadest possible public audience.
2021
Waves Across the South: A New History of Revolution and Empire by Sujit Sivasundaram (Harper Collins)
Starting from the ocean and from the forgotten histories of ocean-facing communities, this is a new history of the making of our world.
After revolutions in America and France, a wave of tumult coursed the globe from 1790 to 1850. It was a moment of unprecedented change and violence especially for indigenous peoples. By 1850, vibrant public debate between colonised communities had exploded in port cities. Yet in the midst of all of this, Britain struck out by sea and established its supremacy over the Indian and Pacific Oceans, overtaking the French and Dutch as well as other rivals.
Cambridge historian Sujit Sivasundaram brings together his work in far-flung archives across the world and the best new academic research in this remarkably creative book. Too often, history is told from the northern hemisphere, with modernity, knowledge, selfhood and politics moving from Europe to influence the rest of the world. This book traces the origins of our times from the perspective of indigenous and non-European people in the Indian and Pacific Oceans.
Professor Sujit Sivasundaram is a British Sri Lankan historian and academic. He is currently professor of world history at Gonville and Caius College, University of Cambridge. Sivasundaram was awarded the Philip Leverhulme Prize for medieval, early modern and modern history in 2012. He was co-editor of The Historical Journal and was associate editor of the Journal of British Studies.

Read an extract from Waves Across the South: A New History of Revolution and Empire, by Sujit Sivasundaram.


Hazel V. Carby's Imperial Intimacies: A Tale of Two Islands (Verso)
A haunting and evocative history of British empire, told through one woman's search through her family's story.
"Where are you from?" was the question hounding Hazel Carby as a girl in post–World War II London. One of the so-called brown babies of the Windrush generation, born to a Jamaican father and Welsh mother, Carby's place in her home, her neighbourhood, and her country of birth was always in doubt. Moving between the Jamaican plantations, the hills of Devon, the port cities of Bristol, Cardiff, and Kingston, and the working-class estates of South London, Carby's family story is at once an intimate personal history and a sweeping summation of the violent entanglement of two islands. In charting the British empire's interweaving of capital and bodies, public language and private feeling, Carby will find herself reckoning with what she can tell, what she can remember and what she can bear to know.
Hazel V. Carby is a co-author of The Empire Strikes Back: Race and Racism in 70s Britain and author of Cultures in Babylon: Black Britain and African America, Race Men, and Reconstructing Womanhood. For three decades she taught at Yale University as the Charles C. and Dorothea S. Dilley Professor of African American Studies and Professor of American Studies.
Read an extract from 'Imperial Intimacies: A Tale of Two Islands' by Hazel V. Carby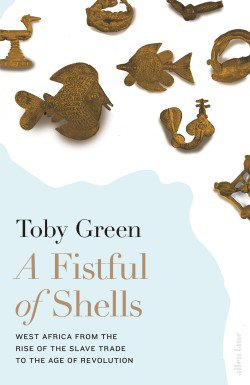 By the time of the 'Scramble for Africa' in the late 19th century, Africa had already been globally connected for many centuries. Its gold had fuelled the economies of Europe and the Islamic world since around 1000 CE, and its sophisticated kingdoms had traded with Europeans along the coasts from Senegal down to Angola since the 15th century. Until at least 1650, this was a trade of equals, using a variety of currencies – most importantly shells: the cowrie shells imported from the Maldives, and the nzimbu shells imported from Brazil.
Toby Green's groundbreaking book transforms our view of West and West-Central Africa. It reconstructs the world of kingdoms whose existence (like those of Europe) revolved around warfare, taxation, trade, diplomacy, complex religious beliefs, royal display and extravagance, and the production of art. Over time, the relationship between Africa and Europe revolved ever more around the trade in slaves, damaging Africa's relative political and economic power as the terms of monetary exchange shifted drastically in Europe's favour. In spite of these growing capital imbalances, longstanding contacts ensured remarkable connections between the Age of Revolution in Europe and America and the birth of a revolutionary 19th century in Africa.
A Fistful of Shells draws not just on written histories, but on archival research in nine countries, on art, praise-singers, oral history, archaeology, letters and the author's personal experience to create a new perspective on the history of one of the world's most important regions.
Toby Green has worked widely with academics, musicians and writers across Africa, organising events in collaboration with institutions in Angola, Ghana, Guinea-Bissau, Sierra Leone and the Gambia. He has written a number of previous books, and his work has been translated into 12 languages. Awarded a 2017 Philip Leverhulme Prize in History, he is Senior Lecturer in Lusophone African History and Culture at King's College London.
Read an extract from A Fistful of Shells: West Africa from the Rise of the Slave Trade to the Age of Revolution
2018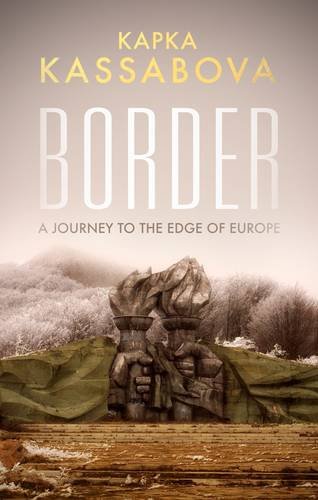 When Kapka Kassabova was a child, the border zone between Bulgaria, Turkey and Greece was rumoured to be an easier crossing point into the West than the Berlin Wall so it swarmed with soldiers, spies and fugitives. On holidays close to the border on the Black Sea coast, she remembers playing on the beach, only miles from where an electrified fence bristled, its barbs pointing inwards toward the enemy: the holiday-makers, the potential escapees.
Today, this densely forested landscape is no longer heavily militarised, but it is scarred by its past. In Border, Kapka Kassabova sets out on a journey to meet the people of this triple border – Bulgarians, Turks, Greeks, and the latest wave of refugees fleeing conflict further afield. She discovers a region that has been shaped by the successive forces of history: by its own past migration crises, by communism, by two World Wars, by the Ottoman Empire, and – older still – by the ancient legacy of myths and legends. As Kapka Kassabova explores this enigmatic region in the company of border guards and treasure hunters, entrepreneurs and botanists, psychic healers and ritual fire-walkers, refugees and smugglers, she traces the physical and psychological borders that criss-cross its villages and mountains, and goes in search of the stories that will unlock its secrets.
Border is a sharply observed portrait of a little-known corner of Europe, and a fascinating meditation on the borderlines that exist between countries, between cultures, between people, and within each of us.
Kapka Kassabova was born in Sofia, Bulgaria, university educated in New Zealand, and now lives in the Scottish Highlands. She is a poet and the author of the acclaimed memoirs Street Without a Name (2008) and Twelve Minutes of Love (2011). She has written for the Sunday Times, the Guardian, Vogue, and 1843 magazine. Border won the Saltire and Stanford-Dolman Book of the Year, the Highland Book Prize, and was shortlisted for the Baillie-Gifford, Ondaatje, Duff Cooper, Bread and Roses and Gordon Burn Prizes, and the American National Circle of Critics Award.
Read an extract from Border: A Journey to the Edge of Europe.
2017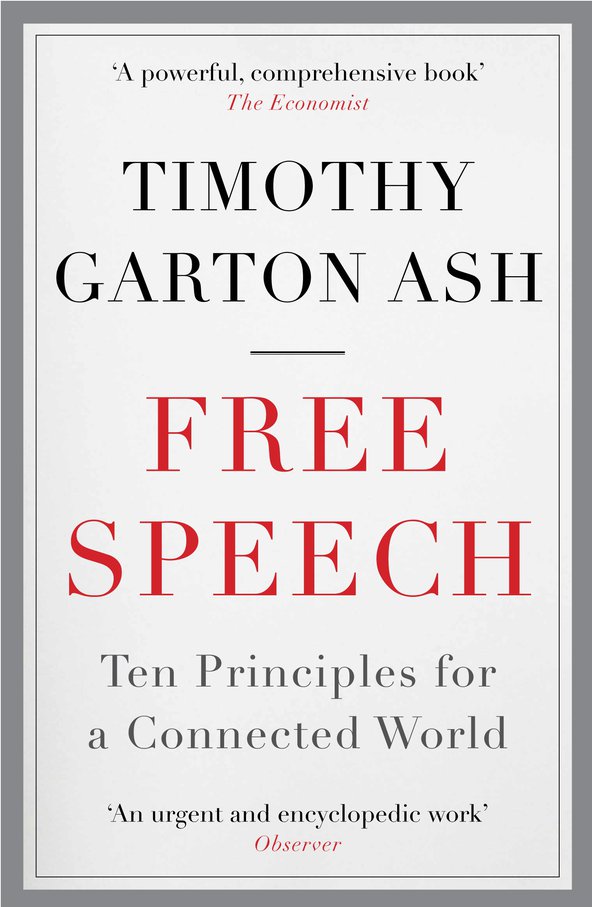 Never in human history has there been such a chance for freedom of expression. If we have internet access, any one of us can publish almost anything we like and potentially reach an audience of millions. Never was there a time when the evils of unlimited speech flowed so easily across frontiers: violent intimidation, gross violations of privacy, tidal waves of abuse. A pastor burns a Koran in Florida and UN officials die in Afghanistan.
Drawing on a lifetime of writing about dictatorships and dissidents, political historian, author and commentator Timothy Garton Ash argues that in this connected world that he calls cosmopolis, the way to combine freedom and diversity is to have more, but also better, free speech. Across all cultural divides we must strive to agree on how we disagree. He draws on a 13-language global online project – freespeechdebate.com – conducted out of Oxford University and devoted to doing just that. The jury agreed that the prize should be given for both the publication and Professor Garton Ash's online and interactive companion project. Together they constitute a robust, timely and engaged defence of free speech and global transcultural dialogue, even when and especially when societies clash and disagree.
Timothy Garton Ash is Professor of European Studies at the University of Oxford. He has written ten books, is a columnist for The Guardian and a regular contributor to the New York Review of Books.
Read this interview with Timothy Garton Ash from 2017.
2016
This book offers a profound understanding of the history of Muslims and their faith, from the life of Muhammad to the religion practised by 1.6 billion people around the world today. Each of the 11 chapters explains a core aspect of the faith in historical perspective, allowing readers to gain a sensitive understanding of the essential tenets of the religion and of the many ways in which the present is shaped by the past. It is an ideal introductory text for courses in Middle Eastern studies, in religious studies, or on Islam and its history. The author, Professor Carole Hillenbrand FBA, was awarded the Nayef Al-Rodhan Prize for Islam – A New Historical Introduction and for her endeavours in translating scholarly analysis and deep historical knowledge into a volume designed to promote public understanding. The book summarises, in an unusually accessible and finely presented form, important insights into Islam in its variety of contexts and regions in ways that speak to many of our current challenges in understanding the Islamic world and its beliefs. 
In addition to the Nayef Al-Rodhan Prize, in 2005, Carole Hillenbrand was the first non-Muslim to be awarded the King Faisal International Prize for Islamic Studies. In 2009 she received an OBE for Services to Higher Education. She is currently Professor Emerita in Islamic History at the University of Edinburgh and Professor of Islamic History at the University of St Andrews. Professor Hillenbrand is actively engaged in promoting the study of the Islamic world in the wider academic community, as well as in organisations such as CARA (Council for At-Risk Academics).
2015
Neil MacGregor was awarded the 2015 Nayef Al-Rodhan Prize for A History of the World in 100 Objects and Germany: Memories of a Nation. This body of work has reached wide audiences across the globe both in published form, in English and in translation, and via two BBC Radio series. These two publications have demonstrated the scope for scholarship to illustrate the interconnections of culture and civilisations by linking the written and spoken word to the visual and verbal presentation of cultural objects.
A History of the World in a 100 Objects explores the self-understanding of many different civilisations and cultures across space and time, through the objects they produced, provoking us to reassess human history. Germany: Memories of a Nation provides a compelling overview of German history, culture, and politics; it is an extraordinary contribution to changing perceptions of a nation at a time when it is critically important to understand it. MacGregor's body of work awarded here has had a remarkable impact on global cultual understanding and will no doubt continue to do so for many years to come.
Neil MacGregor was Director of the British Museum between 2002-2015. He studied at New College, Oxford and the École Normale Supérieure in Paris before attending the Courtauld Institute of Art in London to study 17th and 19th-century art. He was previously editor of the arts periodical The Burlington Magazine and became Director of the National Gallery in 1987. He was made an Honorary Fellow of the British Academy in 2000 and is currently Chairman of the International Advisory Board of the Hermitage Museum in St Petersburg.
2014
This book tells the story of white South African students – how they remember and enact an apartheid past they were never part of. How is it that young Afrikaners, born at the time of Mandela's release from prison, hold firm views about a past they never lived, rigid ideas about black people, and fatalistic thoughts about the future? Jonathan Jansen, the first black dean of education at the historically white University of Pretoria, was dogged by this question during his tenure, and Knowledge in the Blood seeks to answer it.
Knowledge in the Blood combines three critical dimensions for the prize: the winning book was required to have a strong evidence base, impact a broad reading public and engage with the complex issues of cultural identity. The book demonstrates the author's personal involvement in transcultural understanding in the South African context. He develops a clear thesis about the need for change in approaches to education and society in South Africa. His approach is original, and he has not been afraid to embrace controversial positions with courage. While the analysis is directed at a specific cultural and historical nexus – post-apartheid South Africa – the particularities of that situation and the deep rooted nature of the divisions inherent in it resonate broadly beyond the context of South Africa alone. Jansen's work provides lessons that transcend to universal applicability.
Jonathan D. Jansen is Honorary Professor of Education at the University of the Witwatersrand and Visiting Fellow at the National Research Foundation, both in South Africa. He was a Fulbright Scholar at Stanford University and Dean of Education at the University of Pretoria. His latest co-authored book is Diversity High: Class, Color, Character and Culture in a South African High School.
Read this interview with Jonathan Jansen from 2018.
2013
Karen Armstrong has made a significant contribution to understanding the elements of overlap and commonality in different cultures and religions. Armstrong's work has drawn attention to the commonalities of the major religions, such as their emphasis on compassion. She rose to prominence in 1993 with her book A History of God: The 4,000-Year Quest of Judaism, Christianity and Islam. Her substantial body of work (translated into 45 languages) also includes Jerusalem: One City, Three Faiths (1996), Islam: A Short History (2000) The Case for God: What Religion Really Means (2009), and Fields of Blood: Religion and the History of Violence (2014). Her work has been translated into 45 languages.
In 2008 she was awarded the TED Prize and began working with TED on the Charter for Compassion, created online by the general public, crafted by leading thinkers in Judaism, Christianity, Islam, Hinduism, Buddhism, and Confucianism. It was launched globally in the autumn of 2009. Also in 2008, she was awarded the Franklin D. Roosevelt Four Freedoms Medal.
I decided to initiate this prize for global cultural understanding because of the need to address certain perennial problems regarding the relations between different cultures, and to highlight the many ways in which apparently distinct cultures in fact overlap at numerous points. 
Misunderstanding between cultures can take many forms and has the capacity to result in widespread mistrust and insecurity. There is all too often ignorance about the values, culture, achievements, and history of different cultures, leading to misperceptions that produce reflexive and antagonistic stereotypes.
The ideas of inter-connectedness and mutual borrowing applies to all cultures of the world. We must remember that culture is a shared enterprise. Some of the greatest achievements of human history have resulted from collective efforts, built on the prior achievements of cultures whose golden age may have passed. It is important therefore for all of us to understand our shared history and the debt we owe to others, and to nurture a more positive and respectful global cultural relations.
It is my hope that this prize will contribute in a modest way to such positive global cultural understanding by highlighting and encouraging eminent work in this field.
Professor Nayef Al-Rodhan
Prize founder
Sign up to our email newsletters