Great Thinkers: Rana Mitter FBA on Arnold J. Toynbee FBA
29 Apr 2019
He's someone whose ideas have a lot of relevance to many historical and contemporary issues that we're grappling with in our own era – and yet, he seems almost forgotten today.
Professor Rana Mitter FBA
Arnold J. Toynbee's 12-volume A Study of History made him one of the most celebrated scholars of the 20th century – he was even featured on the cover of Time magazine in 1947. Historian Rana Mitter FBA sets out to learn more about Toynbee's life, legacy and understanding of civilisations.
Civilisations die from suicide, not from murder.
Arnold J. Toynbee
The historian Arnold J. Toynbee was, in the words of his British Academy biographer William H. McNeill, "the most famous historian of his time – and the most controversial".
Born in 1889, he graduated from Oxford University two years before the Great War, but avoided active service through medical exemption. His granddaughter Polly Toynbee, speaking to Rana Mitter, recalls that, "he worked very hard in the war for the Foreign Office, but I think was always ashamed that he had avoided the trenches. I think he did have survivor's guilt."
After the war, Toynbee wrote a major report on atrocities committed by Turkish forces in Armenia, later travelling to Greece to report on violence committed against the Greeks by the Turks for the Manchester Guardian. Polly Toynbee recently made a BBC Radio 4 documentary, Toynbee at War, about her grandfather's experiences as a Guardian journalist, including his time covering the Greco-Turkish War. Mitter notes that his reporting caused such a scandal that, in 1924, he had had to resign from his position of Chair at King's College London, which had been funded by Greek donors.
In 1929, Toynbee became the director of studies at Chatham House, the Royal Institute for International Affairs. The think tank served as his 'intellectual home' for the next two decades. Mitter meets with the institute's current Research Liaison Librarian, Malcolm Madden, and Director, Robin Niblett, to discuss this time in Toynbee's life. His tenure coincided with the publication of the firstbooks in his A Study of History series, from 1934-1939, which set him on a path to international acclaim. He was elected a Fellow of the British Academy in 1937, with the books stated in the citation as a reason for the honour. An abridged version of the first seven volumes of A Study of History, first published in 1947, sold over 200,000 copies in the US alone, leading to Toynbee's Time magazine cover.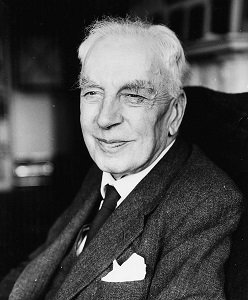 A Study of History sets out Toynbee's belief that "civilisation is a movement and not a condition, a voyage and not a harbour". The books cover 19 'successful' civilisations and nine 'abortive' civilisations from all over the world, studying what made them rise and fall. His take on 'universal history' challenged a western-centric worldview; he caused controversy with his 1952 Reith Lectures by asserting that the western world had committed "unpardonable aggression against the non-European world". As Mitter notes, this was a brave observation to make at a time when "nostalgic arguments about empire were still more commonplace".
Over the ten years after the war, Toynbee wrote six further volumes of A Study of History, completing the work. However, the second set was less well-received than the first, thanks in part to its focus on the spiritual and religious aspects of civilisations. From the 1960s, his ideas began to fall out of fashion in the west, while his work was increasingly recognised by China, Japan and other eastern nations. As Polly Toynbee notes, "they gloried in the idea that the Pacific was where it was going to be at… he spent more and more of his time in those places where he was adulated, and less time at British universities".
Arnold J. Toynbee died in 1975. His works are no longer on a typical history curriculum, but the themes he grappled with are more relevant than ever. "The contemporary academic world is keen to stress the importance of global history," says Mitter, "and Toynbee was one of the earliest exponents of the idea that one should learn from cultures and civilisations other than the dominant one."
---
Rana Mitter FBA is professor of the history and politics of modern China at Oxford University, is author of China's War with Japan, 1937-1945: The Struggle for Survival, and presents the BBC Radio 3 programme Free Thinking which goes out as the BBC Arts and Ideas podcast.
Polly Toynbee is an author, journalist, columnist for the Guardian, and the granddaughter of Arnold Toynbee. Robin Niblett is the director of Chatham House.
Image: Portrait of British historian Arnold J Toynbee, circa 1960. (Photo by Hulton Archive/Getty Images)
Sign up to our email newsletters