Young people's voices must be heard on climate, British Academy briefing tells COP26
20 Apr 2021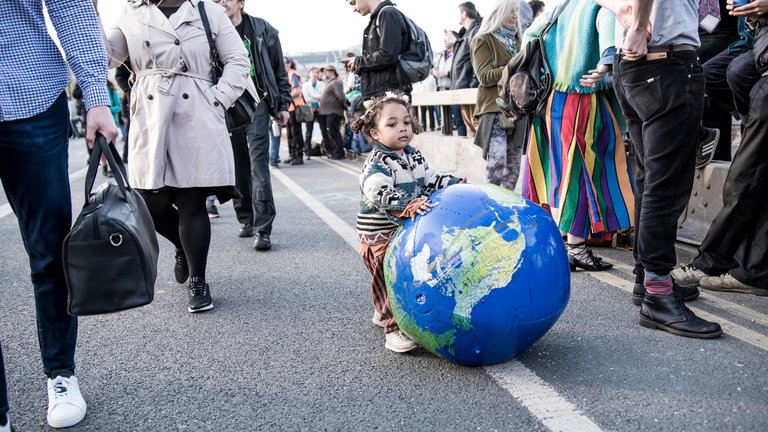 Young people's knowledge and perspectives should be prioritised in climate action and adaptation, according to a new briefing commissioned by the British Academy for policymakers at the UN COP26 climate conference.
The briefing, from the UK's national academy for the humanities and social sciences, describes how climate disruption – including desertification, droughts and sea level rises – is having a disproportionate impact on children and young people worldwide, cutting short their education, deepening their economic insecurity and mental anxiety and leaving them less equipped to take adaptation measures.
Drawing on research supported by the British Academy's Youth Futures programme, the briefing highlights how in Uganda – the world's third youngest country by median age – increasingly unpredictable weather prevents young people from meeting their basic needs, reduces productivity in agricultural and non-agricultural sectors, and leads to increasing population displacement.
The briefing also identifies how some positive steps can help to involve young people more meaningfully in climate action. Protecting young people's environmental education is vital to empowering communities and preserving indigenous knowledge of adaptation strategies and constructive, collective action on climate concerns can help to alleviate 'eco-anxiety' – the emotional toll of climate uncertainty, felt particularly strongly by young people in developing countries.
The authors argue that global and political institutions tasked with responding to climate change, such as the upcoming COP26 summit, would benefit from amplifying the voices of young people and reinforcing more meaningful youth engagement in policy dialogues.
They point to lessons from the 'Getting By' project, an international youth-centred workshop on youth employment, which highlighted the importance of removing structural barriers and material barriers – such as access to visas and funding for travel expenses – to enable youth participation in high-level meetings. The project was run by a team led by Dr Anna Barford and Dame Barbara Stocking, co-authors of the briefing, in 2019.
Dr Anna Barford is Research Fellow at the University of Cambridge Institute for Sustainability Leadership and Principal Investigator on a British Academy Youth Futures project in Uganda. She said:
"Young people's involvement in climate policy dialogues at the highest level – including COP26 – is vital. They have knowledge and direct experience of the impacts of climate change and are already contributing to climate change mitigation, adaptation and resilience. The UN acknowledges this as part of its UN Youth Strategy. But more can be done to engage with youth perspectives.
"On the basis of 'Getting By' and similar projects, we are learning more about what is required to ensure young people's authentic participation in high-level climate meetings. Time, resources and considerable structural changes are required to allow for young people's active involvement in these discussions and enable it to have a transformative impact."
Professor Simon Goldhill FBA, Foreign Secretary of the British Academy, said:
"This briefing provides a critical analysis of young people's knowledge, experience and perspectives in shaping climate action and adaptation. It is the latest in the British Academy's series of briefings by academics in the humanities and social sciences, reviewing recent research into climate change policy ahead of COP26, and a timely demonstration of how these disciplines are vital to solving the world's greatest challenges."
Sign up to our email newsletters