South London Gallery exhibits new work by British Academy-funded researcher
9 Jun 2023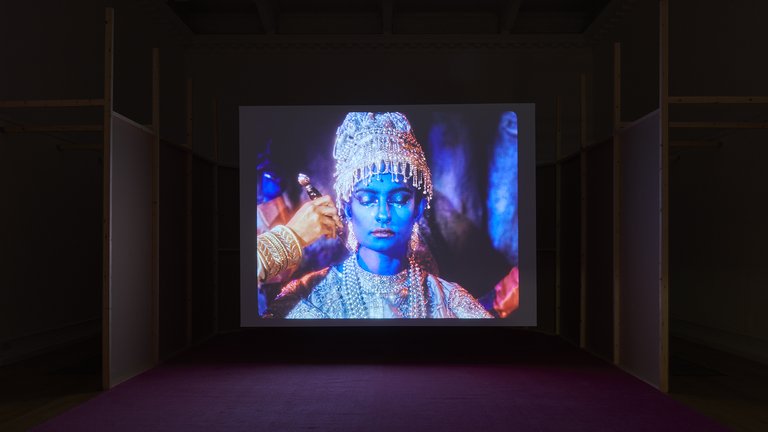 A solo exhibition by a British Academy/Wolfson Fellow is on display at the celebrated South London Gallery and will later visit Dundee, Liverpool and the British Film Institute.
Drawing on aspects of her British Academy/Wolfson Foundation-funded project "Narrative Reparations: On Fictional Activism, Fictional Revenge and Fictional Healing", Dr Michelle Williams Gamaker's exhibition at South London Gallery in Camberwell explores the racist and racialised cultural imaginations that permeate western cinema's so-called Golden Age (1920s-1960s).
The centrepiece of the exhibition is the 27-minute-long film "Thieves", a reimagining of "The Thief of Baghdad," a popular work of early-mid-20th century cinema. The film was first released in 1924 as a black-and-white, silent film, with a Technicolor version released in 1940.
In Williams Gamaker's version, which unfolds as a movie within a movie, characters previously cast in marginalised roles — played by Anna May Wong, cast as 'Mongol Slave' in the 1924 version and Sabu, cast as 'Thief' in the 1940 version — return to reclaim the story for themselves. By inverting familiar storytelling tropes and recasting typically marginalised characters as protagonists, Williams Gamaker challenges the audience to consider the foundations on which modern cinema's western canon is built.
Reflecting on the exhibition, Dr Michelle Williams Gamaker said: 
Support from the British Academy/Wolfson Fellowship has enabled me to place invaluable research funds into the production of this major film commission. Thieves (2023), my most ambitious film to date, is my first work in Fictional Revenge. Funding has meant that I could both critically engage with Western cinema's history and utilise the magic of cinema to create an inventive film which explores reparative (and alternative) narratives within the context of systemic and structural racism in the 20th Century Western Film Industry.
After South London Gallery, the exhibition will continue its tour to DCA in Dundee and Bluecoat in Liverpool in 2024. The film will also screen at the British Film Institute in addition to other national and international film festivals. I am delighted the British Academy/Wolfson could support practice-based academic research and that the film will reach new audiences.
Dr Williams Gamaker's British Academy/Wolfson Fellowship supports her interdisciplinary research exploring historic racism in Western filmmaking with a specific focus on the lives and careers of three actors: Anna May Wong (1905-1961), Sabu Dastagir (1924-1963), and Merle Oberon (1911-1979). Williams Gamaker's distinctive approach to archival source material, which merges historical research with filmmaking, offers new perspectives on the history of cinema.
The British Academy/Wolfson Fellowships are designed to support early-career researchers who show exceptional talent in both research and public engagement, emphasising and demonstrating the importance of academic research and creative thought at a time of rapid political and societal change.
"Our Mountains Are Painted on Glass" at the South London Gallery is on display until 18 June 2023.
Image: Michelle Williams Gamaker, installation view of Thieves (2023) in Our Mountains Are Painted on Glass, South London Gallery, 2023, photo credit: Jo Underhill, 2023
Sign up to our email newsletters