Nobel Peace Prize winner calls time on child slavery
26 Apr 2017
The joint winner of the Nobel Peace Prize in 2014, Kailash Satyarthi, today revealed his hope that the World will soon see the end of child slavery, at a breakfast briefing held at the British Academy.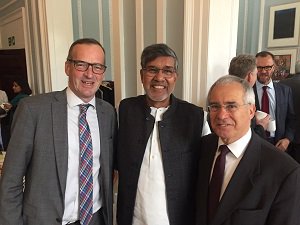 Kailash Satyarthi (pictured centre, with Chief Executive of British Academy Alun Evans and Lord Stern of Brentford) was the guest speaker at today's Ending Modern Slavery and Child Trafficking roundtable event. Kailash Satyarthi is an Indian children's rights, education advocate and an activist against child labour. 
Kailash was welcomed to the British Academy by its President, Lord Stern of Brentford, and introduced by Mohamed Amersi from the Amersi Foundation – a foundation that supported this visit to the UK and enabled the event to take place.
In 1981, Kailash became involved in what has been a 36-year personal crusade to free children from the scourge of slavery. To date, he has helped free more than 85,000 children from forced labour across the World, as well as thousands of men and women. During that time, Kailash and his colleagues have also been subjected to numerous acts of violence and verbal intimidation.
His tireless work was finally recognised in 2014, when he was awarded the Nobel Peace Prize, which he shared with Malala Yousafzai of Pakistan.
Speaking to a captivated audience of British Academy fellows, academics and government officials, Kailash Satyarthi said: "I can say with some confidence that we will finally witness in my lifetime an end to child slavery.  I envisage the day where we see children reading in books about what will be a bygone era.
"If we are to do this, there must be a holistic approach from everyone. A strong collective effort from everyone involved in this issue will help us achieve that aspiration."
Chief Executive of the British Academy, Alun Evans, said: "We were so privileged to have someone of Kailash's calibre and international standing in our company this morning. It was fascinating to hear how he has risked his own personal safety in helping free and liberate so many children across the World. He is a truly inspirational individual.
"In terms of the future, this is an issue that we are determined to tackle head-on with the Kailash Satyarthi Children's Foundation and our partners at the Department for International Development."
Sign up to our email newsletters