Core Maths qualifications are 'practical and valuable' to students of all disciplines, say British Academy and Royal Society
26 Jan 2022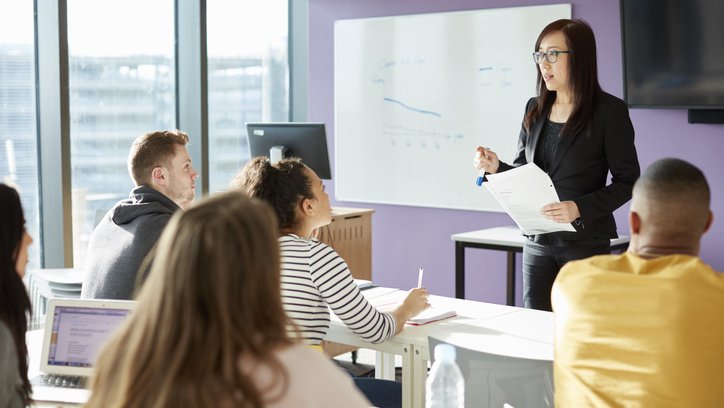 The British Academy and the Royal Society today publish a joint statement on the importance of promoting Core Maths as practical and valuable qualifications, arguing all students should have the opportunity to take mathematics qualifications such as Core Maths beyond the age of 16.
Core Maths are level 3/post-16 qualifications designed to provide students with mathematical, statistics and data skills that they will need for study in most subjects and for future employment.
The British Academy, the UK's national academy for humanities and social sciences, and the Royal Society, the national academy of sciences, say there is a "substantial unmet need" for skilled people from all disciplines – including arts, humanities, sciences and social sciences – with post-16 qualifications in mathematics.
The statement outlines a plan to realise the potential of Core Maths qualifications to meet the demand for maths skills, setting out four conditions:
Government should provide funding to ensure all schools and colleges can offer Core Maths, with additional funding for teachers' professional development.
Universities should incentivise prospective undergraduates to take Core Maths by including it as part of alternative entry requirements for relevant subjects.
Sector Skills Councils and the Department for Business, Energy and Industrial Strategy (BEIS), among others, should promote the value of Core Maths to employers.
Employers should consider offering their employees Core Maths as part of their learning and development, to improve their skillset and increase productivity.
The two academies highlight evidence showing that quantitative skills are central to two of the government's major policy priorities – making the UK a science superpower and 'levelling up' – in addition to preparing young people for everyday decision-making and pursuing careers.
The statement cites figures from the Department for Education showing that approximately four out of every five students in England with a grade 4 (formerly grade C) or above in GCSE Mathematics choose not to study mathematics after age 16, leading to a shortage of quantitative skills across a variety of roles and sectors.
Professor Andrew Noyes, Professor of Education at the University of Nottingham and Chair of the Royal Society working group on post-16 mathematics education, said:
"The study of mathematics is critical to unlocking doors to employment and higher education leading to an ambitious 'high skills, high wage' workforce, yet many young people in England miss out.
"We are pleased to come together with the British Academy to emphasise the importance of the continued study of mathematics post-16 with the Core Maths qualifications. These qualifications help students retain, deepen and extend mathematical knowledge and skills gained at GCSE by focusing on using and applying mathematics and statistics to address real-world problems drawn from study, work and life."
Hetan Shah, Chief Executive of the British Academy, said:
"Quantitative skills – such as the ability to interpret data – are increasingly an integral part of the humanities and social sciences disciplines the British Academy represents. They open up richly rewarding fields of study.
"The world is increasingly rich in data and demands more data skills. It's a tragedy that 80 per cent of those students in England with a grade 4 or better in their GCSE maths don't continue studying any maths after 16. Our economy increasingly requires everyone to handle numbers and data, and Core Maths could be revolutionary in filling this data skills deficit that we face."
Sign up to our email newsletters