Construction begins to transform the British Academy's London home
7 Nov 2022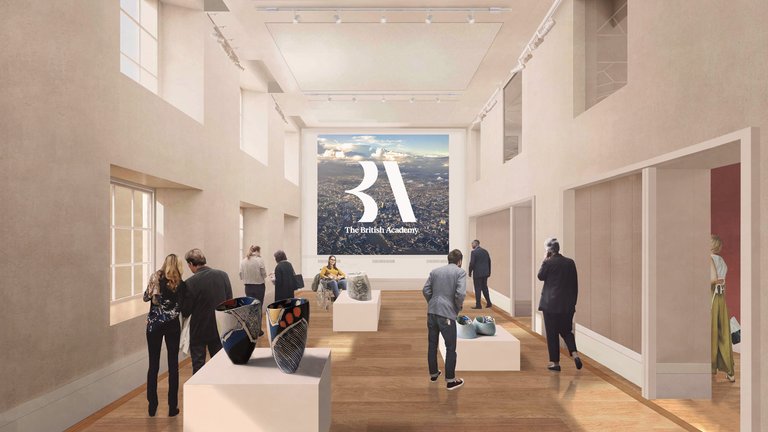 Led by specialist architectural firm Wright & Wright, contractors Borras Construction Ltd broke ground at the British Academy today, signalling the start of a major redesign of the Academy's premises at Carlton House Terrace, London.
This £9.6 million development is aided by a lead gift of £5 million from the Wolfson Foundation – part of a major grant of £10 million to support the humanities and social sciences. The redesign will transform a warren of corridors and rooms in the Academy's lower floors into three, double-height event spaces technologically equipped for conferences, lectures, workshops, festivals and performances.
The scheme will centre on the addition of the latest hybrid event technology to enable the Academy to broadcast its programming internationally and reach, nurture and connect more leading thinkers and curious minds than ever before in its 120-year history.
In July 2022, the Academy announced a £500,000 gift from the Garfield Weston Foundation to support the transformation.
The works are part of a wider strategic plan to transform the British Academy, strengthening its role as a beacon for the SHAPE disciplines (Social Sciences, Humanities and the Arts for People and the Economy) and opening up its work and programme to audiences in the UK and globally. The Academy's new strategic plan will be published in 2023.
Professor Julia Black, President of the British Academy, said:
"Today marks the beginning of an exciting new chapter for the British Academy. The transformation of our building signals a new opening up of our physical spaces and a significant investment in our digital infrastructure, enabling us to bring the vital knowledge, perspectives and creativity from across the SHAPE disciplines to audiences in the UK and internationally. The humanities and social sciences have so much to contribute to society; it is the Academy's role to provide the best possible platform for them, connecting insights from our disciplines with policymakers, leaders in business and civil society; and everybody with curious minds."
Sign up to our email newsletters