The British Academy publishes a manifesto for the humanities and social sciences
12 Nov 2019
Ahead of the General Election on 12 December 2019, the British Academy today publishes a manifesto for the humanities and social sciences, which sets out the ways in which a new government can harness the vast potential of the humanities and social sciences and ensure the UK maintains its global reputation for excellence in these disciplines.
The British Academy wants the new government to:
Speak up for the humanities and social sciences


Bolster our relationship with Europe and the rest of the world


Foster the right research environment


Attract and retain global talent


Support a sustainable higher education system


Build a broad and balanced curriculum for everyone.


Professor Sir David Cannadine, President of the British Academy, said:
"The UK is, and always has been, world-renowned for its leadership and expertise in the humanities and social sciences. From free speech and Adam Smith's The Wealth of Nations to Keynesian economics, the welfare state and the internet, ground-breaking ideas have transformed the UK and the world, bringing enormous social, economic and cultural advantages.
"Without a doubt, the humanities and social sciences are among this country's greatest strengths and it is critical that the next government does all it can to exploit their vast potential."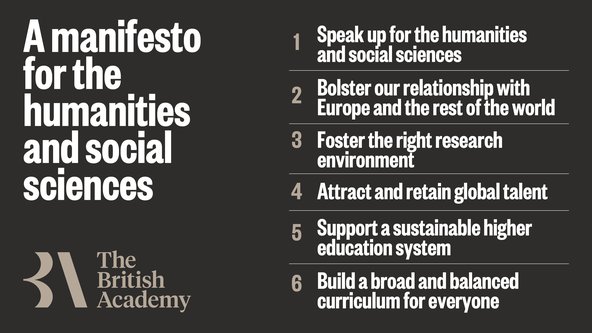 Sign up to our email newsletters