The British Academy and Nuffield Foundation announce funding for a research and policy collaboration on communities, cohesion and resilience
11 Dec 2020
A new research and policy collaboration from the British Academy and the Nuffield Foundation will award over £500,000 in research funding to identify practical solutions to increase the cohesion and resilience of local communities in the UK.
The COVID-19 pandemic has exacerbated inequalities and highlighted the essential role that communities play in wellbeing. Through greater understanding of what makes some communities more vulnerable or resilient than others, the collaboration aims to inform policy and practice to improve individual and collective wellbeing.
The British Academy and the Nuffield Foundation will facilitate the development of research proposals by bringing together early- and mid-career researchers from different disciplines, national and local policymakers, and people working on the frontline of local service delivery at a research innovation workshop in September 2021.
Participants will be encouraged to develop multidisciplinary research proposals that investigate:
the role of local and non-local ties in making some communities weaker, stronger, more cohesive, more vulnerable or more resilient than others; and / or
the nature of local and / or community assets, attributes and affiliations that enhance or impede individual welfare and social wellbeing.
Applications to participate in the workshop will open in Spring 2021. To receive updates on the project, including the call for applicants, people are encouraged to register their interest with the Nuffield Foundation.
Following the research innovation workshop, participants will submit applications for consideration by the steering group. The total amount of research funding available is at least £500,000. Grants will range in value from £10,000 to £200,000 for projects of up to two years.
Applications from a wide range of academic disciplines and professional backgrounds are encouraged. As an example, applicants from a policy and delivery background may be working within government or the private or voluntary sectors at local, regional or national level. They might be responsible for policy or involved in the direct delivery of services within local communities. Those with a research background may be based in universities, research institutes, think tanks or voluntary organisations.
Professor Ash Amin, Trustee of the Nuffield Foundation and Fellow of the British Academy, said:
'This exciting and timely collaboration between the Nuffield Foundation and the British Academy will help to yield new insights on what makes some local communities stronger, more cohesive and more resilient than others and will in turn lay the groundwork for a range of practical solutions for improving the strength and resilience of any community. The COVID-19 pandemic has exposed the inequalities inherent in our society – whether due to place, race, gender or socioeconomic status – and highlighted the vital role that communities play in collective and individual wellbeing. I look forward to examining the research proposals.'
Professor Dominic Abrams, Co-chair of the Project and Fellow of the British Academy, said:
'Social cohesion and resilience are essential components of any thriving community. We have seen during the pandemic that regional, sub-regional and local relationships – built on trust and mutual understanding – play an important role in protecting individuals from the virus and in helping communities to recover. To rebuild post-COVID-19 and, indeed, to prosper in years to come, we need to invest in cohesion – and trust – from the bottom-up. By drawing on the skills and unique insights of researchers, policymakers and practitioners, this project will help us to understand what makes a strong community and to develop targeted measures to improve the wellbeing and opportunities of communities across the UK.'
Collaboration part of
How can societies remain cohesive in the face of rapid political, social, economic and technological change? Through this cross-cutting programme, the Academy is drawing on its expertise and knowledge to enlighten these issues through debate, publication and research.
Cohesive Societies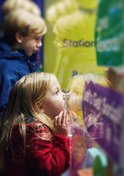 Sign up to our email newsletters