British Academy awards seed funding to support UK-Brazil collaborative research
22 Jul 2020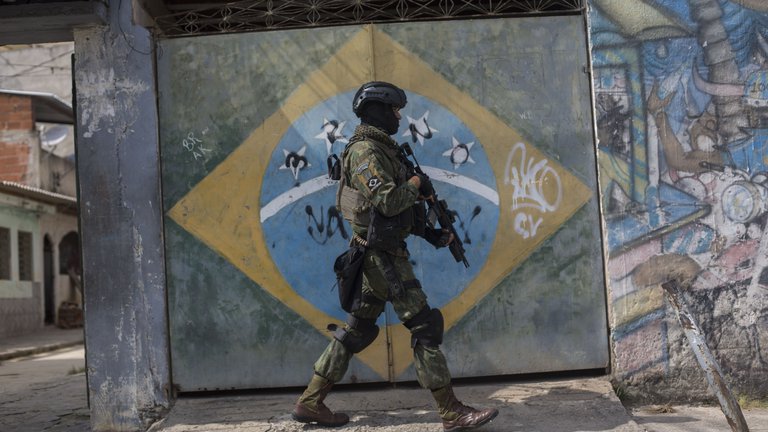 Nine new humanities and social sciences research projects looking at issues such as violence, the use of surveillance technology and criminality have been established by the British Academy, strengthening ties between researchers based in the UK and Brazil.
The grants are funded by the Department for Business, Energy and Industrial Strategy as part of the Government's Global Challenges Research Fund (GCRF).
The announcement follows a Knowledge Frontiers Symposium focused on the theme of 'Urban Violence', which took place in Rio de Janeiro, Brazil from 6-8 March 2020, jointly held by the British Academy and the Brazilian Academy of Sciences to promote ideas exchange between early-career researchers across the UK and Brazil.
The British Academy's grants will support collaborative, interdisciplinary research projects by 23 researchers in total, including 13 researchers from 12 research institutions across Brazil.
Professor Simon Goldhill FBA, Foreign Secretary of the British Academy, said:
"The British Academy is pleased to strengthen its ties with the Brazilian Academy of Sciences and to foster excellence in the humanities and social sciences across continents. This seed funding will help to establish what we hope will become long-lasting international connections at a time when global knowledge exchange is vital. It will also shore up the pipeline of talent in our respective countries by supporting early-career researchers to examine contemporary and pressing topics, collaborate across disciplinary and geographical boundaries, and challenge their methodologies and approaches."
The full list of funded projects includes:
Confronting Urban Violence in Brazil and India - Dr Ashvin Devasundaram, Queen Mary, University of London; Dr Marcio Mattos, Brazilian Higher Institute of Police Science; Dr Stamatis Zografos, UCL Bartlett School of Architecture; Dr Simone Toji, Brazilian National Institute of Historic and Artistic Heritage
Suburban Spaces in Rio de Janeiro - Dr Laurie Denyer Willis, University of Cambridge; Dr Simone da Silva Ribeiro Gomes, Universidade Federal de Pelotas; Dr Stephanie Reist, Universidade Federal Rural do Rio de Janeiro
Violence, Technology and Society - Dr Andres Saenz de Sicilia, University of the Arts London; Dr Fabio Ferraz de Almeida, Getulio Vargas Foundation; Dr Alcides Eduardo dos Reis Peron, University of São Paolo
The Impact of Criminalisation on Women and Feminist Activist Groups in Brazil - Dr Roxana Pessoa Cavalcanti, University of Brighton; Dr Simone da Silva Ribeiro Gomes, Universidade Federal de Pelotas; Dr Elizabete Ribeiro Albernaz, Universidade Federal Fluminense; Dr Bruna Gisi Martins de Almeida, University of São Paolo; Dr Valeria Cristina de Oliveira, Federal University of Minas Gerais
Sensorial Methods - Dr Chandra Morrison, LSE; Dr Laurie Denyer Willis, University of Cambridge; Dr Rebecca Jarman, University of Leeds; Dr Simone Toji, Brazilian National Institute of Historic and Artistic Heritage; Dr Flavia Medeiros, Universidade Federal de Santa Catarina; Dr Stamatis Zografos, UCL Bartlett School of Architecture
Affective Cartographies - Dr Laurie Denyer Willis, University of Cambridge; Dr Valeria Cristina de Oliveira, Federal University of Minas Gerais; Dr Martyn Wemyss, Goldsmiths, University of London; Dr Elizabete Ribeiro Albernaz, Brazilian Institute of Studies on Conflict, Citizenship and Public Safety
Decolonising Methodologies in Researching Urban Violence: Centring Gender, Race and Difference as Tools of Knowledge Production - Dr Flavia Medeiros, Universidade Federal de Santa Catarina; Dr Laurie Denyer Willis, University of Cambridge; Dr Giane Silvestre, University of São Paolo; Dr Chandra Morrison, LSE; Dr Fernanda Mendes Lages Ribeiro, FIOCRUZ
The Social Life of Death: Absence and Presence in the City - Dr Graham Denyer Willis, University of Cambridge; Dr Flavia Medeiros, Federal University of Santa Catarina; Dr Martyn Wemyss, Goldsmiths, University of London; Dr Elizabete Ribeiro Albernaz, Universidade Federal Fluminense
Writing on Violence: Statistics, Ethnography, and Research Accessibility - Dr Stephanie Reist, Federal Rural University of Rio de Janeiro; Dr Rebecca Jarman, University of Leeds; Dr Simone Toji, Brazilian National Institute of Historic and Artistic Heritage; Dr Michelle Degli Esposti, University of Oxford; Dr Luana Dias Motta, Federal University of São Paolo
Sign up to our email newsletters