BA/Jisc Grants for Digital Research in the Humanities Awards 2018
This programme aims to extend support for researchers engaging with Digital Research in the Humanities by offering grants to carry out novel research through the application of new methods and tools to existing digital resources. The use and re-use of existing resources such as digital collections and datasets will demonstrate their capacity to generate new knowledge. The programme is the first partnership between the British Academy and Jisc, the UK higher, further education and skills sectors' not for profit organisation for digital services and solutions.
The intersection of digital technologies and the humanities enables new kinds of research, both in the humanities disciplines and in computer science. Digital Research in the Humanities covers a wide range of methods and practices, including: visualisations of large datasets, 3D modelling of historical artefacts, data mining of large datasets, text mining, data linking, Geographical Information Systems, image and sound processing and analysis.
The following seven 12-month awards were made in September 2018.
2018 awards
Curatorial voice: legacy descriptions of art objects and their contemporary uses
Name of Co-I: Dr Andrew Salway
Project dates: September 2018 –September 2019
Amount awarded: £9,156
Source of funding: BEIS
Subject: History of Art
Curatorial practice refers to the successful selection and arrangement of a collection of significant artefacts from works of art to design pieces to historical objects. Extensive and increasingly available digitised collections of curatorial art descriptions are valuable resources for generating new knowledge about that practice, the historical and cultural contexts of curation, and the content of image collections. However, digitised catalogues have not yet been recognised as a form of 'big data' that would allow new and different kinds of research questions to be asked.
As part of this 12-month project, Dr Baker and his team explored a catalogue of 1.5 million words written by the historian M. Dorothy George between 1930 and 1954 to describe 12,552 Georgian satirical prints. The researchers used a mix of computer-based and art historical methods to provide a comprehensive account of the material to answer questions about George's curatorial voice and, more generally, about the authorial voice of institutions in art historical discourse and the contemporary role of legacy descriptions in indexing and understanding image collections. The research has provided insight into George's legacy and how to read her descriptions as situated in their circumstances of production. The choice of subject for corpus analysis – legacy descriptions of art objects – is novel and has produced methods for analysing their "voice" that can be reused and would benefit from more sustained comparative analysis (Baker, James, & Salway, Andrew. (2019).
The findings showed that computer-assisted analysis – specifically, a combination of corpus linguistics and machine learning – could be used to characterise the "voice" of a given curator, and that this characterisation could be usefully compared with everyday speech and the voices of other curators to analyse the choices, preferences and omissions made during the course of curatorial work. The findings further indicated that Mary Dorothy George's curatorial voice was produced by the personal, local, intellectual, and social contexts in which her work took place, and that this is important because George remains to this day a vital interlocutor between the historian and the past she described, first in print and most recently online. The findings are of potential value and importance to art historians, historians, and museum professionals.
The project has also contributed to the reputation of the Sussex Humanities Lab as a centre of excellence for applied digital humanities research in the fields of art history, history, and critical heritage studies. The research brought together art historians, curators and heritage professionals and enabled Dr Baker to strengthen links with curators and cataloguers at cultural institutions in the UK and US. Dr Baker is building on this award with further work focused on developing capacity in the sector to analyse curatorial voice, expand and develop methods and implement changes to how legacy descriptions are presented to users of collections.
Inside the history of learning difficulties
Project dates: September 2018 – September 2019
Award amount: £9,960
Funder: JISC
Subject: History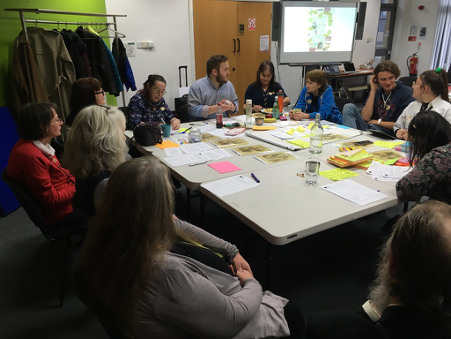 Up until the late 20th century, intellectual disability history was subsumed or neglected within accounts from psycho-medical professions, educational and mental health services, sociologists, and historians (Atkinson and Walmsley, 2010). More recently, input from a broad range of disciplines has helped to challenge the assumed truths generated about learning disability generated by medics, scientists and medical historians (Philo, 2014). Learning disability has also emerged as a field of inquiry within its own right within Disability Studies, following recognition that this aspect of disability has frequently been overlooked (Goodley, 2001).
In shifting the emphasis from research on disabled people to research by or with disabled people, the field of disability studies has already enjoyed some success in challenging some more traditional modes of research production. Yet major barriers to disabled people engaging with research still exist. Through his award, Dr Barden and his team aimed to generate new knowledge about the history of learning disability in the UK, based on truisms that disabled people generally, and people labelled with learning disabilities more specifically, have often been excluded from their own histories, and are often excluded from research about disability.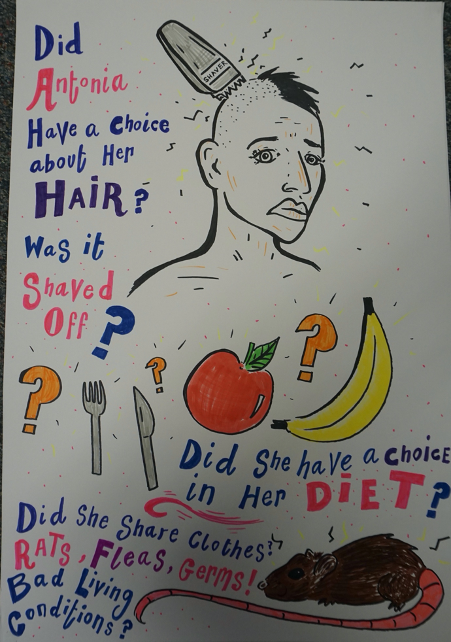 Dr Barden and his team used the case study of Antonia Grandoni, provided in a book written in 1877 by Dr William Ireland to see how, historically, people used to think about and talk about people with learning disabilities, and compared this with what participants know about living with learning disabilities today. The book is part of the digitised UK Medical Heritage Library, hosted by JISC. The project used a participatory methodology for conducting archival research, enlisting co-researchers with learning disabilities. Through this approach Dr Barden and his team were able to learn a lot about one another's lived experience of learning disabilities today. The co-researchers were highly attuned to the medicalised, dehumanising, reductive conceptualisation of learning disability evident in the account of Antonia's life presented in the archive. Their analysis confirmed that although there may have been some progress towards social inclusion for people with learning disabilities since the 1870s, issues of eugenics, normalcy, medicalisation, segregated education, labelling, family, isolation and loneliness persist.
Findings from the project also suggested that members experienced significant changes in their identities as they came to see themselves as valued and competent researchers, to the extent that representatives of both groups co-wrote and co-presented research papers at major Disability Studies conferences. This is an important consideration that supports the notion that exploring and expressing histories is not just about confirming events past, but can generate collective, liberatory analysis, wider social benefit and hope as the basis for working towards further positive change.
Dr Barden was invited by JISC to present on the project at the Digifest conference in 2019, and it was used as an exemplar by JISC for how archive material can be made relevant to new, unanticipated and under-represented audiences at the DCDC19 conference co-hosted by The National Archives, Research Libraries UK and Jisc. The project was also showcased as part of an exhibition and workshop for the public as part of the national 'Being Human' festival in 2019. Since completing the award, Dr Barden has been promoted to the role of Associate Professor at Liverpool Hope University and was awarded further grants from the Past and Present Society and through the REFine Impact Funding initiative.
Dr Barden was approached by representatives from the Yorkshire County Archives who are using a methodology based on the project's own to conduct a similar study. The success of the project has enabled Dr Barden and his team to develop partnerships with researchers at the University of South Wales, as well as The Brain Charity and Museums Disability Collaborative Network.
For more information visit the project's website.
Full-text search of early music prints online (F-TEMPO)
Project dates: 5 Nov 2018 – 4 Nov 2019
Award amount: £10,000
Funded by: BEIS
Subject: Music/ History & Criticism of Music
Music exists on the web typically as printed or manuscript documents or as audio files. It cannot be searched directly, unlike text, requiring processing to extract 'features' to be investigated using digital scholarship techniques. However, full-text, content-based searching of large-scale musical resources tends to be slow and inefficient. To overcome this challenge, Professor Crawford developed 'F-TEMPO': a system designed for full-text, content-based searching of printed music.
F-TEMPO uses publicly available digitised images of music printed during the 16th and 17th centuries using the typesetting technique first developed around 1500. Using innovative indexing methods to perform high speed searches, Professor Crawford and his team were able to cover c.60,000 pages successfully without any loss in performance. This is significant given that the total amount of music material held in libraries around the world is in the millions of pages and reflects an enormous expansion in dissemination of music by composers of the early-modern period, such as Josquin, Lassus, Palestrina, Marenzio and Monteverdi.
The success of F-TEMPO enables Professor Crawford and his team to investigate questions such as: 'How did popularity [of early-modern music] change over time?'; 'How well is the relative popularity of early-modern music reflected in modern recordings since the 1950s?'; 'How different is church music from madrigals?'; 'How many [unrecognised] arrangements are there?' To answer these requires the analysis of large-scale repertories, subjected to appropriate verification, rather than the less-robust traditional methods of lone scholarship. Using F-TEMPO's API (Application Programming Interface) researchers are now able to perform multiple searches without the web interface.
The most significant innovative technical advance arising from the project is searching based on minimal absent words (MAWs), a method originally devised for bioinformatics. Since by definition the MAWs of a text do not occur therein, yet fully describe that text and thus can be used to recreate it, the structure and order of the originating text is totally 'captured' within them – a valuable property for music which Professor Crawford is planning to explore in future projects.
A second innovation has been the use of the IIIF (International Image Interoperability Framework) to access digital images and metadata from public-domain archives and libraries, which has allowed the researchers to gather musical images without relying on librarians. The team were able to download 23,945 new page-images of relevant music items from the Polish National Library in Warsaw which they have incorporated into an online demo. As part of the next phase, they aim to incorporate page images from the Bavarian State Library in Munich.
The project has been awarded the first prize for research at the British Library's BLLabs Public Awards in 2019, which recognises projects that demonstrate development of new knowledge about the Library's digital content, research methods or tools.
Professor Crawford and his team presented the project and its findings to academic audiences at the Medieval and Renaissance Music conference in Switzerland, the International Association of Music Librarians Congress in Poland and to the British Computer Society in London as well as to students attending the University of Oxford's Digital Humanities at Oxford Summer School.
Since completing the award, Professor Crawford has been leading the UK team of the EU Horizon 2020 funded project 'TROMPA', exploring how to use F-TEMPO as a linked external resource to aid users looking at musical scores. The award has also enabled the team to investigate further enhancements to F-TEMPO and to carry out formal comparative evaluations of different search-mechanisms that can be incorporated.
The ability to interrogate a large collection of music images quickly and reasonably accurately (given the amount of recognition error inevitably introduced in the process of optimal music recognition) can potentially in itself lead to a paradigm shift in musical scholarship.
Instead of relying on the authority of scholarly editions (which are inherently highly selective, concentrating as they do on music in an established canon of 'great' music) a student researcher can see how the music looked to its original readers in its various manifestations, provoking new questions about interpretation of the notation and performance of the music which have hitherto been accepted as 'solved' by modern editors.
Professor Tim Crawford, Goldsmiths, University of London.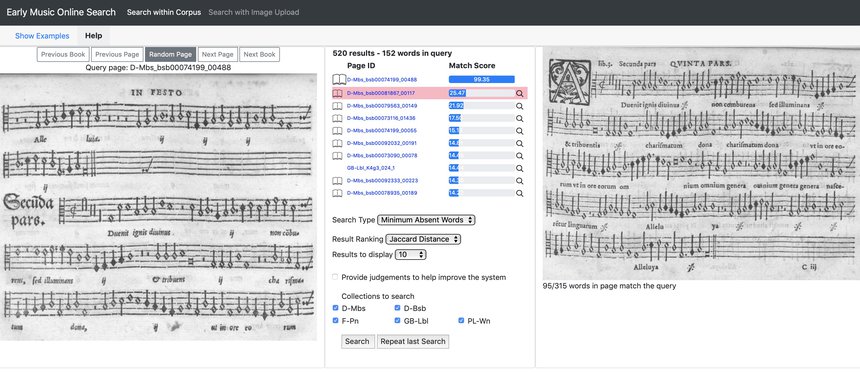 The effect of literary genre on authorial style: a computational stylistics analysis of English Renaissance plays, poems, and narrative prose
Project dates: January 2019 – March 2020
Amount awarded: £9,950.88
Source of funding: BEIS
Subject: English Language and Literature
In attribution study (as in literary studies more broadly), literary genres such as poetry, drama and prose are assumed to affect an author's style of writing. Much work in this area relies on computers to identify and analyse complex linguistic patterns in documents not otherwise visible to human readers. Attribution tests to determine authorship tend to rely on samples from the same literary genre in order to generate unique stylistic 'profiles' for each candidate author. For example, a poem in which the author is unknown or disputed will ordinarily be compared only with poems of known authorship and similarly with plays. This becomes a challenge when an author's body of securely acknowledged writing contains too few samples of works in the same genre.
Through his project, Dr Greatley-Hirsch has begun to explore whether literary genre affects an author's style, with an eye to helping scholars resolve the unanswered questions about dramatic authorship, gaining valuable insights into the working habits of early modern playwrights and processes of collaboration and rivalry, and building a more accurate, holistic picture of the English Renaissance theatre. His research used computational stylistics to analyse samples of drama, poetry, and prose drawn from transcriptions of early modern English texts composed between 1580 and 1630. The project aimed to interrogate the long-standing assumption about the effect of literary genre on authorial style and explored new ways to attribute authorship using generically diverse texts.
Although the original orthography and spelling was retained, the texts were 'tagged' or annotated to differentiate between homograph forms of function words – that is, words with little or no lexical meaning but express grammatical relationships, and which are therefore among the most frequently used. Analysis of function words showed that certain classes, such as personal pronouns, are strongly tied to genre, suggesting that these should be excluded from cross-genre authorship attribution testing. His team have since applied these findings to analyses of other classes of function words and grammatical groupings. Future research is planned to explore lexical or content words of various frequency strata, but this requires considerable labour to accurately regularise spelling variation in the texts (which were produced long before English spelling was standardised).
Dr Greatley-Hirsch presented the research at conferences in Poznan and Washington in 2019 and facilitated postgraduate research training seminars / workshops in Leicester and Mainz, Germany. The project enabled training of two postdoctoral research associates in linguistic tagging and computational methods for authorship attribution testing. The team has conducted stylistic analysis on several sub-corpora to explore the ways particular authors vary their writing practice according to genre.
Dr Greatley-Hirsch is preparing an article for submission to the journal Renaissance Studies and a chapter in The Oxford Handbook of Shakespeare and Authorship and plans to conduct attribution tests for the large-scale collected works editions of John Marston (OUP) and Thomas Nashe (OUP) in the future.
Analysing criminal tattoos through data mining and visualisation
Project dates: 1 November 2018 - 31 January 2020
Award amount: £9,949
Source of funding: BEIS
Subject: History; Social history
Tattoos can symbolise a range of expressions from love, hope and pain to religion and fraternity. For criminal convicts, they can reflect their individuality and aspirations. In the 19th century, the practice of tattooing saw a sharp increase in Britain and Australia marked by a rise amongst prison inmates. Yet today little is known about the reasons behind this trend, particularly when official practices of recording tattoos of convicts were intended as a means of identifying convicts. This project, led by Professor Robert Shoemaker from the University of Sheffield, sought to investigate why convicts might have engaged in a practice which facilitated state control, and whether the increasing use of tattooing signalled the growth of a defiant criminal subculture, or of more inclusive cultural aspirations.
Professor Shoemaker and his team extracted previously hidden data about convict tattoos from five large criminal justice datasets to determine the most appropriate methods for extraction and visualising this complex and erratic evidence. They created a database of 76,000 descriptions of tattoos on 58,000 convicts and linked them to other available information about their lives contained within the web resource, The Digital Panopticon. The project enabled them to develop the computing tools necessary to carry out this research to cope with the complexities and limitations of the available data.
The findings showed that the practice of tattooing was much more widespread in England than previously recognised, and it increased over the course of the 19th century. While the evidence is recorded in convict records, the circumstances and details of their recorded tattoos reveal that tattooing was common amongst the lower middle and working classes, as well as in some elites especially at the end of the century. Moreover, for most people it was not deemed a shameful practice, and there was little stigma attached to having a tattoo. Nor was it an expression of alienation or membership of a deviant subculture: both the wide range of subjects of tattoo designs, and their placement on publicly visible parts of the body, suggest that tattooing was a positive expression of affinities and interests. Like today, tattooing was a fashion.
The findings demonstrate that underlying prejudices can affect how the practice of tattooing is depicted and interpreted, which has implications for how we perceive through unconscious bias and respond to those with tattoos. The project has contributed data and advice to a forthcoming 'infographics' display at the British Library.
The project provided Professor Shoemaker, and the research software engineer and digital historian who worked with him, with valuable experience in manipulating complex data sets, which is being applied to other projects in progress. The project has contributed considerably to the professional development of co-investigator, Dr Zoe Alker, an early career researcher at the University of Liverpool, by enabling her to develop, manage and work on a collaborative project. The award has further helped the researchers to establish new dialogues with researchers in other UK and Irish institutions who have interests related to the project, both in history and art history.
In addition, the database of physical descriptions created by the project will be incorporated in a research project on the material body in the 18th and 19yh centuries, led by Professor Karen Harvey at the University of Birmingham. Dr Zoe Alker will be a co-investigator on this new project, and Professor Shoemaker will be on the project's advisory committee. The project will integrate physical descriptions of bodies from skeletal remains and the convict records with qualitative social and cultural evidence to assess the impact of industrialisation and urbanisation on the lived experiences of men and women in England.
Eating yourself young: diet, recipe and vitality before nutrition science
Project dates: October 2018 – November 2019
Amount awarded: £9,996
Source of funding: JISC
Subject: History
Modern nutrition science with its focus on vitamins, minerals and complex views about carbohydrates, fats, and proteins has fundamentally altered our understanding of food. But what was "healthy eating" before these ideas came to prominence? How was it practised? What did medical texts say about the importance of food and diet? And how were these ideas reflected in historical recipes?
In the 19th century, the newly emerging sciences of biology, chemistry and physics all made critical contributions to public understanding of nutrition. But the business of sourcing, preparing and cooking food took place in homes, far away from these specialised scientific communities. This study used records from the UK Medical Heritage Library – a large digital corpus in the history of science, technology and medicine – to explore the relationship between nutrition, diet, health and cookery in the 19th century. Bringing these records into dialogue with hand-written collections of 19th-century recipes, the research showed that nutrition science relied on input from many different forms of expertise. What constituted a "healthy" diet in the Victorian period was – just as it is now – a topic of hot debate, and everyone from physicists and self-help authors to home cooks and the clergy contributed.
This research led by Dr James Stark from the University of Leeds found that present-day accounts of scientific discipline-creation in the 19th century – which explains how contemporary scientific disciplines were generated through practices, publication and networks of communication - cannot account fully for the operation of fields such as nutrition science. This has important implications for how we understand and think about food and its benefits. The study has helped bring together a new network of researchers working in food history and digital humanities to lay the foundations for future research at the centre of these two important fields.
Dr Stark has since secured an AHRC Collaborative Doctoral Award, funded through the White Rose College of Arts and Humanities, for a studentship exploring rhetoric and imagery in food and drink advertising in the 20th century, in collaboration with the History of Advertising Trust. A book chapter exploring nutrition as a case study in interdisciplinary Victorian science is under review with Chicago University Press as part of a wider collection of essays. Dr Stark was also promoted to Director of the Leeds Arts and Humanities Research Institute at Leeds University where he is overseeing the development of interdisciplinary research within and beyond the arts and humanities.
Digital mission: encoding and analysing digitised missionary diaries in Africa
Project dates: 1 October 2018 - 31 December 2019
Award amount: £9,543
Source of funding: BEIS
Subject: History; Social history
Little is known about past population trends in Africa because of a lack of data. This is a problem because African populations today are not following a predictable trajectory of demographic development. They have higher population growth and fertility than predicted by standard models of demographic transition. There is an urgent need for historical demographic research in the region in order to understand the roots of the patterns seen today.
Missionary records are an important source for religious, socio-economic and demographic research in African history, and many documents have been digitised. The Missionaries of Africa are historically one of the largest, oldest and most influential Catholic missionary societies in Africa. Their diaries include records on a wide range of subjects, which are intensively used by researchers. Their Archives have digitised many of the diaries from 1880-1960, including 90,000 pages from East and Southern Africa. In this project, Dr Walters used Handwritten Text Recognition (HTR) to pilot automatic data transcription from these digitised missionary diaries.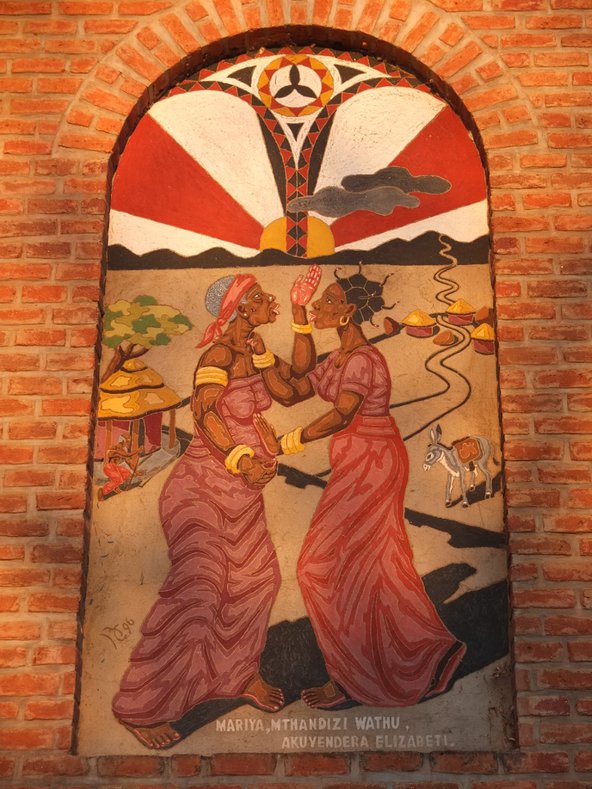 Applying the method of HTR to these records makes it easier for the diaries to be searched and translated for use in research on the history of religion and reproduction in East Africa. The team successfully produced and installed a 'keyword spotting tool' in the archive, applied to a test sample of the diaries. When expanded to the full collection, this will allow others to search the records for their own research automatically. Testing HTR on free-text diaries has also laid the groundwork for applying it to tabular parish registers to inform a larger project on African population history. The findings also have relevance for other quantitative historians in Africa who could use HTR technologies to create larger and more powerful databases in their respective fields.
The award enabled Dr Walters to build networks with other historical researchers and technologists working in the field of HTR, especially with those interested in applying the technology to tabular data for historical demographic research. Thanks to this award, Dr Walters has engaged with historical demographers from across Europe to compare methods and approaches and to learn about best practice. It has allowed her to build links with other Africanists who would also like to expand capacity for historical demographic research in the region through the mass digitisation and extraction of missionary records, and to discuss future collaborative grant applications.
During the award, Dr Walters organised a session on African Population History (in which she also presented this work) at the European Society for Historical Demography biennial conference 2019. She also presented her work at a conference in Vienna and to the Centre for Economic History in Sweden.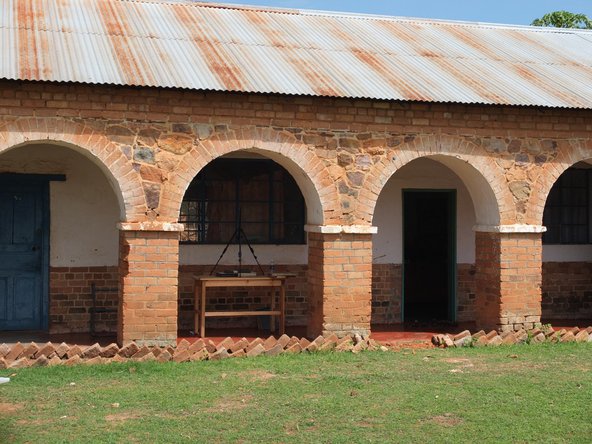 Building on this work, Dr Walters was awarded further funding from the Wellcome Trust in 2019 to support the development of the African Population History Network involving networks and collaborations developed during her award. She also received £2,000 from the Galton Institute to support the IUSSP Seminar 'Looking Backward, Looking Forward: African Demography in Historical Perspective', which is planned to take place in Nairobi, Kenya, in 2021. The project will be presented at this seminar, and there will be opportunities to discuss further collaborations on the use of HTR in historical demography in Africa.
The grant has enabled Dr Walters to continue working with her former MSc student, Sarah Rafferty, who is now a PhD student in historical demography at the Cambridge Group for the History of Population and Social Structure.
Dr Walters aims to build on this work with a project on reconstructing past population trends in Africa on a much larger scale than possible previously, through the semi-automatic transcription of parish registers.
Sign up to our email newsletters