Professor Robert P Gordon FBA
The Hebrew Bible / Old Testament: the ancient near eastern context; the Hebrew text and the ancient versions; exegesis and theology; the Hebrew Bible / Old Testament in Jewish and Christian tradition.
Elected 2011
Year elected

2011

Sections
Robert P. Gordon was Regius Professor of Hebrew at the University of Cambridge and a Professorial Fellow of St Catharine's College, Cambridge from 1995 to 2012. He has a PhD in Oriental Studies (1974) and a Litt.D. (2001) from Cambridge. He previously taught Hebrew and Semitic Languages at Glasgow University from 1969 to 1979. He served as Editorial Board member and Book List Editor (1997-2010) for Vetus Testamentum, the quarterly journal of the International Organization for the Study of the Old Testament (IOSOT), and acted as Secretary of IOSOT from 2001 to 2004. His memberships of learned societies include the Society for Old Testament Study, of which he was president in 2003. He has served on various editorial boards, and has edited the monograph series The Hebrew Bible and its Versions. He was a Revision Panel member for the Revised English Bible (1989), a member of the Anglicization Committee of the New International Version, and a translation review panel member for the English Standard Version. Gordon's research interests are in biblical exegesis, the ancient versions of the Old Testament, the Old Testament in its near eastern context, and the English Bible tradition.
Current post
Emeritus Regius Professor of Hebrew, University of Cambridge
Publications
The God of Israel
Edited by Robert P. Gordon - Published in 2007 by Cambridge University Press
Holy Land, Holy City: Sacred Geography and the Interpretation of the Bible
Robert P. Gordon - Published in 2004 by Paternoster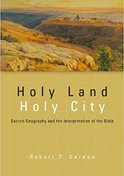 Sign up to our email newsletters