Professor John Sloboda FBA
Music Psychology of music
Elected 2004
Year elected

2004

Website
Professor John Sloboda is Research Professor at the Guildhall School of Music & Drama, London, where he is founding director of the Institute for Social Impact Research in the Performing Arts. He is also Principal Investigator on the AHRC-funded project "Music for Social Impact: Practitioners' contexts, work, and beliefs". He is Emeritus Professor at Keele and was a staff member of the School of Psychology at Keele from 1974-2008, where he was Director of its Unit for the Study of Musical Skill and Development, founded in 1991.
John is internationally known for his work on the psychology of music. He is a Fellow of the British Psychological Society and has been President of both the Psychology and General Sections of the British Association for the Advancement of Science, as well as President of the European Society for the Cognitive Sciences of Music, where he has served on the editorial board of its journal Musicae Scientiae. He is currently serving a 3-year term as founding President of SIMM, an international platform for research into the social impact of making music.
He was the recipient of the 1998 British Psychological Society's Presidents Award for Distinguished Contributions to Psychological Knowledge, and in 2004 he was elected to Fellowship of the British Academy. At present he is the first and only Fellow working in the UK conservatoire sector. In 2018, he was awarded an OBE for his services to psychology and music.
Current post
Research Professor, Guildhall School of Music and Drama; Emeritus Professor, Keele University
Past appointments
Guildhall School of Music and Drama
Research Professor
2011

-
Keele University
Emeritus Professor of Psychology, Keele University
2008

-
Keele University
Professor of Psychology
1991

-

2008
Keele University
Senior Lecturer in Psychology
1987

-

1991
Keele University
Lecturer in Psychology
1974

-

1987
Publications
Music and Emotion: Theory and Research
Edited by Patrik N. Juslin and John Sloboda - Published in 2001 by Oxford University Press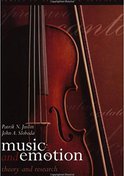 Sign up to our email newsletters