Prof Dr Dr Hc Heinz Schilling FBA
Social History Western Europe Germany, Netherlands History of Political Thought History Political History
Elected 2004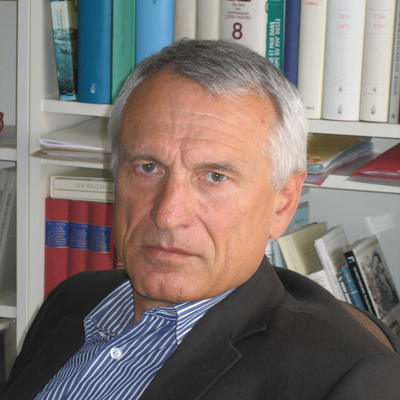 Fellow type

Corresponding Fellow

Year elected

2004

Sections
Born in 1942; Dr. phil.: Dutch Refugees in England and Germany (1971, Freiburg Univ.).; Habilitation: State building and religious conflict (1977, Bielefeld Univ.). - Chair in Early Modern History at Universities of Osnabruck (1977-1982); Gieen (1982-1992); Berlin (Humboldt, emeritus October 2010). Doctor honoris causa in Theology (Gottingen, 2009); and in History (Trento, 2014) Fellow: Institute for Research in the Humanities, Madison (1990/91), Center for Western European Studies, Berkeley (1994); Netherlands Institute for Advanced Study, Wassenaar (2003/04); Historisches Kolleg, München (2004/05). - Dr. A. H.-Heineken-Prize for History of the Royal Netherlands Academy (2002); Menahem Stern Lecture, Jerusalem (2006) on: Early modern European Civilization and its political and cultural dynamics. (publ. Hanover und London 2008. Member of the Berlin-Brandenburgische (former Preußische) Akademie der Wissenschaften; British Academy; Koninklijke Nederlandse Akademie van Wetenschappen; Academia Europaea Main fields of research: 1. European Comparative History; 2. Reformation and "Confessionalization"; 3. Early modern migration and minorities; 4. Political theory in early modern Europe; 5. History of the international system and foreign policys; 6. Early modern Dutch history; 7. Social and mental history of Calvinism in Germany and North-western Europe; 8. Urban history
Current post
Professor Emeritus, Institut für Geschichtswissenschaften der Humboldt Universität, Berlin
Past appointments
Other Foreign Institutions
Professor Emeritus, Institut für Geschichtswissenschaften, Humboldt-Universität, Berlin
2010

-
Publications
Civic Calvinism in North-western Germany and the Netherlands, Kirksville 1991 (Sixteenth Century Essays and Studies, vol. 17).
Martin Luther - Rebell in einer Zeit des Umbruchs München 4th edition C.H. Beck 2016; French and Danish 2015; Italian and Norwegian 2016; Englisch forthcoming Oxford U.P. )
Die neue Zeit. Vom Christenheitseuropa zum Europa der Staaten.1250 bis 1750 Berlin (Siedler) 1999
Konfessionalisierung und Staatsinteressen. Internationale Beziehungen 1559-1659, Paderborn (Schöningh) 2007
Aufbruch und Krise; Höfe und Allianzen, Deutsche Geschichte 1517-1763 1988/89. Berlin Siedler Verl.
Religion, Political Culture, and the Emergence of Early Modern Society. Essays in German and Dutch History Leiden (Brill) 1992
Sign up to our email newsletters