Professor Desmond King FBA
Desmond King specializes in the study of the American state in US executive politics, race and politics in American political development, and the financial bases of US politics.
Elected 2003
King has held numerous research grants including a Nuffield Foundation Social Science Research Fellowship (1997-98), a British Academy Research Readership (2000-2002), and a Leverhulme Trust Major Research Fellowship (2005-2008). Aside from his fellowship of the British Academy King has been elected a fellow of numerous learned societies including the Royal Irish Academy, Academia Europaea, the American Academy of Arts and Sciences, the National Academy of Social Insurance and the American Philosophical Society. He was a Fellow of NYU Law School's Strauss Center in 2013-14. King holds a DLitt in Politics from the University of Oxford.
Current post
Andrew W Mellon Professor of American Government, University of Oxford
Past appointments
St John's College, University of Oxford
Professor of Politics and Fellow
1991

-

2002
London School of Economics and Political Science University of London
Lecturer
1988

-

1991
Publications
Phantoms of a Beleaguered Republic: The 'Deep State' and the 'Unitary Executive'
Desmond King, Stephen Skowronek and John Dearborn - Published in 2020 by Oxford University Press
Fed Power: How Finance Wins
L R Jacobs and Desmond King - Published in 2016 by Oxford University Press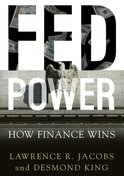 Sign up to our email newsletters