Water, water everywhere - even at Petra
Thu 15 Oct 2015, 19:00 - 20:15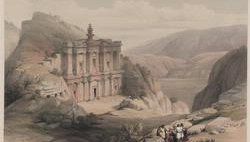 Venue

The British Academy, 10-11 Carlton House Terrace, London SW1Y 5AH
… match me such marvel save in Eastern clime,
a rose-red city half as old as time (J.W. Burgon, 1845)
Burgon never saw Petra, but he has forever painted the site for us in the desert palette of its Eastern clime. The nature of that clime is clear. In our imagination Petra appears, like the 'rocks' of its name, as dry as a bone.
Quite wrong. Water was everywhere, deployed for survival and for show. Archaeological work has rehydrated this landscape and now argues we look to the astonishing hydraulic systems of the past for solutions to present (and future) scarcities.
Speaker:
Professor Susan Alcock FBA
Joukowsky Family Professor in Archaeology, Brown University
About the speaker:
Susan E. Alcock (PhD 1989, University of Cambridge) is Director of the Joukowsky Institute for Archaeology and the Ancient World and Joukowsky Family Professor in Archaeology at Brown University. A classical archaeologist, with interests in the material culture of the Hellenistic and Roman eastern Mediterranean, much of her research to date has revolved around themes of landscape, imperialism, sacred space, and memory. She is presently co-directing the Brown University Petra Archaeological Project (BUPAP), exploring numerous aspects of the urban site and rural hinterland of Petra in southern Jordan.
Chaired by Professor Colin Haselgrove FBA, University of Leicester
Sign up to our email newsletters