The British Museum - Music of Ancient Greece
Fri 19 May 2023, 18:30 - 19:45
Accessibility

Accessible parking
Baby changing facilities
Subtitles
Wheelchair accessible venue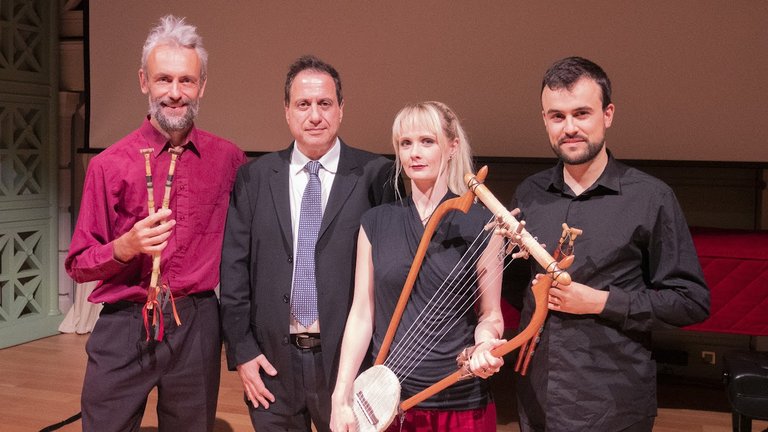 Venue

The British Museum, Great Russell St, London WC1B 3DG

Price

£10/£8 British Museum Members & concessions.
Music played a prominent role in ancient Greek life. Schools, theatres, temples, processions, concerts, and dinner parties all featured lyres and doublepipes. From these ancestors evolved the guitars, harps, keyboards, and reed instruments of modern life. What did Classical Greek music sound like? Hundreds of original instruments survive and sixty scores exist with musical notation. This interactive show brings superlative archaeological evidence to life through practical experiment, scholarly sleuth work, and creative play.
Our speaker, Dr D'Angour, a musician and tutor in classics at Oxford University, was awarded a British Academy Mid-Career Fellowship in March 2013 for his research into the music of ancient Greece.
All ages are welcome for this multi-sensory experience. Join us and immerse yourself in the sound of the music from Ancient Greece at The British Museum with Oxford University Professor Dr Armand D'Angour (FBA).

Speaker: Armand D'angor
Musicians: Stef Conner, Barnaby Brown, Callum Armstrong
This event will have live subtitles provided by StageTEXT, delivered by MyClearText.
Tickets £10/£8 British Museum Members & concessions.
Booking required
This event will take place at The British Museum, BP Lecture Theatre, with an in-person audience.
please email with any further questions [email protected].
Sign up to our email newsletters