The British Academy Book Prize for Global Cultural Understanding shortlist event
Wed 13 Oct 2021, 18:00 - 19:00
Accessibility

Live subtitling
Online event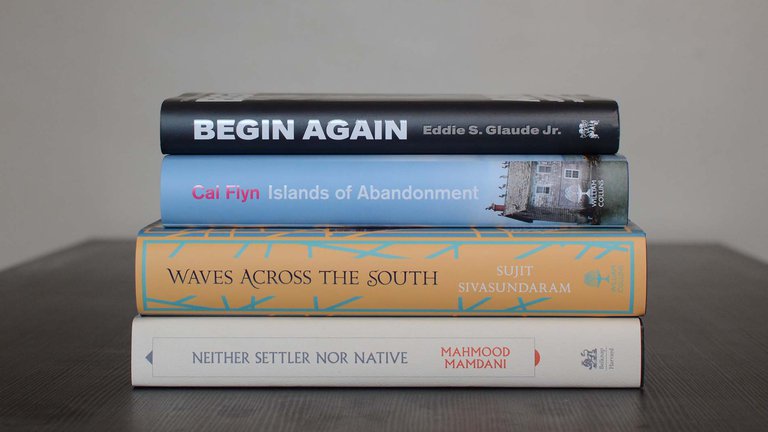 Venue

The British Academy on Zoom Webinar

Price

Free
Meet the authors shortlisted for the 2021 British Academy Book Prize for Global Cultural Understanding at this special online event organised in partnership with the London Review Bookshop. Awarded annually since 2013, the British Academy's £25,000 non-fiction book prize recognises work that searches for truth and reason in difficult places and shines a light on the connections and divisions that shape cultural identity worldwide. Join the four shortlisted authors, Cal Flyn, Eddie S. Glaude Jr., Mahmood Mamdani and Sujit Sivasundaram, for an exploration of urgent and globally significant topics. This event will be chaired by Fatima Manji, Channel 4 News broadcaster, journalist and author of Hidden Heritage: Rediscovering Britain's Lost Love of the Orient.
The 2021 shortlist:
Islands of Abandonment: Life in the Post-Human Landscape, by Cal Flyn
Begin Again: James Baldwin's America and its Urgent Lessons for Today, by Professor Eddie S. Glaude Jr.
Neither Settler nor Native: The Making and Unmaking of Permanent Minorities, by Professor Mahmood Mamdani FBA
Waves across the South: A New History of Revolution and Empire, by Professor Sujit Sivasundaram
You can find out more about the shortlisted books, and order a copy, via the London Review Bookshop.

This event will have live subtitles provided by StageTEXT, delivered by MyClearText.

Free, booking required
This event will take place on Zoom Webinar. The link to join the event will be sent to you in a confirmation email. A recording of this event will be added to our YouTube channel after the event has taken place. Booking a place at a British Academy event constitutes your acceptance of our terms and conditions. If you have any questions about this event please email [email protected].
Sign up to our email newsletters