Terrible Beauty: Music and Writing of the First World War
Tue 11 Nov 2014, 19:30 - 21:00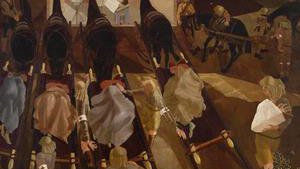 Venue

The Chapel, King's College London, Strand Campus, London WC2R 2LS
Out of the debris of the First World War emerged some of the most haunting literature and music of the twentieth century. Terrible Beauty will take us through the tumult of the times through an evening of songs, music and writings from both combatants and non-combatants, men and women, responding to the conflict from Great Britain and beyond.
It will include performances by the tenor James Gilchrist, and readings by the poet-critic Angela Leighton FBA and Matthew Cammelle, among others.
This concert was organised as part of the project 'Cultural Exchange in the Time of Global Conflict' (http://www.cegcproject.eu) led by Santanu Das, in collaboration with Humanities in European Research Area (HERA) and King's College London.
The event was also organised in conjunction with the British Academy Conference First World War: Literature, Culture, Modernity.
Image: Stanley Spencer, Travoys Arriving with Wounded at a Dressing-Station at Smol, Macedonia, September 1916 (1919)
Sign up to our email newsletters