Shaping the Air: the Voice and Radio
Tue 21 Oct 2014, 18:00 - 20:00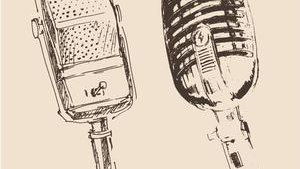 Venue

The British Academy, 10-11 Carlton House Terrace, London, SW1Y 5AH
To listen to any on the five essays in 'Shaping the Air' click here.
As part of our Dylan Thomas Centenary events, the British Academy hosted an evening of five short talks on the theme of the power of the voice on radio. Radio and the afterlife, the authoritative versus the authentic voice, demotic energy and the dinner-suited newsreader, the effect of unedited testimony, the right vocal range for a radio actor, how to talk to people who don't want to say anything – the territory covered in these five personal explorations will be broad and fascinating.
This event was recorded for BBC Radio 3's 'The Essays'  and was produced by Tim Dee. It was recorded on 21 October 2014 in front of an audience at the British Academy, and  broadcast on Radio 3 between 24 and 28 November 2014.
Featuring:

Olivia O'Leary is one of Ireland's most respected current affairs journalists having worked extensively for the national broadcaster RTE. In the UK she is most famous for presenting the Radio 4 series Between Ourselves in which she brought together two people who had profound experiences in common. Between winning awards for her radio programmes she also found time to co-author the authorised biography of the Irish President, Mary Robinson.
Roger Phillips has been in conversation with Merseyside for decades. He is a master of the phone-in, talking to his listeners on BBC Radio in Liverpool every weekday lunchtime. He challenges his listeners views and then champions once telling David Cameron 'We get call after call after call from people saying you and your Cabinet are just so out of touch it's untrue, you need to come up here and spend a week up here.'
Witty, arch, punchy and tender, Fi Glover is a multi-award winning radio presenter. She can deliver a deftly barbed question to a leading politician or help a listener relive a moment of terrible emotion. Having worked in BBC local radio she helped establish Five Live before joining Radio 4. She has presented Broadcasting House and Saturday Live and is currently presiding over the Listening Project and Shared Experience which both aim to put 'real voices' on the radio.  Fi is a founder member of Sound Women, an organisation promoting women's rights within the radio industry and was Chair of Judges for the 2009 Orange Prize for Women's Literature. She has also written Travels With My Radio – a book about radio stations and their audiences all around the globe.
Whether being himself or tackling a character, Samuel West is one of the UK's most articulate and compelling actors. His radio voices include plays by Laura Wade, Noël Coward, Vasily Grossman and Michael Frayn. He also played opposite the late Harold in Pinter in Pinter's own The Homecoming. Sam has also narrated novels and read poems for the Radio and when being himself he regularly contributes to discussions on Radio 3's late night Free Thinking Programme.
David Hendy is one of our leading academics on broadcast media and author of a highly acclaimed history of Radio 4 called Life On Air. His interest in radio is part of his fascination for modern 'mass' media and the way it has shaped the last 150 years. Having once been a producer in BBC current Affairs, David recently wrote and presented Noise: A Human History, a 30-part series for BBC Radio 4, which was broadcast in 2013. The series traced the role of sound and listening in social life from prehistory to the present-day. When not on the radio he works at the University of Sussex where he is the Director of Research for the School of Media, Film and Music.
The evening was hosted by Rana Mitter, Presenter of Radio 3's Free Thinking Programme.
Image © grop
Sign up to our email newsletters