Screen Translation and the Benshi Tradition in Japan
Thu 21 May 2015, 18:00 - 19:30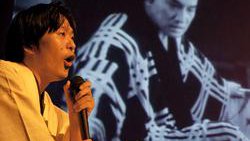 Venue

The British Academy, 10-11 Carlton House Terrace, London SW1Y 5AH
Japanese Benshi Kataoka Ichiro discussed some of the issues surrounding screen translation in Japan with Professor Markus Nornes. Through a series of short films and extracts in English and Japanese, Professor Nornes and Kataoka Ichiro will illustrate the challenges of translating silent film, and how Benshi, as performers, were an important part of the film viewing experience in their own right.
Speakers:
Markus Nornes
Professor of Asian Cinema at the University of Michigan.
Kataoka Ichiro
Professional Benshi
With live piano accompaniment by Cyrus Gabrysch. 
Chaired by: Dr Alexander Jacoby, Senior Lecturer in Japanese Studies, Oxford Brookes University
In association with the Japan Foundation and supported by
Image: © Kataoka Ichiro
Sign up to our email newsletters