Religion and the senses in Ancient Greek culture
Tue 2 Feb 2016, 18:00 - 19:15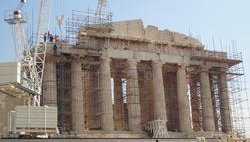 Venue

The British Academy, 10-11 Carlton House Terrace, London SW1Y 5AH
How did Greek Religion in antiquity smell? Today, Greek temples and their gods are perceived and reconstructed as objects deprived of their context, visible only as sterile artefacts. In contrast, the world of Greek polytheism had always offered impressive sensory experiences to the members of religious communities. Greek Religion could be smelled, heard, tasted and touched. Focusing on the example of classical Athens and its cults, the lecture tries to reconstruct the sensory dimension of Greek religion and raises the question of cultic and social functions of the senses in the religious field.
Speaker:
Professor Tanja Scheer Professor of Ancient History, Georg August University in Göttingen, Germany
Chaired by Professor Chris Carey FBA, University College London
About the speaker:
Tanja S. Scheer is Professor of Ancient History at the Georg August University in Göttingen, Germany. Her research focuses on the historical function of Ancient Greek myth and religion as well as on Greek gender history. She is the author of Mythische Vorväter (Munich, 1993), Die Gottheit und ihr Bild (Munich, 2000), and Griechische Geschlechtergeschichte (Munich, 2013).
Sign up to our email newsletters