Gallery
As part of Open House London, discover the historic home of the British Academy, the UK's national body for the humanities and social sciences.
The British Academy's Art Collection includes over 100 works: paintings, ceramics, limited edition prints, photographs, textiles, video and sculpture, most of which are on display. The Committee, composed of Fellows and co-opted external experts, advises the Academy on the acquisition, location and maintenance of the works which derive from a variety of sources: loans, donations, bequests, commissions and purchase.
Art highlights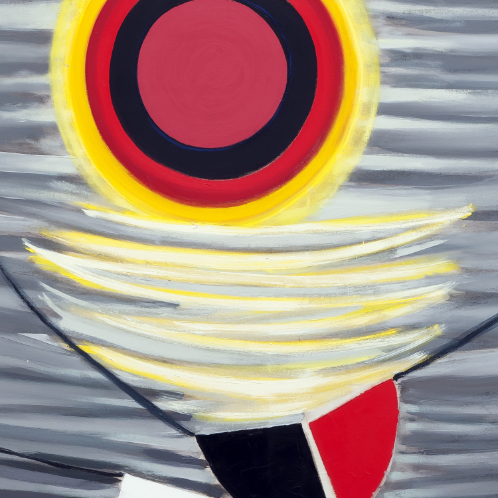 Black Sun, Newlyn
by Terry Frost, acrylic and oil on canvas, 1982
The Academy holds a significant collection of artworks from the St Ives artists, these include works by Terry Frost, Barbara Hepworth, Roger Hilton and Wilhemina Barnes Graham. There is a long-term plan to curate a themed exhibition that would showcase these pieces along with loans from other major collections galleries in the new basement space to create an exhibition about these artists and how St Ives inspired such a unique collection of 20th-century art.
Largely as part of the Ray Pahl bequest, the Academy are fortunate to hold a range of pieces from this inspirational St Ives artist community.
Terry Frost started painting in 1943 when a prisoner of war in Germany and attended the Camberwell School of Art 1947-50. His early style was naturalistic, but he turned to abstraction in the 1950s and was leading member of the St Ives group of abstractionists which flourished in the 1950s and 60s. As the title of this painting confirms, his abstract compositions are often inspired by direct visual experiences. Black Sun, Newlyn, Oil and acrylic on canvas, 1982 captures the unique light that defines so much of the art produced in St Ives during this time.
---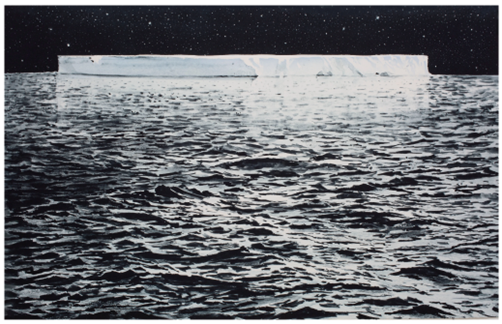 Tabular Berg
by Emma Stibbon RA, oil on canvas, 2022
Tabular Berg (2022) is by Emma Stibbon RA, who has also been an artist scholar at the British School at Rome (she was awarded the Derek Hill scholarship in 2010), and is committed to representing the impact of environmental and climate change.  This subtle print, which uses aquatint, is based on a research trip she made to the Antarctic Peninsula. This is a recent acquisition to the British Academy's collection, made possible by careful selection from the Academy's Art Committee through a modest budget.
Emma said: "I am thrilled to have my work included in the British Academy collection and that it will be displayed on the walls of such an exciting hub of research and debate."
Sign up to our email newsletters