Nayef Al-Rodhan Prize for Global Cultural Understanding shortlist event
Thu 1 Oct 2020, 18:00 - 19:00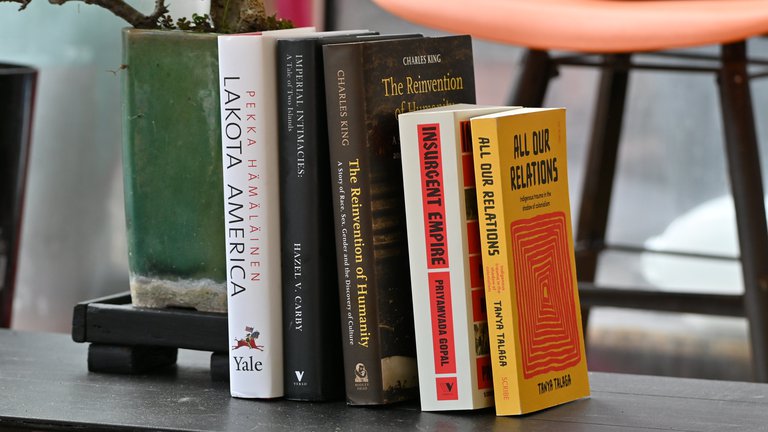 Venue

The British Academy on Youtube

Price

Free
Meet the authors shortlisted for the 2020 Nayef Al-Rodhan Prize for Global Cultural Understanding at this special British Academy and LRB event. Awarded annually since 2013, the British Academy's £25,000 non-fiction book prize recognises work that searches for truth and reason in difficult places and shines a beaming light on the connections and divisions that shape cultural identity worldwide. In this event, Ritula Shah is joined by the five shortlisted authors for an exploration of cultural identity, why it matters and how we can move forward in these deeply problematic times.
The 2020 shortlist:
Imperial Intimacies, A Tale of Two Islands by Hazel V. Carby
Insurgent Empire, Anticolonial Resistance and British Dissent by Priyamvada Gopal
Lakota America, A New History of Indigenous Power by Pekka Hamalainen
The Reinvention of Humanity, A Story of Race, Sex, Gender and the Discovery of Culture by Charles King
All Our Relations, Indigenous Trauma in the Shadow of Colonialism by Tanya Talaga
You can find out more about the shortlisted books, and order a copy, on the London Review Bookshop.
This event, organised in partnership with the London Review Bookshop, is made possible due to generous support from Professor Nayef Al-Rodhan
Free, booking required
This event will take place on YouTube. The link to join the event will be sent to you in a confirmation email. If you have any questions about this event please refer to our Events FAQs. If your question is not answered, please email [email protected].
Sign up to our email newsletters