'Enter Caelia, the Fairy Queen in her Night Attire': Shakespeare and the Fairies
Thu 22 Apr 2010, 19:00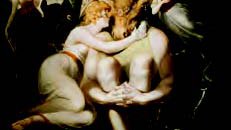 Venue

Royal Society, 6-9 Carlton House Terrace, London SW1
Do you believe in fairies? We all remember the fraught declaration made in Peter Pan (1904): 'Every time a child says "I don't believe in fairies," there's a little fairy somewhere that falls down dead.' When we turn further back, to the age of Shakespeare, perhaps the beginning of an age of disenchantment, can we ascertain either whether Shakespeare and other writers 'believed in' fairies, or what they thought about them? The problem turns out to be unsolvable, but we can examine how both writers of the English Renaissance and Reformations and also modern theatre directors have thought with fairies, used them to explore many aspects of life then and now. Fairy-lore was woven into cultural debates over the proper roles for women, over masculine and feminine sexuality – and fairies served as border-land figures in domestic and rural life. In Romeo and Juliet (Mercutio's Queen Mab speech) and A Midsummer Night's Dream the fairies may serve rather to signal mental states and power the machinery of the play than as figures of supernatural agency. We shall also consider the ways in which the textual descriptions of the smallness of fairies can be matched with theatrical images in selected productions.
About the speaker 
Michael Hattaway was educated in New Zealand and Cambridge. He taught at the Universities of Kent, British Columbia, and Massachusetts, is Emeritus Professor of English Literature in the University of Sheffield and now teaches at New York University in London. His books include Renaissance and Reformations (2005), studies of Elizabethan popular theatre, of Hamlet, and of Richard II, editions of 1–3 Henry VI, As You Like It, and A New Companion to English Renaissance Literature and Culture(2010).
Speaker:
Professor Michael Hattaway
The lecture was chaired by Professor Richard McCabe FBA.
Sign up to our email newsletters