Collective voice: the power of speaking in unison
Wed 15 Nov 2023, 18:00 - 19:00
Accessibility

Accessible parking
Baby changing facilities
Wheelchair accessible venue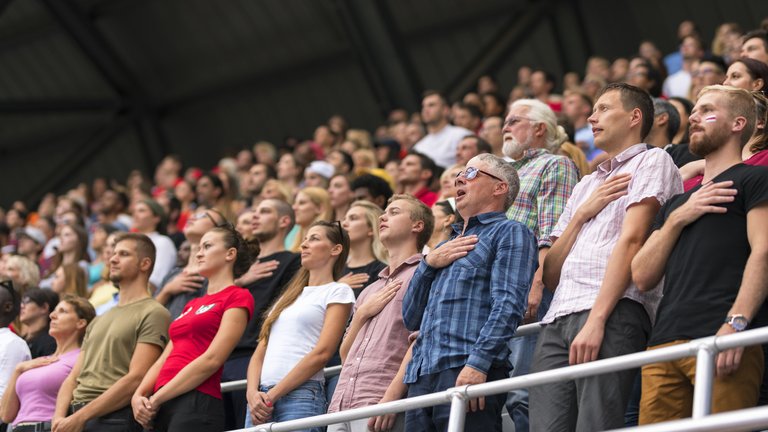 CANCELLED
Unfortunately, this event has been cancelled.
The world today is full of moments of collective speech. Chanted slogans, prayers, oaths of allegiance and football songs all act as performances of shared belonging, but can also exclude, marginalise, and divide. From the chorus on the Greek stage, to the national anthem, from the liturgical debates of the Reformation, to polarising populist chanting in recent times, the complex history of words spoken in unison can shed light on societies, cultures, traditions and politics.
Join us at this event to explore the cultural and political significance of collective speech and how it is dramatised in modern and contemporary literature, hear recordings and performances and take part yourself by adding your voice to our chorus of chants.
Speakers:
Dr Matthew Taunton, Associate Professor, University of East Anglia; British Academy Mid-Career Fellow
Professor Steve Waters, Professor of Scriptwriting, University of East Anglia
Part of Being Human Festival, 9 - 18 November
Free, booking required
Please book your ticket through Eventbrite.
This event will take place in-person at the British Academy's home at 10-11 Carlton House Terrace, St James, London, SW1Y 5AH.
If you have any questions about this event, please refer to our Public Events FAQs. If your question is not answered, please email [email protected] or call the Events Team on +44(0)20 7969 5264.
Find out more about British Academy Events and sign up to our newsletter.
Sign up to our email newsletters