The British Academy Summer Showcase 2023
Sat 17 Jun 2023, 11:00 - 17:00
Accessibility

Wheelchair accessible venue
Venue

The British Academy

Price

Free
Meet the thinkers shaping our world
Join us this June as we throw open our doors for the British Academy's annual Summer Showcase, a free festival of ideas for curious minds.
Meet the thinkers shaping our world with their pioneering social sciences and humanities research through our programme of engaging workshops, pop-up talks, film screenings, panel discussions and performances.
Taking place throughout our home in 10-11 Carlton House Terrace, you will also be able to see inside our Nash-designed, Grade I-listed building, overlooking the Mall and St James's Park.
The Summer Showcase is open, free, to the public on Saturday 17 June. We are also opening the festival to schools on Friday 16 June, and to early career researchers on the evening of Friday 16 June.
Come along, learn something unexpected, and be inspired to think differently about the world around you.
A major redesign of our home at 10-11 Carlton House Terrace will open up the Academy and provide new, flexible and state-of-the-art event spaces in 2024. Therefore, our 2023 Showcase will not feature exhibits as previously. However, our programme will still offer opportunities to engage directly with pioneering research.
#ForCuriousMinds
Opening hours:
Saturday 17 June, 11am–5pm
Please note, a ticket is not required for this event but it really helps us to know that you are attending!
Programme
The art of place: re-imagining landscapes for mental wellbeing
Council Room 11–11.30am, 12–12.30pm, 1–1.30pm, 2–2.30pm, 3–3.30pm
Professor Emma Rose (Lancaster University) and Dr Macarena Rioseco Castillo (Universidad Metropolitana de Ciencias de la Educacion)
Led by British Academy-funded researcher Emma Rose and artist Macarena Rioseco Castillo, this art workshop is designed for anyone to drop in, pick up a paintbrush or a crayon, and develop their means of creative self-expression.
The format is developed from a British Academy-funded programme of workshops titled 'Art of Recovery', which engaged with migrants who had been forced to leave their homes in extreme situations, to explore how participatory arts can contribute to recovery from trauma.
---
The science of storytelling
Council Room 12.30–1pm, 4 –4.30pm
Dr Hannah Little (University of Liverpool)
Storytelling lies at the heart of effective science communication and is one of the oldest, most powerful and universal tools that humans use to understand the world around us, but why do some stories endure while others are forgotten?
Led by Hannah Little, Lecturer in Communication and Media at the University of Liverpool, this interactive activity is set up like a game of 'Telephone' and will help uncover cognitive biases associated with storytelling.
Watch Hannah's Tedx Talk about what science fiction can teach us about the origins of language; and listen to her in conversation with Michael Rosen on BBC Radio 4's Word of Mouth.
---
Visual strategies for sound – a music workshop for creating instant graphic scores
Mall Room 12–12.30pm, 4–4.30pm
No. 11 Lobby 2–2.30pm
Dr Una MacGlone (Edinburgh University) and Jean McEwan
Pick up an instrument and have a go at these tried and tested music and art activities in a friendly and supportive setting.
Led by British Academy Postdoctoral Fellow in Music at the Edinburgh College of Art, improvisation specialist and bassist Una MacGlone, alongside Bradford-based visual artist Jean McEwan, this workshop will demonstrate how music can help promote wellbeing and improve mental health.
No musical experience is necessary to attend the workshop, and instruments will be provided. Watch Una McClone and Jean McEwan's captivating multimedia collaboration 'A Whole Other Vibe', produced (alongside musician and producer Jim McEwan) as part of the 2021 Glasgow Improvisers Orchestra Festival.
---
Respect me, respect my name: names, identities and why it matters to say people's names correctly
Mall Room 12.30–1.15pm, 3–3.45pm
Dr Jane Pilcher and Dr Hannah Deakin-Smith (Nottingham Trent University), Seun Matiluko
We all have names, and our names signal who we are – to ourselves and to other people – in all sorts of ways. And this is why it is important to say people's names right. If you are a human being who wants to respect the identities of people you encounter, this interactive workshop will help you!
Led by British Academy-funded researchers from Nottingham Trent University Jane Pilcher and Hannah Deakin-Smith, along with journalist Seun Matiluko, this 45-minute session will guide you through a set of activities that will help you to:
Understand the significance of names for people's identities, including through telling your own 'name story'
Learn how to respect the names of other people
Learn how you can help others to pronounce your own name correctly
Learn how you can be an ally to those whose names might get mispronounced!
Listen to Jane Pilcher – Associate Professor of Sociology and leading expert on the sociology of names – discuss personal names and identity on BBC Radio 4's Thinking Allowed programme.
---
Mini Citizens' Assembly: how can we listen to each other?
Mall Room 1.30–2.45pm
Dr Naomi Waltham-Smith (Warwick University)
Recent research by the Institute for Public Policy Research (IPPR) suggests that many in Britain feel their voice is not being heard, fuelling populist backlash and disaffection, but rarely do we ask ourselves what listening means to us. Unlike the philosophical attention paid to speech, we lack a shared framework for understanding listening as a democratic practice.
Led by Dr Naomi Waltham-Smith, a Reader at the Centre for Interdisciplinary Methodologies, University of Warwick and a British Academy-funded researcher, this interactive mini–Citizens' Assembly invites you to come together to discuss and propose what "listening well" might mean today.
Watch Naomi discuss urban marginalisation and belonging in the context of electronic music in this lecture for the Heyman Center for the Humanities, Columbia University.
---
Do you believe in magic?
Garden 12–1pm
Professor Catherine Rider and Professor Dionisius Agius FBA (University of Exeter), Mara Livermore (Founder & CEO, House of SweetWaters)
This special workshop uses records from the early 17th century Inquisition in Malta to illuminate stories about who sought or performed magic during the period, many of them ordinary people. From amulets to healing, superstitions to problem-solving, learn about the different ways that magic spanned social divisions and how it differed – or not – from our understanding of magic today with Catherine Rider, Dionisius Agius and Mara Livermore.
Read a preview of Magic in Malta: Sellem bin al-Sheikh Mansur and the Roman Inquisition, 1605 edited by Catherine Rider and Dionisius Agius.
---
Arts and health: creative writing workshop
Council Room 2.30–3pm
Dr Kim Wiltshire and Dr Zayneb Allak (Edge Hill University)
Dr Kim Wiltshire and Dr Zayneb Allak lead this interactive discussion of how we can use the arts for wellbeing. This workshop will include elements such as freewriting, crafting our words and using well known forms such as Haikus to explore how we feel.
---
Crafting inclusion: using creative materials to talk about difficult topics
No. 11 Lobby 12.30–1pm and 3–3.30pm
Dr Angelika Strohmayer (Northumbria University) and Dawn Harrison (Changing Lives)
Join in this crafting activity based on a 12-month collaborative research project aiming to innovate inclusion policies in arts and heritage venues and service delivery for criminal justice support organisations.
---
Community research, ethical representation, and co-created life writing
Garden 4–5pm
Sam Dodd and Erica Masserino, CityLife Stories
This introductory writing workshop will combine community engagement, creative practice, and research to produce non-fiction on lived, situated experiences of the city, highlighting the importance of storytelling as a way to increase resilience and improve mental health, while showing the role of interdisciplinarity in platforming voices which are otherwise silenced.
No previous writing experience required.
Park life: why should we value green space in a city?
Wolfson Room 11am–12pm
Ellen Miles (Participatory chair, Nature is a Human Right), Tara Gbolade (Gbolade Design Studio) and Professor Ben Jones (British Academy-funded researcher)
Contact with nature has been found to be as vital to our welfare as regular exercise and a healthy diet. In this panel discussion, Ellen Miles, founder of campaign 'Nature is a Human Right', speaks to Ben Jones, British Academy-funded researcher and Professor of Development Studies at the University of East Anglia and Tara Gbolade, Sustainable Architect, about the importance of democratising green space in cities and the difficulties we face ensuring our green spaces are maintained, expanded, and valued in urban areas.
Watch Ellen discuss her book Nature is a Human Right. And hear from Tara on strategies for sustainable design and building for the future.
---
Democratising space: opening up a Grade I-listed building
Wolfson Room 12.30–1pm
Manijeh Verghese (Architectural Association) and Maeve Lock (Wright & Wright Architects)
Wright & Wright Architects are transforming the Academy's Grade I-listed building into a space that invites the public to come and experience the research we support.
We have invited Manijeh Verghese to speak to Maeve Lock about what it means to democratise heritage buildings in central London, and the role of the architect as a communicator in changing our relationship with these sorts of spaces.
Watch Manijeh argue why pubs are some of the best examples of the power of architecture.
---
Women who shaped the world (and why you've probably never heard of them)
Garden 1–2pm
Dr Janina Ramirez (Chair), Professor Mary Orr (University of St Andrews) and Dr Rebecca Preston (English Heritage)
Women in the early 19th century allegedly could not participate in scientific exploration or the discovery of new natural history, yet multiple specialist contributions provide extensive counter evidence. Janina Ramirez, author of Femina: A New History of the Middle Ages, Through the Women Written Out of It, will chair this panel featuring Mary Orr, British Academy-funded academic, and Rebecca Preston, a historian with English Heritage's London Blue Plaques Scheme, to celebrate women from SHAPE disciplines who have been overlooked throughout history.
Watch Rebecca discuss why so few women are celebrated by the London Blue Plaques Scheme.
As part of her project 'A remarkable woman in science: Sarah Bowdich (Lee) 1791-1856' for the 2021-2022 British Academy Donald Winch Fund Senior Research Fellowship in Intellectual History, Mary is releasing her forthcoming book Sarah Bowdich Lee (1791-1856) and Pioneering Perspectives on Natural History with Anthem Press.
---
Untold narratives of the Second World War
Music Room 2–3pm
Dr Diya Gupta (Chair), Steve Hatton (Filmmaker), Dr Ellen Pilsworth (University of Reading) and Luke Turner (Author)
This event will begin with a screening of the award-winning short documentary film Heilig (2011, 17 minutes), which offers an intimate portrait of Jewish Kindertransport refugee Gerhard Heilig, introduced by filmmaker Steve Hatton.
Dr Diya Gupta, author of India in the Second World War: An Emotional History, will then lead a conversation with Steve Hatton, author Luke Turner (Men at War: Loving, Lusting, Fighting, Remembering 1939-1945) and British Academy-funded researcher Ellen Pilsworth. They will look beyond retrogressive ideals and explore untold narratives of the Second World War.
From a bisexual Commando and the former POW who became an LGBT+ activist, to Indians in service and at home during the war, the panel will share these stories, and explore how they help us to gain a true understanding of this rich history.
---
Imagine a world without refugee camps
Wolfson Room 2–3pm
Dr Kate Crawford (KLH Sustainability), Dr Lucy Earle (International Institute for Environment and Development) and Dr Romola Sanyal (London School of Economics and Political Science)
Three researchers with shared backgrounds in displacement crises – engineer Dr Kate Crawford, social scientist Dr Lucy Earle and urban planner Dr Romola Sanyal – join forces for this panel discussion examining the potential feasibility of a world with no long-term refugee camps.
Watch Kate discuss the demolition of social housing, one of the most contentious issues surrounding urban regeneration.
And listen to Romola and Lucy discuss how policymakers conceptualise the wellbeing of displaced refugees in camps compared with urban areas in this episode of the Displacement Urbanism podcast.
---
ChatGPT, AI, and the future
Garden 2–3 pm
In collaboration with the British Library
Dr Mia Ridge (British Library, Chair), Tim Gordon (Co-founder, Best Practice AI) and Hetan Shah (CEO, British Academy)
Much consideration has been given to how machine learning is influencing our lives, and what it means for the near future. This panel will consider ChatGPT's current influence in research, and how it might be a tool for copyright theft, content creation, knowledge-sharing or misinformation.
This panel of experts will critically examine whose voices are being heard in the discourse around AI, what choices we must make about how it is implemented, and which technologies are bringing genuine value to world of education and research.
---
Looking back to see forward: the legacy of Windrush
Garden 3–4pm
Lisa Anderson (Chair), Dr Eleni Liarou (Birkbeck, University of London) and Onyekachi Wambu (African Foundation for Development)
In June 1948, the SS Empire Windrush docked in Tilbury and disembarked hundreds of young people from the Caribbean. The impact of this arrival is still understood and respected 75 years later. Join our speakers as they discuss the significance of this anniversary, reflect upon how Windrush has been understood, and posit ways of sharing this history for future generations.
Eleni's research project, 'Decolonising the BBC Archive: Radio News and the language of race in post-WWII Britain' invites different generations of the public from African and Caribbean backgrounds to speak back to the BBC's reporting across the corporation's history. Learn more about the project in 'Whose voice, whose story?'
Watch Onyekachi in conversation on the restitution of African and Caribbean artefacts in the possession of museums, galleries and religious buildings around the world.
---
Potatoes, foghorns, and geopolitics: the importance of a global cultural understanding
Wolfson Room 3–4 pm
Rosie Goldsmith (Chair), Jennifer Lucy Allan (BBC Radio 3), Professor Rebecca Earle FBA (University of Warwick) and Hana Teraie-Wood (Penguin Press / Colour(full))
Now in its 11th year, the British Academy Book Prize for Global Cultural Understanding is awarded annually for a non-fiction book that has made an outstanding contribution to public understanding of world cultures. This panel of experts are familiar with this task. From Book Prize judge and Fellow Rebecca Earle's Feeding the People: the Politics of the Potato to Jennifer Lucy Allan's The Foghorn's Lament: The Disappearing Music of the Coast, they will discuss how rigorous, original and high-quality research can captivate curious minds, and explore what we stand to gain culturally from doing so.
Aerial Archaeology in the Middle East
Gallery 11.50am–12pm
Dr Robert Bewley (Council for British Research in the Levant)
Important archaeological discoveries are often the result of long expeditions that require significant funding and support. Dr Robert Bewley, Research Associate at the University of Oxford's School of Archaeology, will explore how the Council for British Learning in the Levant's 'Aerial Archaeology in the Middle East' project has uncovered new findings about Roman military campaigns in the second century ACE with the latest remote sensing techniques.
---
What we can learn from family history?
Gallery 12.30–12.40pm
Professor Rebecca Probert FBA (University of Exeter)
The pooling of family histories – including the stories of people who led 'quiet' and 'unremarkable' lives – enables us to identify trends and practices that test and potentially disrupt conventional narratives about the way that families lived in the past. Rebecca Probert FBA, Professor of Law at the University of Exeter, reflects on how the skills she developed through researching family history have shaped her academic career.
---
Does discussing cultural similarities with other groups (de)motivate you to take collective action for them?
Gallery 1–1.10pm
Dr Özden Melis Uluğ (Funded Researcher)
An introduction to intergroup contact theory, one of the most influential ideas in social psychology, in everyday language. What can happen when people from conflicting parties come together when the appropriate conditions are present for intergroup exchange? Dr Özden Melis Uluğ, Lecturer in Psychology at the University of Sussex, will explore the importance of discussing cultural similarities (eg, shared or similar traditions) in societies where there is discrimination and tension between groups, and how positive intergroup experiences can lead to collective action.
---
In praise of the rogue: How Germany's weirdest crime writer both survived the Holocaust, and didn't
Wolfson Room 1.10–1.20pm
Professor Susanne Kord FBA (University College of London)
Walter Serner (1889-1942) was an important figure in the Dadaism movement whose books continue to attract a cult following in his native Germany. Serner and his wife were persecuted by the Nazi regime during the Holocaust and were murdered at the Theresienstadt concentration camp in 1942. Susanne Kord FBA, Professor of German at UCL, will discuss Serner's life, work and legacy.
---
What comes to your mind when you hear the word archaeology?
Gallery 1.30–1.40pm
Dr Işılay Gürsu (British Institute at Ankara)
Archaeology is a field that appeals to many people outside of its academic remit. The studies in Türkiye show that it triggers intense curiosity and spurs narratives about the past and is assigned a high intangible value. Built on the results of the British Institute at Ankara's long-term initiative, this talk will highlight ways to understand public perception of archaeology and why it matters.
---
How do we 'see' gender relations in prehistory?
Council Room 1.40–1.50pm
Professor Marie Louise Stig Sørensen FBA (University of Cambridge)
Gender is an important part of any society, but it is difficult to understand without texts or images – so how do we see gender in prehistory? To address this aspect of prehistoric societies, we need to make the material culture speak to its use in constructing and presenting identities. In this presentation, Marie Louise Stig Sørensen FBA, Professor of Prehistoric Europe and Heritage Studies at the University of Cambridge, will outline some of the ways we do this and the insights we are gaining into gender in prehistoric cultures.
---
The voice of the people
Gallery 1.40–1.50pm
Dr Matthew Taunton (Funded Researcher)
Collective speech – the act of speaking, chanting or singing in unison – carries many important meanings in modern culture. From the coronation oath to chants at political rallies, from football songs to the Lord's Prayer, in this talk literary critic and historian, Dr Matthew Taunton, explores a pervasive phenomenon that expresses communal togetherness, but is often at the same time partisan and divisive.
---
Towards inclusive internet communities: supporting older people
Gallery 3–3.10pm
Dr Snehasish Banerjee (Funded Researcher)
As the world spends more time online, digital threats such as misinformation, scams and clickbait have become commonplace. Many of us,including but not limited to older adults, lack the internet literacy to browse with confidence. In this talk, Dr Snehasish Banerjee, Senior Lecturer in Marketing at the University of York, will highlight some of the pressing challenges facing people online and their possible coping strategies, including how audience members can help bridge the digital divide by supporting those who may not be as confident as themselves to use the internet safely and beneficially.
---
Do CEOs get what they deserve?
Gallery 3.20–3.30pm
Dr Jinsha Zhao (Kingston University)
Chief executives' pay has increased much faster than the average employee's salary in the last two decades, widening the gap between top and middle earners. Is this growing pay inequality justified? Dr Jinsha Zhao, Senior Lecturer in Finance at Kingston University, interrogates this question and its relationship – or lack thereof – with productivity.
---
Digitising the "largest survey of an Islamic city ever conducted"
Gallery 3.40–3.50pm
Jessica Holland (Council for British Research in the Levant)
This talk traces the story of how the old city of Jerusalem's Islamic cultural heritage has been documented from the 1930s to the 2020s, starting with K.E.G. Creswell's 1930s black-and-white photographs of Jerusalem's Islamic sites, to a ground-breaking survey conducted by the British School of Archaeology in Jerusalem (established by the British Academy in 1922), that ran from 1968 to the 1990s. Jessica Holland, Strategic Projects Director at the Council for British Research in the Levant, will also discuss how digitisation and machine learning are being used to create an interactive tour of Jerusalem's Islamic architecture.
Watch previews of some of our film screenings.
---
Weaving Knowledge
Music Room 11am–5pm
75 min
Directed by Anita Afonu, produced by Bartek Dziadosz/The Jarman Lab. A collaboration between Professor Karen Wells (Birkbeck, University of London), Dr Peace Tetteh (University of Ghana), Professor Dr Erdmute Alber (University of Bayreuth), and project partners Afrikids, Plan Togo, and West Africa Research Centre. Fieldwork was conducted by Fatou Kiné Diouf.
Shot in villages in rural Northern Ghana, Maritime Togo and Central Senegal, the film depicts children making textiles and weaving, transforming matter, playing games and making toys.
---
How Has Solar Building Impacted Villagers in India?
Music Room 11am–5pm
11 min
Dr Carol Maddock (Swansea University)
Renewable energy (RE) transitions are critical for mitigating climate change and India is a key player – but we do not know if RE transition is equitably beneficial, particularly for those reliant on fossil fuels in everyday existence. This film was produced in Khuded (Maharashtra) to reflect changes that are most important to villagers individually and as a community.
---
Should We Create Gene Drive Grey Squirrels?
Music Room 11am–5pm
18 min
Professor Sarah Hartley (University of Exeter) and Tom Law (Filmmaker)
Gene drive governance focuses on the decisions that shape how controversial gene drive technology is funded, developed, regulated, and possibly tested and deployed. This short film uses the case study of gene drive squirrels to kickstart a debate on the broader development of genome editing in wildlife.
---
Art and Gender in South Sudan
Music Room 11am–5pm
5 min
Professor Tamsin Bradley and Dr Louis Netter (University of Portsmouth)
Exploring the research findings on violence against women, gender, and artistic practices in South Sudan through animation.
---
Mhara Pichchar ('Our Cinema')
Music Room 11am–5pm
10 min
Dr Alice Tilche (University of Leicester)
This community-led project aims to understand the visualisation of the COVID-19 pandemic among India's most marginalised indigenous communities, an outcome of a British Academy-funded grant titled 'Disturbing Images'.
---
When the Dust Settles
Music Room 11am–5pm
30 min
Dr Maria Abranches (University of East Anglia)
Co-produced with Amy Lythgoe, Ayoola Jolayemi, Nihaya Jaber and participant refugee families in Manchester and Glasgow.
Understand the lived experience of refugee families, one or more years after the arrival of relatives through the process of family reunion in the UK. Increasing knowledge in this area will have a direct impact on the work of organisations such as project partner Together Now.
---
Delhi 2.5
Music Room 11am–5pm
18 min
Produced by Amit Bose and Siddharth Subramanian.
Part of a collaboration between Dr Pawas Bisht (Keele University), Dr Sabina Kidwai (AJK MCRC, Jamia Millia Islamia), Dr Eva Giraud (University of Sheffield) and Sudeshna Devi.
The film examines the devastating health impacts of air pollution in New Delhi, foregrounding the experiences of the city's younger generation. Part of a project seeking to generate new, more empowering, and effective narratives to tackle the catastrophic challenge of urban air pollution confronting India.
---
Older People, Internet Use and Online Safety
Music Room 11am–5pm
8 min
Dr Snehasish Banerjee (University of York)
The video shows some of the challenges that older people face during their online information search, along with recommendations for key stakeholders who could support older people's online experience.
---
(Dis)Appear UK Premiere + Q&A
Institute of Contemporary Arts (ICA), 6pm
65 min
This screening will take place at the ICA at 6pm on Saturday 17 June. Tickets are available to book in advance from £11.
(Dis)Appear is a documentary about how private archive and family photographs have memorialised the victims of political violence and forced disappearances perpetrated by Argentina's military dictatorship of 1976-83. It centres on two protagonists: Gabriel Orge, an Argentine photographer known for his large-scale projections of the photos of the disappeared in public spaces; and Ana Iliovich, a survivor of La Perla, a clandestine torture and detention centre.
This premiere will include a post-screening Q&A with its director, British Academy-funded researcher Piotr Cieplak, whose research project 'Intimate moments, public acts: photographs of the disappeared and memory politics in Argentina' produced this film. He will be in conversation with Professor Sarah Maltby, Founder and Coordinator of the War and Media Network.
Building bridges across political divides
Waiting Room 11am–5pm
Dr Nicole Tausch (University of St Andrews) and Dr Michèle Birtel (University of Greenwich)
Take part in a questionnaire to gain insight into how our political allegiances can bias how we view and feel about people with opposing views.
---
The Paintings Quest Trail
Collect from No 10 Reception
Courtesy of Dr Tetyana Lunyova (University of York, Researchers at Risk Fellow)
The British Academy is the home for works of visual art by many prominent and celebrated artists. Grab a copy of this bespoke worksheet from the No. 10 entrance, follow the Paintings Quest Trail and explore the power of words to open the potential of the abstract works of art.
---
What are the right words to use? Teachers' and parents' motivational messages for students taking high-stakes exams
Garden 11am–5pm
Dr Richard Remedios and Beccie Davis-Yates (Nottingham Trent University)
Be part of research in action. Contribute to this study aiming to create a useful guide for parents to refer to when children are approaching assessments.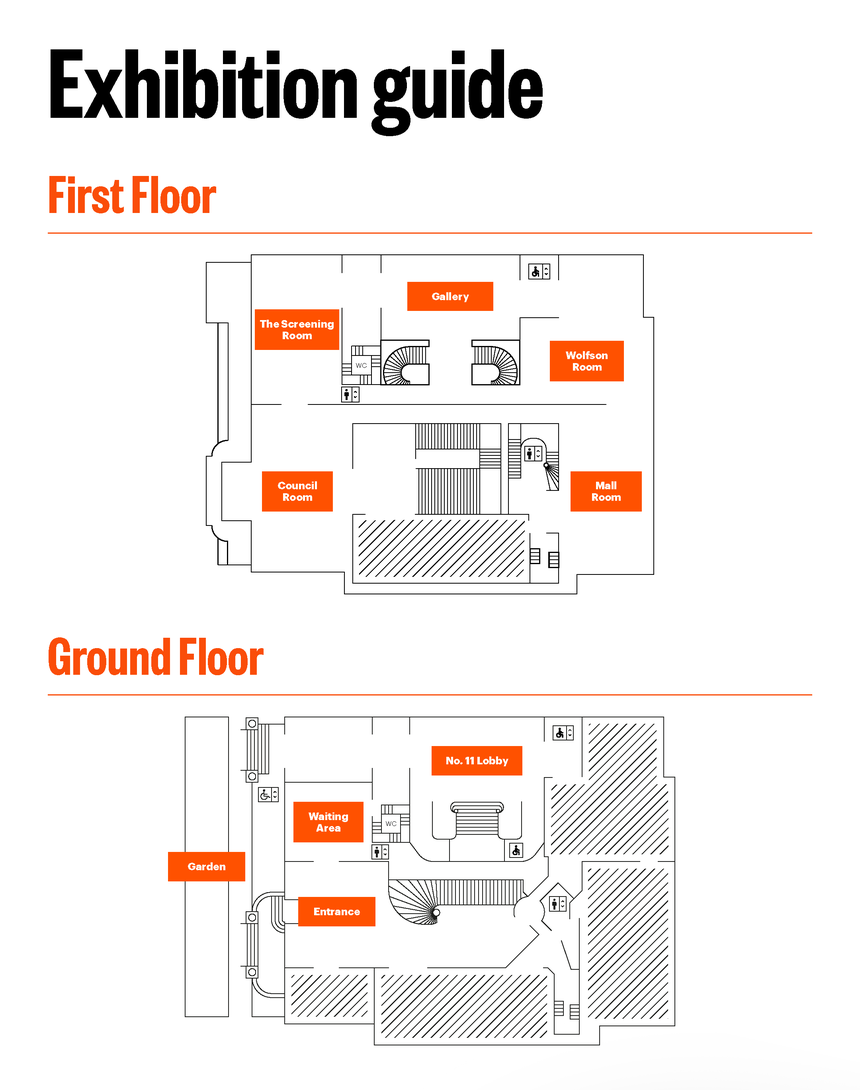 Sign up to receive updates about the Summer Showcase
Sign up to our email newsletters