British Academy Prizes and Medals Ceremony 2014
Tue 25 Nov 2014, 11:00 - 16:00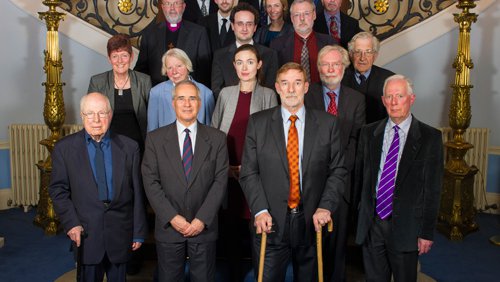 Two new awards were made for the first time in 2014: the Neil and Saras Smith Medal for linguistics; and the Brian Barry Prize for political science, in partnership with Cambridge University Press and the British Journal of Political Science.
The 2014 ceremony was held on 25 November.
British Academy President's Medal
The President's Medal rewards signal service to the cause of the humanities and  social sciences. It was first awarded in 2010 and covers a broad range of  criteria, including insightful journalism contributing to public understanding,  use of research in policy-making, and public leadership.
Watch Jane Goodall and Clive James accept their awards via video message.
British Academy Medal
The British Academy Medal, awarded for the first time in 2013, was created to  recognise and reward a landmark academic achievement in any of the disciplines  supported by the Academy, which has transformed understanding of a particular  subject or field of study.
Nayef Al-Rodhan Prize for Transcultural Understanding
A  major £25,000 prize for work on transcultural understanding, administered by  the British Academy, and named after International Relations scholar, Dr Nayef  Al-Rodhan. It rewards outstanding academic achievement that illustrates the  interconnected nature of cultures and civilizations. This prize was first  awarded in 2013. In 2014, the prize was presented at a separate ceremony on 30 September.
Neil & Saras Smith Medal for Linguistics
Awarded for the first time in 2014, this medal will be  awarded annually to a linguist of any nationality whose career has demonstrated  the highest standards of achievement and scholarship.
Brian Barry Prize in Political Science
A  new annual prize created in partnership with Cambridge University Press and the  British Journal of Political Science, in honour of Brian Barry, a distinguished  Fellow of the Academy and founding editor of the journal. The prize will be  awarded annually for excellence in political science, as displayed in an essay  submitted that has not been previously published elsewhere. The winning essay will be published in the British  Journal of Political Science.
Derek Allen Prize for Numismatics
This annual prize  commemorates Derek Fortrose Allen FBA (1910–1975), and was founded in 1976 by his widow, Mrs Winifred Allen, and her sons to provide an award for outstanding  published work by a scholar of any nationality in one of three academic fields  in which Mr Allen had particular interest: musicology, numismatics, and Celtic  studies.
Burkitt Medal for New Testament Studies
Professor Francis Crawford Burkitt FBA (1864–1935), decided in 1923 to strike a number of bronze  medals to recognise scholars' special service to Biblical Studies. After his  death in 1935 the awards became known as Burkitt Medals. The Medal is awarded  alternately in Hebrew Bible studies (in odd years) and in New Testament studies  (in even years).
Edward Ullendorff Medal for Semitic Languages and Ethiopian Studies
Professor Edward  Ullendorff FBA (1920-2011) was elected a Fellow of the British Academy in 1965.  His widow has generously supported the establishment of a Medal in memory of  her husband's long association with the Academy, awarded for scholarly  distinction and achievements in the field of Semitic Languages or Ethiopian  Studies. It was first awarded in 2012.
Rose Mary Crawshay Prize
The Academy's oldest  prize, established in 1888 by Mrs Rose Mary Crawshay. Prizes are awarded to a  woman of any nationality for 'an historical or critical work of sufficient  value on a any subject in English Literature, preference being given to a work  regarding one of the poets Byron, Shelley and Keats'.
Grahame Clark Medal for Prehistoric Archaeology
Endowed in 1992 by Professor  Sir Grahame Clark FBA, to acknowledge distinguished achievements involving  recent contributions to the study of prehistoric archaeology.
Serena Medal for Italian History
Endowed by Mr Arthur  Serena after Great Britain's alliance with Italy in the First World War, to be  awarded annually 'for eminent services towards the furtherance of the study of Italian  history, literature, art or economics'. The first award was made in 1920.
Wiley Prize in Economics
This annual £5,000  prize rewards achievement in research in any field of economics or economic  history by an outstanding early career economist. It is sponsored by the  scientific, technical, medical and scholarly publisher Wiley-Blackwell.
Wiley Prize in Psychology
This annual £5,000 prize,  made in partnership with Wiley-Blackwell, the scientific, technical, medical  and scholarly publisher, recognises excellence in research in psychology. It  alternately rewards lifetime achievement by an outstanding international  scholar (in even years), and promising early career work by a UK-based  psychologist (in odd years).
Sign up to our email newsletters