Building peace through culture: art, memory, landscape, time
8 Mar 2022 - 9 Mar 2022
Accessibility

Online and in person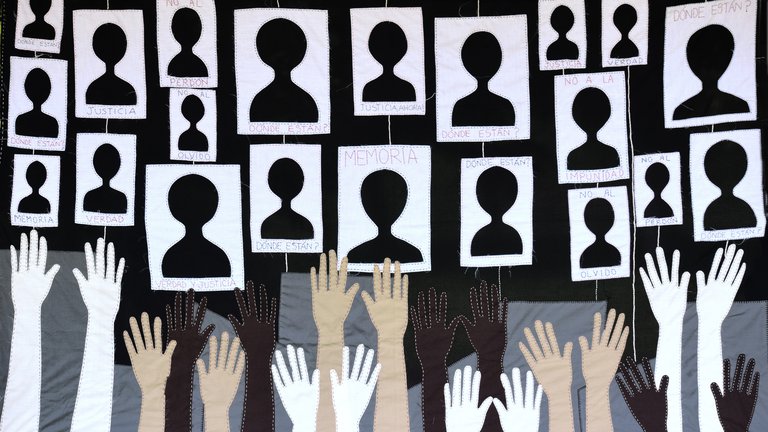 Venue

University of Cambridge and online

Event series
British Academy Conferences bring together scholars and specialists from around the world to consider and evaluate new research in the humanities and social sciences.
This in-person and online conference will explore emerging avenues of reconciliation and campaigns for transitional justice by focusing on the relationship between art, memory, landscape and time. History is shaped by schematic narratives which often submerge victims' experiences, diminishing their agency by historicising issues. Art can disrupt this temporal paradigm. We will consider how this can be harnessed in human-rights activism and peacebuilding work.
In countries where disappearances, atrocities and conflicts cause painful experiences of personal and collective trauma, art can intervene in this process, facilitating a dialogic approach to memorialisation, reconciliation, and peacebuilding.
We will discuss textile art such as the Chilean arpilleras and Colombian testimonial textiles as well as other symbolic representations that are used in campaigns for the disappeared. We will discuss cultural projects that work with peace signatories and victims in post-conflict situations.
We will also reflect on landscape and time, exploring the relationship between memory and public space. This panel will consider the links between memory and the built environment, focusing on the importance of physical spaces in post-conflict situations.
Some of the speakers have an interest in cyberculture, visual representations of military conflicts and digital resources in the field of conflict resolution. In their respective projects they use online mapping tools, digital planning projections and digital art repositories. We hope that our inter-disciplinary conference will advance knowledge in fields as wide ranging as cultural studies, art history, politics, history, geography nursing and digital humanities.
Conference convenor:
Dr Lorna Dillon, University of Cambridge
Speakers across the two-day conference include:
Dr Jacqueline Adams, University of California, Berkeley
Professor Marjorie Agosin, Wellesley College
Dr Beatriz Arias, Universidad de Antioquia
Joe Campbell, novelist and artist
Dr Adrian Grant, Ulster University
Professor Brandon Hamber, Ulster University
Dr Danielle House, University of Reading
Dr Pete Hudson, Ulster University
Dr Iosif Kovras, University of Cyprus
Pauline Ross, The Playhouse Theatre, Northern Ireland
Dr David Shim, University of Groningen
Erika Silva Urbano, Colectivo Memorarte and Universidad de Valparaíso
Dr Olivera Simić, Griffith University
Professor Claire Taylor, University of Liverpool
Booking opens in January 2021
For any enquiries about this conference please email Dr Lorna Dillon, Murray Edwards College, University of Cambridge Lad41@cam.ac.uk
Funded by the Department for Business, Energy and Industrial Strategy (BEIS)
Image: Memorarte. 2018. ¿Dónde están? Photo by Marcelo Aragonese
Sign up to our email newsletters