Between One and Many: Interpreting Large Numbers in the Buddhist Art of China
Tue 1 Nov 2011, 18:00 - 19:15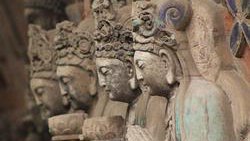 Venue

The British Academy, 10-11 Carlton House Terrace, London, SW1Y 5AH
Modern practice of art history often treats Buddhist icons or ritual objects as single entities, focusing on their individuality. However, archaeology has revealed a number of examples from medieval China where multiplicity overtook singularity in expressing ideas related to the Buddhist cosmology.
This lecture examines how the paradoxical doctrine of "the one and the multiple" was translated into visual language. In some cases, groups or sets were formed to relate to certain numbers bearing metaphorical significances; while in some others, objects were simply replicated in large numbers to create a sense of awe. It will be shown that various devices and tactics involving different levels of translation and interpretation were formulated around the given socio-historical framework in order to visualize the notion of infinity and ultimately the Buddhist structure of the universe.
About the speaker
Hsueh-Man Shen is Assistant Professor at the Institute of Fine Arts, New York University. Professor Shen was the recipient of a 2008/2009 fellowship at the Wissenschaftskolleg (Institute for Advanced Study) in Berlin. Prior to New York, she served as Senior Curator of China at the National Museums Scotland and taught at the University of Edinburgh. She specializes in the art and archaeology of medieval China, with a concentration on the intersection between mortuary and religious practices. Currently she is completing a book which explores the transition and transformation in the visual arts of China during the long tenth century.
Speaker:
Dr Hsueh-Man Shen
Sign up to our email newsletters