The Baillie Gifford Prize shortlist
Thu 10 Nov 2016, 18:00 - 19:30
Venue

The British Academy, 10-11 Carlton House Terrace, London, SW1Y 5AH
In the final run up to the 2016 winner being announced, some of the shortlisted authors for this year's Baillie Gifford Prize for non-fiction discuss their books. The Baillie Gifford Prize (previously The Samuel Johnson Prize) is the UK's premier prize for non-fiction books, covering subjects from current affairs, history, politics, science, sport, travel, biography, autobiography and the arts. Past winners of the prize include Antony Beevor, Margaret MacMillan, James Shapiro and Steve Silberman (pictured).
Chaired by:
Lorien Kite is the books editor of the Financial Times. He has been at the newspaper since 2000, working most recently as deputy comment editor and assistant analysis editor before taking on his current role in 2011. Prior to the FT he spent five years in publishing.
Find out more about the Baillie Gifford Prize.
Image © Janie Airey
In partnership with: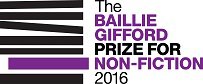 Sign up to our email newsletters