2023 British Academy Book Prize
Awarded annually since 2013, the British Academy's £25,000 non-fiction book prize recognises work that searches for truth and reason in difficult places, and shines a light on the connections and divisions that shape cultural identity worldwide.
The 2023 shortlist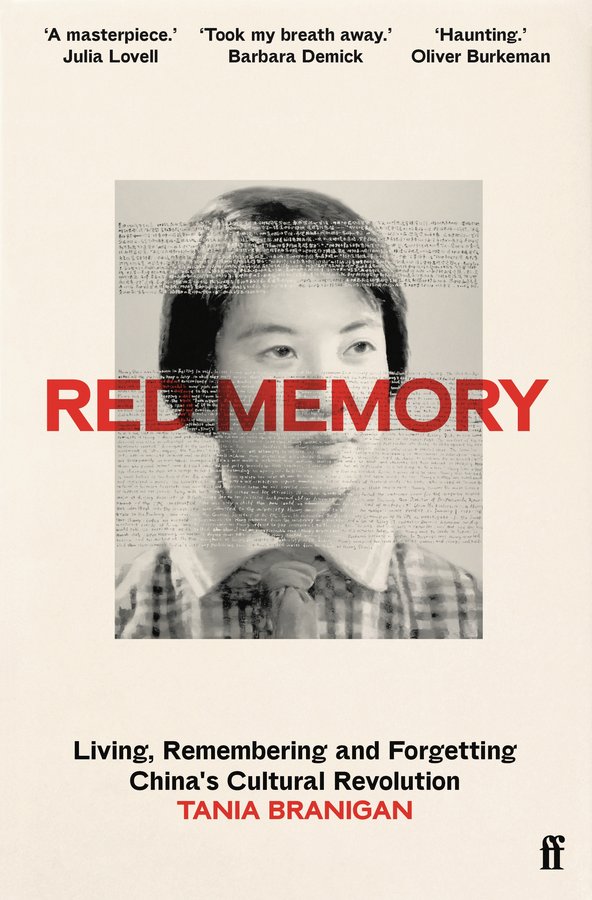 Red Memory, Living, Remembering and Forgetting China's Cultural Revolution by Tania Branigan (Faber & Faber)
An indelible exploration of the Cultural Revolution and how it shapes China today, Red Memory uncovers forty years of silence through the rarely heard stories of individuals who lived through Mao's decade of madness.
A 13-year-old Red Guard revels in the great adventure, and struggles with her doubts. A silenced composer, facing death, determines to capture the turmoil. An idealistic student becomes the 'corpse master' . . .
More than fifty years on, the Cultural Revolution's scar runs through the heart of Chinese society, and through the souls of its citizens. Stationed in Beijing for the Guardian, Tania Branigan came to realise that this brutal and turbulent decade continues to propel and shape China to this day. Yet official suppression and personal trauma have conspired in national amnesia: it exists, for the most part, as an absence.
Red Memory explores the stories of those who are driven to confront the era, fearing or yearning its return. What happens to a society when you can no longer trust those closest to you? What happens to the present when the past is buried, exploited or redrawn? And how do you live with yourself when the worst is over?
Tania Branigan is the Guardian's foreign leader writer. Having spent seven years as the Guardian's China correspondent, her writing has also appeared in The Washington Post and The Australian. Red Memory is her first book.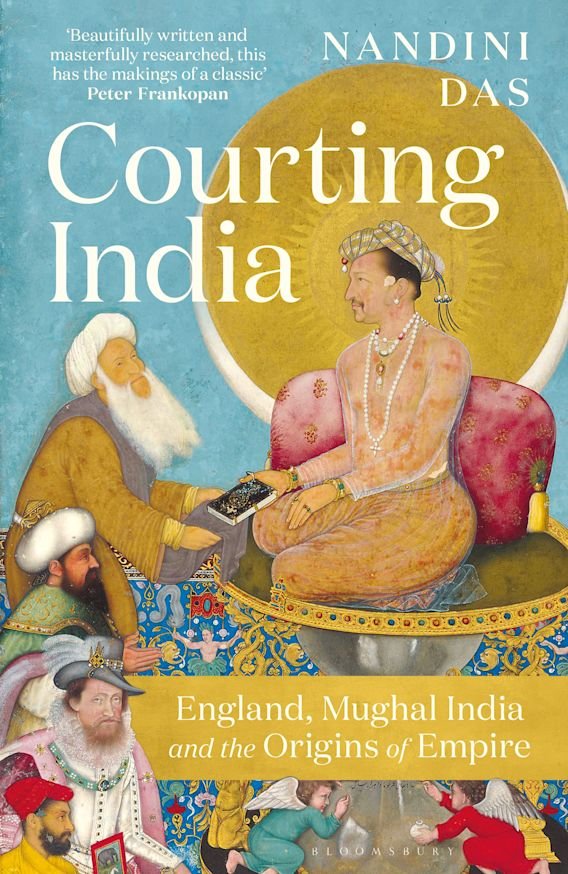 Courting India: England, Mughal India and the Origins of Empire by Nandini Das (Bloomsbury Publishing)
When Thomas Roe arrived in India in 1616 as James I's first ambassador to the Mughal Empire, the English barely had a toehold in the subcontinent. Their understanding of South Asian trade and India was sketchy at best, and, to the Mughals, they were minor players on a very large stage. Roe was representing a kingdom that was beset by financial woes and deeply conflicted about its identity as a unified 'Great Britain' under the Stuart monarchy. Meanwhile, the court he entered in India was wealthy and cultured, its dominion widely considered to be one of the greatest and richest empires of the world.
In Nandini Das's fascinating history of Roe's four years in India, she offers an insider's view of a Britain in the making, a country whose imperial seeds were just being sown. It is a story of palace intrigue and scandal, lotteries and wagers that unfolds as global trade begins to stretch from Russia to Virginia, from West Africa to the Spice Islands of Indonesia.
A major debut that explores the art, literature, sights and sounds of Jacobean London and Imperial India, Courting India reveals Thomas Roe's time in the Mughal Empire to be a turning point in history – and offers a rich and radical challenge to our understanding of Britain and its early empire.
Nandini Das is professor of Early Modern Literature and Culture in the English faculty at the University of Oxford. Brought up in India, she was educated at the Jadavpur University in Kolkata, before moving to England for further study. Among other books, she is co-editor of The Cambridge History of Travel Writing. A BBC New Generation Thinker, she regularly presents television and radio programmes, including Tales of Tudor Travel: The Explorer's Handbook on BBC Radio Four.
The Violence of Colonial Photography by Daniel Foliard (Manchester University Press)
The late nineteenth century saw a rapid increase in colonial conflicts throughout the French and British empires. It was also the period in which the camera began to be widely available. Colonial authorities were quick to recognise the power of this new technology, which they used to humiliate defeated opponents and to project an image of supremacy across the world.
Drawing on a wealth of visual materials, from soldiers' personal albums to the collections of press agencies and government archives, this book offers a new account of how conflict photography developed in the decades leading up to the First World War. It explores the various ways in which the camera was used to impose order on subject populations in Africa and Asia and to generate propaganda for the public in Europe, where a visual economy of violence was rapidly taking shape. At the same time, the book reveals how photographs could escape the intentions of their creators, offering a means for colonial subjects to push back against oppression.
First published in French, it is translated by Daniel Foliard, Saskia Brown and Martha Evonuk.
Daniel Foliard is a Professor of Modern History at Université Paris Cité and author of Dislocating the Orient: British Maps and the Making of the Middle East, 1854-1921.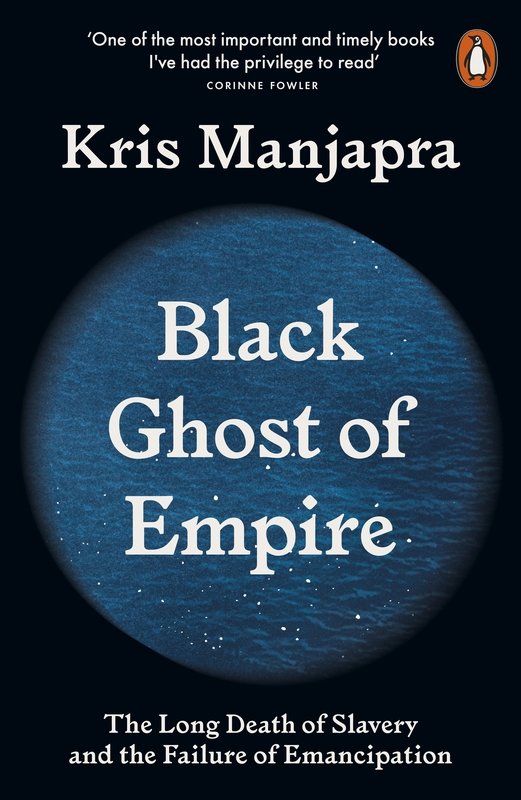 Black Ghost of Empire: The Long Death of Slavery and the Failure of Emancipation by Kris Manjapra (Allen Lane, Penguin Press)
To fully understand why the shadow of slavery haunts us today, we must confront the flawed way that it ended. We celebrate abolition – in Haiti after the revolution, in the British Empire in 1833, in the United States during the Civil War. Yet in Black Ghost of Empire, acclaimed historian Kris Manjapra argues that during each of these supposed emancipations, Black people were dispossessed by the moves that were meant to free them. Emancipation, in other words, simply codified the existing racial caste system - rather than obliterating it.
Ranging across the Americas, Europe and Africa, Manjapra unearths disturbing truths about the Age of Emancipations, 1780-1880. In Britain, reparations were given to wealthy slaveowners, not the enslaved, a vast debt that was only paid off in 2015, and the crucial role of Black abolitionists and rebellions in bringing an end to slavery has been overlooked. In Jamaica, Black people were liberated only to enter into an apprenticeship period harsher than slavery itself. In the American South, the formerly enslaved were 'freed' into a system of white supremacy and racial terror. Across Africa, emancipation served as an alibi for colonization. None of these emancipations involved atonement by the enslavers and their governments for wrongs committed, or reparative justice for the formerly enslaved-an omission that grassroots Black organizers and activists are rightly seeking to address today.
Black Ghost of Empire will rewire readers' understanding of the world in which we live. Paradigm-shifting, lucid and courageous, this book shines a light into the enigma of slavery's supposed death, and its afterlives.
Kris Manjapra was born in the Caribbean of mixed African and Indian parentage. He grew up in Canada and completed his undergraduate and graduate degrees at Harvard. He is Stearns Trustee Professor of History and Global Studies at Northeastern University in Boston, Massachusetts, and a recipient of the Diverse magazine 2015 Emerging Scholar Award. He has held fellowships at the Berlin Institute for Advanced Study, the Radcliffe Institute for Advanced Study, and the Alexander von Humboldt Foundation. He is the author of Colonialism in Global Perspective and Age of Entanglement.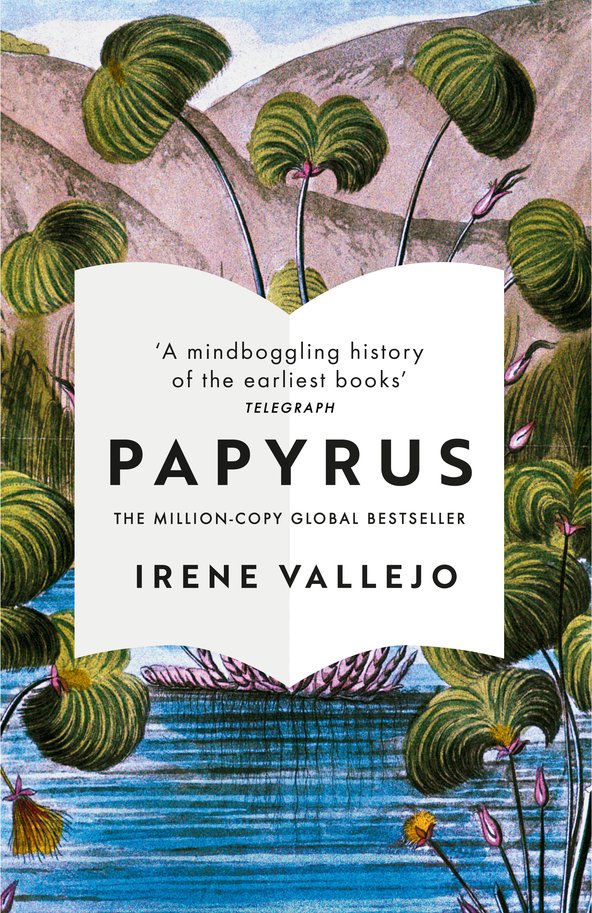 Papyrus: The Invention of Books in the Ancient World by Irene Vallejo (Hodder & Stoughton)
Long before books were mass produced, those made of reeds from along the Nile were worth fighting and dying for. The story of the creation and preservation of books is vivid and dramatic, and rife with bloodshed and megalomania. Their survival can be traced to the battlefields of Alexandra the Great, beneath the eruptions of Mount Vesuvius, and to Cleopatra's palaces and the scene of Hypatia's murder.
In this prize-winning, internationally bestselling work of history, classicist Irene Vallejo chronicles literary culture in the ancient world, and the heroic efforts that ensured its survival over thousands of years. Tracing the history of the written word takes us to capitals where culture flourished, as well as hidden places where knowledge found refuge in chaotic times. Woven throughout are fascinating stories about the spies, scribes, illuminators, librarians, booksellers, authors and statesmen whose rich and sometimes complicated engagements with the written word bears remarkable similarities to the world today.
An international bestseller published in more than 40 countries, Papyrus is translated into English by Charlotte Whittle.
Irene Vallejo earned a European Doctorate from the Universities of Zaragoza and Florence. Papyrus was awarded the National Essay Prize, the Critical Eye Prize for Narrative and the Bookstore Recommendation Award and it is being translated into over 30 languages. She is a regular columnist for El País and Heraldo de Aragón, and is the author of two children's books, two novels, and three collections of essays, articles, and short fiction.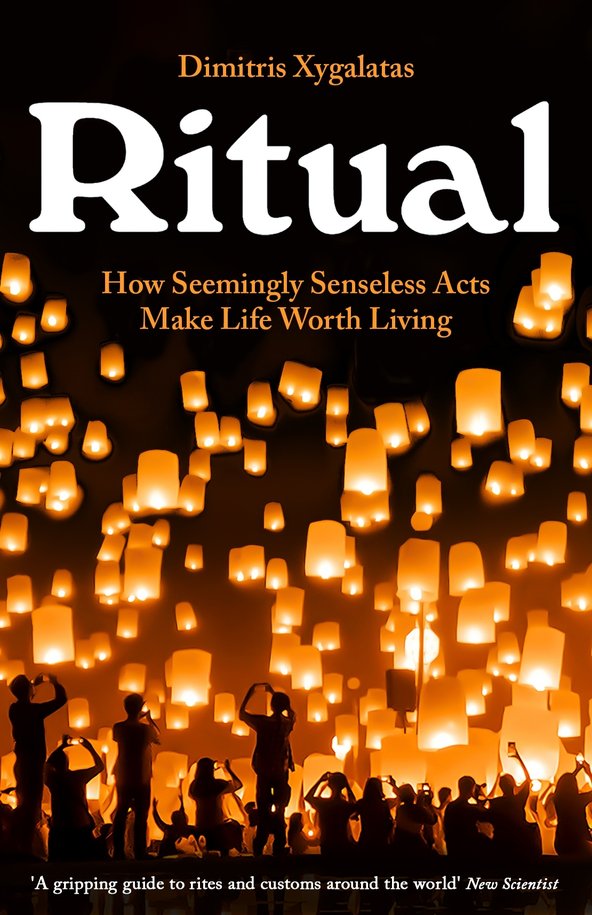 Ritual: How Seemingly Senseless Acts Make Life Worth Living by Dimitris Xygalatas (Profile Books)
Ritual is one of the oldest threads in the history of human culture. Yet, it poses a deep paradox: people ascribe the utmost importance to their rituals, but few can explain why they matter so much. Apparently pointless ceremonies pervade every documented society, from handshakes to hexes, hazings to parades. Before we ever learned to farm, we were gathering in giant stone temples to perform elaborate rites and ceremonies. But while rituals exist in every culture and can persist nearly unchanged for centuries, their logic has remained a mystery – until now.
In Ritual, pioneering scientist Dimitris Xygalatas leads us on an enlightening tour through this shadowy realm of human behaviour. Armed with cutting-edge technology and drawing on discoveries from a huge range of disciplines, he presents a powerful new perspective on our place in the world. In coronations, in silent prayer, in fire-walks and terrifying rites of passage, in all the bewildering variety of human life, Ritual reveals the deep and subtle mechanisms that soothe, excite, divide and unite us. Our need for ritual, he finds, is primordial. Embracing it can help us connect to each other, find meaning in our lives and discover who we are.
Dimitris Xygalatas is an anthropologist and cognitive scientist at the University of Connecticut. He has spent his career studying rituals all over the world, combining ethnographic observations with novel scientific experiments. He has published over 100 articles, and has been interviewed about his pioneering work by the Guardian, the New York Times, the Washington Post, the New Yorker, Forbes, PBS, the History Channel, National Geographic and others. He has a particular interest in walking through fire.
Sign up to our email newsletters