How the arts are vital to social projects and self-care in South Sudan
by Dr Zoe Cormack
19 Jun 2018
This blog is part of our Summer Showcase series, celebrating our free festival of ideas for curious minds.
---
On a hot day in April, I sat in a tent in a 'Protection of Civilians site' in Juba, the capital city of South Sudan. These sites – known as POCs – currently house around 200,000 people, who live under the protection of the United Nations (UN). The POCs were established in 2013, at the start of the current civil war, when thousands of civilians ran to UN bases to shelter from escalating violence. Intended as a temporary measure, the POCs have become a fixture of the ongoing conflict.
The importance of the arts in times of war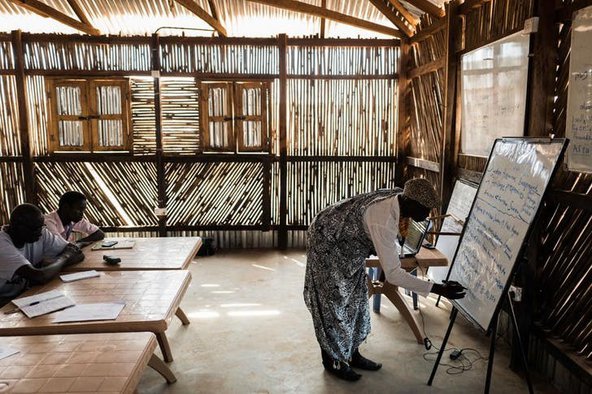 This is not the sort of place you might expect to find arts or cultural organisations, but a small handmade sign on the outside of this tent announces it as the 'Nuer Cultural Centre'. I'm here to meet Deng Nhial Chioh, who runs 'Maale Heritage and Development Foundation'. He has been living in Juba POC since the start of the conflict, where he's been running activities about the cultural heritage of South Sudan. Talking to Deng, it's easy to see why war and displacement do not suspend interest in artistic and expressive cultures. If anything, these circumstances make the arts even more vital to retaining a sense of self and comfort. Maale is one of number of initiatives in Juba, including the Likikiri Collective and The Roots Project, that have been exploring how South Sudan's rich cultural heritage can be used to address urgent questions about history, identity and resilience in the war-torn country.
These South Sudanese-led projects are hugely important for maintaining a sense of hope in the current crisis. Many people living in the POCs have fled from — and remained haunted by — traumatic experiences. Those who live and work in these sites say there is a great strain on mental health. Life in the POC is characterised by feelings of hopelessness, persecution and living in what feels like a state of suspended animation. These dire circumstances are reflected in a high suicide rate. In the POC in Malakal (a town in the north of South Sudan), MSF recorded a spike in suicides (including child suicides) at the end of 2017. Many conversations with residents of the POC during my research have emphasised the importance of different forms of self-care in displacement. These range from starting small businesses, to getting involved in church groups to simply talking and passing time with other people. These activities help to prevent people from 'thinking too much' ('carjieek' — a Nuer term which might loosely be translated as 'trauma').
A history of displacement and heritage work
South Sudanese have experienced decades of conflict. Some of the POC residents are living through a second, or even third period of protracted displacement. The Maale foundation was founded in 2001 in a shanty town home to displaced Southern Sudanese on the outskirts of Khartoum. The name, 'Maale' meaning 'hello' or 'greetings' in Nuer language, was chosen to promote Southern Sudanese cultures and languages at a time when many displaced southerners feared their existence was under threat.
The idea also came out of Deng's childhood experiences. Like many South Sudanese, he has a mixed ethnic background, his mother is Dinka and his father is Nuer. He speaks both languages and sees exploring cultural heritage as a way of building cross-cultural understanding. In some respects, he treats Maale as applied anthropology.  Deng studied anthropology at the University of Juba in Khartoum and was inspired to form the foundation after reading Evans-Pritchard's classic studies of The Nuer. He enjoyed these books, but thought Nuer people have much more to say about their own culture.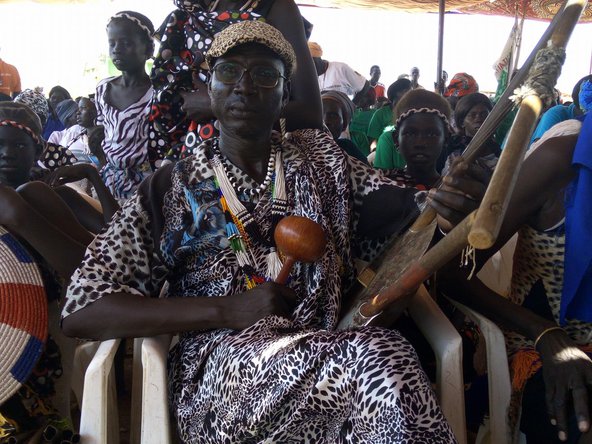 Drawing on heritage resources at home and abroad
When the new civil war broke out in 2013, Maale became an organisation in displacement once again. Deng was one of thousands of Juba residents to sought refuge at the UN mission. He began to organise a range of activities which include traditional dances, film screenings and heritage studies classes for university students in Juba POC. During these classes, he shows old photographs and images of objects from museum collections in Europe. In 2004, the Pitt Rivers Museum digitised their collection of photographs and objects from South Sudan. After Deng found this resource online, he downloaded hundreds of images and uses them in his lectures. The Pitt Rivers Museum collection now forms the visual basis of a curriculum, teaching displaced students about the cultural history of South Sudan.
Deng also encourages POC residents to make traditional objects. Materials can be hard to find in the POC, but there are ways to improvise.  When Deng fled to the POC, he lost everything: his library, collection of objects, all the photographs of Maale's activities that he had built up over the years. He sees museum collections like the Pitt Rivers and other across Europe as a potential resource for rebuilding a cultural archive, that can be tapped by people in South Sudan. Here, there are exciting possibilities of thinking through the value of these museum collections, and how they might contribute to social projects and self-care during periods of displacement and recovery. As Deng told me, '[the POC] is a place of death, but heritage has made it a place of life'.
---
Dr Zoe Cormack is a Leverhulme Early Career Fellow in the African Studies Centre at the University of Oxford. If you have any questions about the Maale Foundation, please contact [email protected]. 
Sign up to our email newsletters