Ceramics Collection
Details of the Academy's ceramic collection, which includes pieces by artists such as John Ward, Kate Malone, Carolyn Genders and Anna Lambert.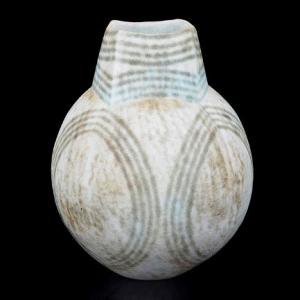 John Ward, 1938
Globular Pot, coil-built stoneware, c.2000, Ht 26cm
John Ward studied at the Camberwell School of Arts and Crafts. Now one of the best-known British contemporary potters, he established a studio in London in 1970 and moved to Wales in 1979. He applies glazes and slips to the surfaces of his hand-built pots, creating a dynamic pattern which emphasises the geometric form – in his own words "Form above all, but expressed through light and colour".
The main influences on his work are the pre-glaze pottery of ancient China and Egypt, early Cypriot pottery and early Persian bowls. He also acknowledges the influence of his tutors, who included Ian Godfrey and Lucie Rie. His work is represented in many public collections.
Gift from Nicholas and Judith Goodison's Charitable Settlement, November 2015.
Richard Batterham, 1936
Cut-sided vase, glazed stoneware, c.2000, Ht 27.5cm
Richard Batterham learnt his craft at school under Donald Potter, a student of Eric Gill. He then studied at the Leach Pottery in St Ives, Cornwall, before setting up his own studio at Durweston, Dorset. In 1966 he built a larger four-chambered kiln in nearby premises. He has developed a popular range of shapes and subtle wood ash glazes, and sells his work both direct and through retail outlets such as David Mellor. His work reflects the English studio pottery tradition but also the work of Korean makers. He is regarded as one of the leading potters working in Britain today and is represented in numerous public collections.
Gift from Nicholas and Judith Goodison's Charitable Settlement, November 2015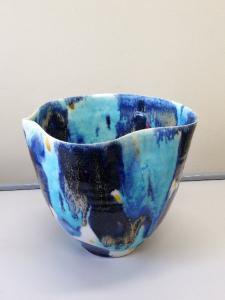 Janice Tchalenko, 1942
Blue turquoise vessel, thrown stoneware painted with coloured glazes, 2015, Ht 21cm
Janice Tchalenko trained as a potter at the Harrow School of Art. Her early hand-thrown tableware was in the studio pottery tradition with muted glazes, but after some ten years she began to introduce new shapes and boldly coloured glazes. She became chief designer at the Dartington Pottery in Devon, creating their signature ranges of batch-produced high-fired reduction stoneware. She also designed fabrics for Designers' Guild, and is working with Poole Pottery on designs for John Lewis.
She is a Fellow of the Royal College of Art and has lectured regularly throughout her career. She has collaborated with painters and sculptors, exploring the common ground between 'fine art' and ceramics, and is one of the most painterly of potters working today. Numerous public collections hold examples of her work.

Gift from Nicholas and Judith Goodison's Charitable Settlement, December 2015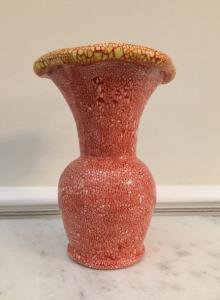 Kate Malone, 1959
Vase, white earthenware (T-Material), hand-coiled with coloured glazes, c.1990, Ht 31cm.
Kate Malone established her studio in London in 1986 after studying at Bristol Polytechnic and the Royal College of Art. The major influence on her work has been the "exuberant forms of nature, in particular buds, seedpods and fruits" (Amanda Game). She has experimented with glazes, relying on a deep experience of techniques from earlier European tradition, including salt-glaze and Sèvres porcelain, resulting in the highly coloured and textured glazes that she has become known for.
She makes pieces for collectors, and works with architects, designers and public art agencies on architectural commissions – she provided the exterior tiling for example at 24 Savile Row, London. She has a strong commitment to educational work with schools and colleges.
Gift from Nicholas and Judith Goodison's Charitable Settlement, May 2016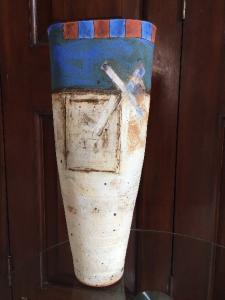 Robin Welch, 1936
Robin Welch studied at Penzance School and the Central School of Art in London. He worked at the Leach pottery in St Ives 1953-9, set up a studio in London and then in 1965 established Stradbroke Pottery in Suffolk. Like others, his initial work was heavily influenced by the Leach studio pottery tradition, but his training at Central School brought him into contact with tutors such as William Turnbull the painter and sculptor and Gordon Baldwin the potter, both of whom widened his horizons. He has combined design work for batch-production potteries such as Denby and Midwinter while producing his own pottery, paintings and drawings. He has taught in the USA and Australia and elsewhere and some of his later glazes (as in this piece) reflect his engagement with Australian colour. He is well represented in public collections and made a series of remarkable free-standing candle holders for Lincoln Cathedral.
Gift from Nicholas and Judith Goodison's Charitable Settlement, May 2016
Walter Keeler, 1942
Green Jug, thrown and modelled earthenware with Whieldon-style glaze, 2015, Ht 38.5cm
Walter Keeler studied at Harrow School of Art and Hornsey College of Art. After establishing his first studio in Buckinghamshire, he moved to Wales in 1976. Besides his life as a working potter he has been active as a teacher, lecturing regularly and serving as professor of Ceramics at the University of the West of England 1996-2002. He became known in the 1980s for his experimentation with the process of high gloss salt glaze which was much used in medieval times and in England on an industrial scale in the 18th and 19th centuries. He also developed the use of lead glazes after studying the North Staffordshire ware of Thomas Whieldon (1719-95), leading him to experiment with layers of colour. His eccentric shapes are often decorated with extrusions such as thorns which echo fragments of objects found on boyhood mudlarking expeditions along the Thames. His work is in many public collections.
Gift from Sir Nicholas Goodison FBA, November 2015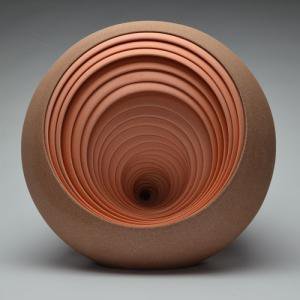 Matthew Chambers, 2016
Decrease Orange, hand-thrown stoneware coloured with oxides and stains, 2016, Ht 30cm
After learning to make functional ceramics as an apprentice to a local potter for seven years, Chambers studied ceramics at Bath and at the Royal College of Art, before setting up his own studio in Newport, Isle of Wight. His sculptural work derives, in his own words, "from a love of geometric and constructivist art, architecture, and design. Each piece is a constructed abstract exploration of shape combining traditional processes and contemporary form, designed to create a 'visual and tactile beauty and intrigue". The concentric layers of each section of the sculpture are thrown individually, and sanded and polished before and after firing. He has designed work for batch production for sale in Habitat. His work is in a number of public collections.
Gift from Nicholas and Judith Goodison's Charitable Settlement, October 2016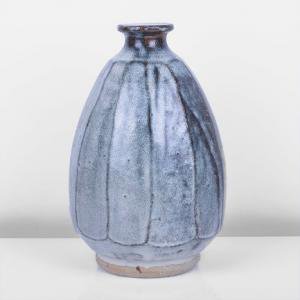 Jim Malone, 1946
Cut-sided vase, thrown stoneware, layered glazes, Ht 30cm
Malone studied ceramics at Camberwell in 1972, worked at Winchcombe Pottery (Ray Finch) for a year and established his own studio in North Wales before moving to Cumbria.
His stoneware pottery, with its brushed and incised decoration, reflects the influences of historic Chinese, Korean and South East Asian wares, and follows the tradition of British studio pottery stimulated by Bernard Leach and the Japanese makers such as Shoji Hamada.
His work is well represented in public collections.
Gift from Nicholas and Judith Goodison's Charitable Settlement, November 2016
Suzanne Bergne, 1939
Vase, porcelain, layered glazes, c.1985, Ht 26cm
Bergne is a British potter who is recorded as a member of the Craft Potters Association.
She exhibited bowls at the Abbot Hall Gallery, Kendal, in 1990 and took part in Art in Action in Oxfordshire in 1990-2.
Her work is represented in the Victoria and Albert Museum by two footed porcelain dishes with poured glazes, c.1984.
The catalogue states that she made them in Hong Kong.          
Gift from Nicholas and Judith Goodison's Charitable Settlement, November 2016
Gabriele Koch, 1948
Large Vessel, hand-coiled burnished porcelain (T-Material), with brushed slip, c.2000, Ht 37cm
Koch read history and political science at Heidelberg before taking a Diploma in Art and Design at Goldsmiths College, London.
She established her studio in London in 1982 and has specialised in distinctive and simple spherical clay vessels known for their carbon patterning caused by the smoke-firing in sawdust.
The vessels are waxed after being smoke-fired.         
Gift from Nicholas and Judith Goodison's Charitable Settlement, November 2016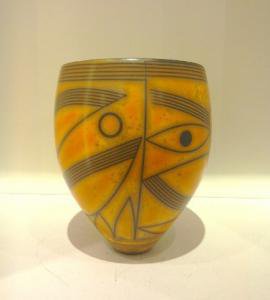 Duncan Ross, 1943
Vessel Form, thrown and burnished earthenware with terra sigillata slip, 2016, Ht 21cm
Ross studied at West Surrey College of Art in the early 1960s under Gwyn Hanssen Pigott, who inculcated into his work a simplicity of form.
For some years he taught and developed his painting career before taking to ceramics full time in 1989.
His interest in pattern is inspired by Greek and Roman ceramics and 20th-century artists such as Paul Klee and Joan Miró.
The Roman technique of terra sigillata, known particularly from Arretine ware, by building up layers of slip on the ceramic form, results in a glazing surface with depth and richness of colour.
Gift from Sir Nicholas Goodison FBA, November 2016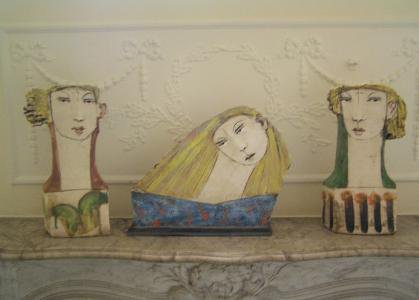 Christy Keeney, 1958
Three Portraits, sculpted slab earthenware, 2012, Ht 30-35cm
Christy Keeney is an artist who studied ceramics at the Royal College of Art. He worked in London for 17 years before returning to his native Donegal.
He uses a raku-fired body which is coated with a white earthenware slip. Coloured stains are then painted freely onto the dry clay. After the biscuit firing, oxides are rubbed into the piece and washed off to reveal the drawing marks which are finally fixed at a firing temperature of 1120'C. Keeney's flat heads are "representations of everyday people of no fixed abode".
Purchased 2012
David Frith, 1943
Vessel, thrown stoneware, 2012, Ht 76cm
David Frith studied at Flintshire Technical College, Wimbledon School of Art and the Stoke on Trent College of Art.

He set up a studio in Denbigh, North Wales, in 1963.
In 1975 he and his wife Margaret, also a potter, moved to the Malt House, Denbigh, and set up Brookhouse Pottery.
His early work was mostly in wood-fired earthenware, but he developed his skills in oxidised stoneware, mostly thrown, and reduction glazes.
He is a Fellow and ex-Vice Chairman of the Craft Potters Association.
His work is well represented in public collections.
Purchased 2012
Adam Buick, 1980
Moon Jar, thrown stoneware, wood-fired, glazed and textured, 2011, Ht 50cm
Adam Buick studied at Lampeter University and ceramics at the West Wales School of Art, Carmarthen, 2002-3. He set up his studio in Pembrokeshire, where he still works. He is fascinated with the landscape, its influence on human beings and their impact upon it. He was inspired by the Moon jars created in Korea during the Choson dynasty (1392-1910), which were originally made of plain white porcelain. He sees the form as symbolic of the planet, and adds glaze, texture and materials from the landscape in Pembrokeshire. In his own words, "My work uses a single pure jar form as a canvas to map my observations from an ongoing study of my surroundings. I incorporate stone and locally dug clay into my work to create a narrative, one that conveys a unique sense of place. The unpredictable nature of each jar comes from the inclusions and their metamorphosis during firing. This individuality and tension between materials speaks of the human condition and how the landscape shapes us as individuals." He is represented in several public collections.
Purchased 2011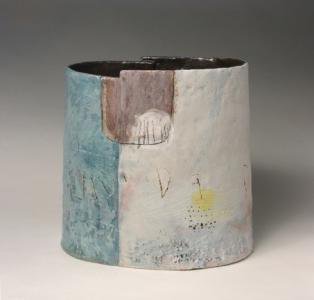 Craig Underhill, 1968
Early Morning, slab-built earthenware, 2015, Ht 26cm
Having studied at Portsmouth Polytechnic, Underhill set up the Bartonfields Studio with a fellow-potter.
He moved to Stourbridge in 1997, where he was also active as a teacher at Dudley College.
He specialises in slab-built forms, with abstract decoration derived from landscape.
He paints on canvas in a similar vein.
Purchased 2015
Carolyn Genders, 1957
Vessel, hand-built earthenware, 2015, Ht 34cm
Carolyn Genders studied at Brighton Polytechnic.
She set up her studio in Sussex in 1980 and was awarded a postgraduate diploma in ceramics by Goldsmiths College in 1986.
She takes a painterly approach to the creation of her vessels, often using vitreous slips rather than full glazes.
The main inspirations for her recent work have been the landscape and mid-century British painters. She has been actively involved in teaching.
Purchased 2015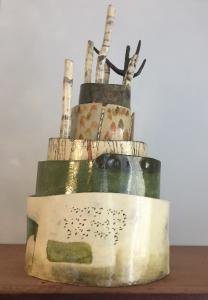 Anna Lambert, 1957
Large Bowl Stack, hand-built earthenware 2016, Ht 63cm
Anna Lambert studied 3D Design and ceramics at Bath Academy of Art, Corsham, and University of Central Lancashire.
After working at studios in Gloucestershire she set up Junction Studio, Crosshills, North Yorkshire which she shares with painter David Thomas.
She has exhibited widely throughout the UK and in galleries in Europe and USA.
Using slip and underglaze painting and simple printmaking methods, she has developed her hand-built earthenware to reflect a connection with her Yorkshire locality and the constantly changing environment.
Commissioned 2016
Sign up to our email newsletters