Six Academy Presidents (2002)
Oil on linen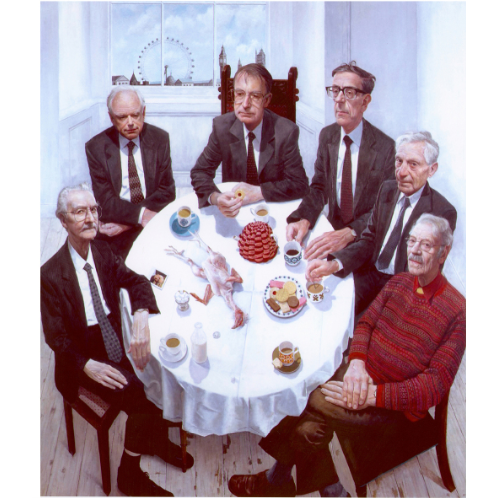 The commissioning of this painting coincided with the Academy's centenary in 2002, and depicts the six Presidents of the Academy who were then living.

Left to right, the painting shows:

Lord Quirk (President 1985–1989), who was Quain Professor of English Language and Literature, University College London where he was also Director of the Survey of English Usage. He was Vice-Chancellor of the University of London. He is author of A Comprehensive Grammar of the English Language.

Sir Anthony Kenny (President 1989–1993), who was Master of Balliol College, Oxford, and Warden of Rhodes House. He is an historian of philosophy. He is the author of Action, Emotion and Will and editor of The Oxford Illustrated History of Western Philosophy.

Sir Tony Wrigley (President 1997–2001), who was one of the founders of the Cambridge Group for the History of Population and Social Structure. He held academic appointments in Cambridge, LSE and Oxford. He was Master of Corpus Christi College, Cambridge. He is a co-author of The Population History of England (1981).

Sir Keith Thomas (President 1993–1997), who was Reader in Modern History and Professor (1986) at Oxford, where he was President of Corpus Christi College and is a Fellow of All Souls College. Among many works, he is author of Religion and the Decline of Magic and Man and the Natural World.

Rev'd Professor Owen Chadwick, OM KBE (President 1981–1985), who was Dixie Professor of Ecclesiastical History, and Regius Professor of Modern History in the University of Cambridge. He was Vice-Chancellor of the University of Cambridge and Chancellor of the University of East Anglia. He is author of The Victorian Church and A History of Christianity.

Sir Kenneth Dover (President 1978–1981), who was Chancellor of the University of St Andrews where he was Professor of Greek. He was President of Corpus Christi College, Oxford. He edited Greek texts, notably Aristophanes, wrote commentaries on Thucydides, and Greek Homosexuality.

Lord Runciman, President-Designate at the time of the painting, is just visible in a photograph on the table.

The painting won the NPG/BP Portrait Award in 2001. Charles Saumarez Smith, director of the National Portrait Gallery, said of the BP Portrait Award: "Three outstanding and ambitious works have won prizes and we are particularly pleased that this year's winner, most unusually, is a commissioned portrait."

Stuart Pearson Wright is a multi-prize winning painter, best known for his portraits of leading figures in the arts and literature. His work is influenced by the Flemish Old Masters. Of the chicken he has said, 'As soon as you put chickens in an unusual context they become macabre. The skin of a plucked chicken reminds me of the skin of a human being, particularly an old human being, so that the presence of a chicken for me becomes a memento mori.'
Sign up to our email newsletters