King Edward VII (1907)
Oil on Canvas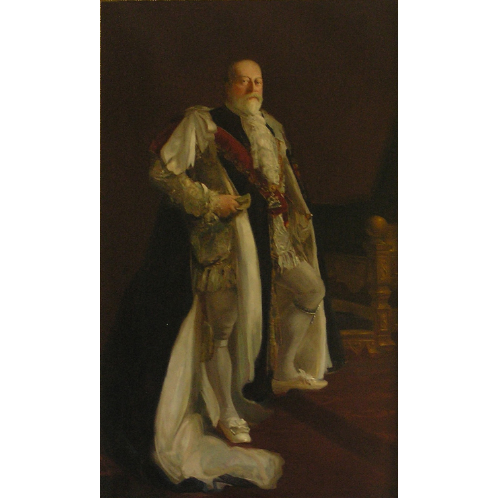 The Council Room contains an impressive Collection of Portraits selected by the Art Committee to adorn the grand walls.
The Portrait of Edward VII is of particular significance as he granted the Royal Charter to the British Academy in 1902 which established us as a body.
Edward VII was King of the United Kingdom of Great Britain and Ireland, and the British Dominions beyond the Seas, and Emperor of India (1901–1910). However, despite this, there are surprisingly few formal portraits of him. It is likely that he posed for it at the nearby St. James's Palace.

He was an enthusiastic patron of the arts, playing an important role in the planning of the Royal Albert Hall and the Royal College of Music and supporting the Royal Literary Fund. He was President of the Society of Arts and the 1851 Commissioners, as well as a Trustee of the British Museum, he supported Sunday opening and the move of the natural history collection to South Kensington.
Shortly after ascending the throne, in an attempt to broaden the character of national reward, he proposed an Order of Merit to mark distinction in the arts, sciences, literature, and the armed forces. John Morley FBA was one of the recipients that year.

The artist, Philip Tennyson-Cole was known for his large-scale portraits of aristocratic sitters. This portrait, of Edward VII, which was exhibited at the Royal Academy in 1908, was presented to the king by the President and Council of the Liverpool Chamber of Commerceand was once in the collections of the 9th Duke of Marlborough.
It then came into the possession of Sir and Lady Russell-Cotes, wealthy hoteliers, collectors and philanthropists from Bournemouth. Lady Russell-Cotes presented the portrait to the people of Bournemouth in 1919 and it now forms part of the collections of the museum established in their name.
There is a suggestion that royal sitter was not pleased by the positioning of his robe in the composition and that Cole had to make a later adjustment. Sadly, the painting is not its original frame which was surmounted by a gilt and gesso royal coat of arms, making the entire work more than three metres tall. A very similar portrait, dated a year later, is in the collections of the Walker Art Gallery, Liverpool.
Duncan Walker, Curator of the Collections at the Russell Cotes Museum is delighted that the portrait is now in Carlton House Terrace and on a recent visit noted that:
"Sir Merton and Lady Russell-Cotes were staunch royalists and so very proud of this portrait. They showed to Princess Beatrice, youngest daughter of Queen Victoria, and Prince Albert, the Duke of York and later King George VI, on their visits to Bournemouth in 1919. The Russell-Cotes' were keen for as many people as possible to experience their collections and so we are very happy to lend this painting to the British Academy, probably not very far from where the king posed for it."
Sign up to our email newsletters