Nine Female Vice-Presidents (2002)
Inkjet pigment print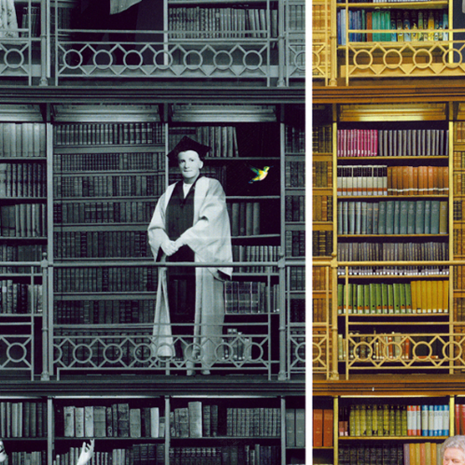 This photographic montage was commissioned to mark the Academy's centenary and to celebrate the female contribution to 20th-century scholarship. Nine female Vice-Presidents, four living, five deceased, are depicted in the old British Museum Reading Room. The picture complements the portrait of the Six Presidents by Stuart Pearson-Wright. At the time of the commission there had never been a female President of the Academy.

The left-hand panel shows, from top to bottom:

Dame Helen Gardner (Vice-President 1961–2), who was Reader in Renaissance English Literature and Merton Professor of English Literature at the University of Oxford. Her books include works on John Donne and T.S. Eliot.

Dame Lucy Sutherland (Vice-President 1965–6), who was Fellow and Tutor at Somerville College and Principal of Lady Margaret Hall, Oxford. She is well known for her work on politics and finance in the 18th century.

Dame Kathleen Kenyon (Vice-President 1964–5) who was Lecturer in Palestinian Archaeology of the University of London Institute of Archaeology, director of the British School of Archaeology in Jerusalem, and Principal, St Hugh's College, Oxford.

Professor Kathleen Tillotson (Vice-President 1968–9), who was Hildred Carlile Professor of English, Bedford College, London. She is best known for her works on the Victorian novel, twice winning the Rose Mary Crawshay Prize.

The right-hand panel shows, from left to right:

Professor Margaret Boden (Vice-President 1989–91), who was Professor of Philosophy and Psychology and Research Professor of Cognitive Science at the University of Sussex. She published widely on artificial intelligence and creativity.

Dame Gillian Beer (Vice-President 1989–91), who was Fellow of Girton College, President of Clare Hall, and King Edward VII Professor of English Literature, University of Cambridge. Her books include studies of Darwin, George Eliot and Virginia Woolf.

Dame Janet Nelson (Vice-President 1989–91), who was Professor of Medieval History at King's College London. She has published widely on early medieval Europe.

Professor Karen Spärck Jones (Vice-President 2000–02), who was Professor of Computers and Information at the University of Cambridge. She was a pioneer in natural language processing and information retrieval. [Professor Spärck Jones died in 2007.]

Professor Margaret McGowan (Vice-President 1996–8) who was Professor of French and Senior Pro-Vice-Chancellor, University of Sussex. She publishes on the French Renaissance.

Goto trained as a painter as well as a photographer and has used computers in his work since the 1990s. Of the portrait of the Vice-Presidents he said, "The challenge and intrigue of this commission was to picture together the five living Vice-Presidents with their four deceased predecessors... I wanted to think in this image about the dialogue between present and past generations of academics and the consistency of endeavour which binds them together."
Sign up to our email newsletters