Figures on Pedestal #1 & #2 (2013)
Papercut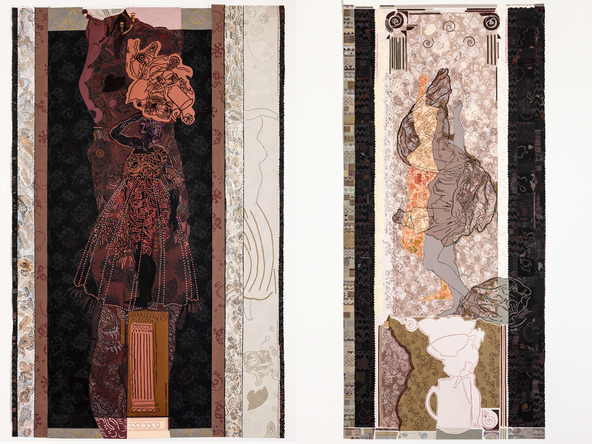 A leading figure in contemporary art, Charlotte Hodes' work profiles her long-standing engagement with the crossovers between the fine and decorative arts. She draws on craft processes to create imagery firmly situated within the language of fine art. She brings her considerable experience as a painter to both her extraordinarily intricate papercuts and large-scale installations in which ready-made ceramic ware serves as her alternative canvas. She has been a member of the Academy's Art Committee since 2021.
The female figure is Hodes' pivotal motif, an elusive but ever-present silhouette emerging from or blending into backdrops of tactile pattern and vibrant colour. The woman that wanders through her work is nonetheless a disruptive force, refusing her given role as decorative feature to take ownership of her environment and reclaim her autonomy.
Charlotte Hodes comments: "The depiction of women is the overriding concern in my work, and I draw upon its rich history in both the fine and decorative arts. My intention is to re-imagine the female figure for a contemporary audience.
In these papercuts I explore ideas around statuary and in particular how women are raised on pedestals. They constitute a collision between public and private, the domestic domain of women and notions of women as mere decorative elements.
The artworks are hand-cut, and are the result of hours of manual work, connecting me to those craft traditions associated with women, such as, embroidery and quilting. As in these traditions, my large-scale works are composed of tiny fragments and intricately cut passages that build together into a monumental whole. In Figure on Pedestal I, the woman has a pile of crockery on her head, a reference to the maid in Domenico Ghirlandaio's fresco, The Birth of John the Baptist (Santa Maria Novella Florence) and a further reference to female domestic activity.
In Figure on Pedestal II the woman is encompassed by swirling drapery, reminiscent of the sculpture of St Veronica by Francesco Mochi (St. Peter's, Rome) in which the drapery encompasses the imposing, authoritative saint while she is simultaneously stuck on a pedestal. They both give the impression that they are moving with purpose but are conversely trapped within a vortex.
My women are aware of the irony of having been finely balanced on pedestals. They have a quizzical attitude to their precarious predicament, and I draw reference from in particular, Antoine Watteau, Fête galante in a Wooded Landscape (The Wallace Collection) in which a nude is pictured as a sculpture coming to life, observing the scene before her. As an aside, she has insight and agency that gives her the option to get down from her pedestal and leave the stage at any time she chooses."
Charlotte Hodes reflects on the pieces and her development as an artist.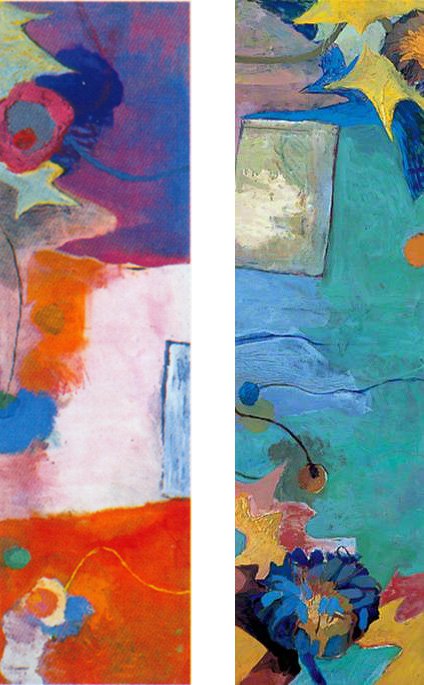 I made this pair of paintings, Flower Panel I & II, as an undergraduate student at the Slade School (1978-1982). As procedures were extremely informal during this period, I have no record for certainty, but I believe that they were selected by Sir Lawrence Gowing, the then Principal of the Slade School (and hung in the School offices for a while) as a consequence of my being awarded the Marion Richardson Prize for Painting. I was grateful for Gowing's support, as he was responsible for subsequently securing a place for me as a postgraduate student there in Painting, after I had unwisely, in his view, applied for a postgraduate place in Printmaking.
Flower Panel I & II represented my struggle to find a pictorial language and to shape a painted space. The elements in the paintings consist of still life objects, selected for their shape and colour, and their relative artificiality. I arranged these objects on the floor to emphasize their abstract qualities and painted them viewed from above.
I was deeply influenced by the structure and verticality of Chinese landscape paintings as well as the flat and patterned shapes that characterize Japanese wood cut prints. At that time, I was also looking at the work of the American abstract expressionists, such as Helen Frankenthaler and Robert Motherwell, alongside that of Patrick Heron, Édouard Vuillard, Pierre Bonnard and Wassily Kandinsky.
Reflecting now, thirty-five years later, I realise that these paintings contain many clues to how I was to develop as an artist, not least through colour and pattern as my building blocks for image making. It is also evident to me now that through looking at the 'real' world of objects, I was searching for a painted space that encompassed not only the world as I experienced it but also one onto which I could both project my imagination and create my own sense of order. My imagery has become increasingly layered, a poetic, imagined equivalent to the physical world around me.
At the time when I made these paintings, there was a huge gulf between my own identity as a woman artist and those 'feminist' artists who had rejected oil painting in favour of a more politically driven use of film and performance. It took me many years to harness my subject matter; the domestic, the feminine and the decorative, to create ambitious, formal artworks that spoke of a female, sensed internal landscape. Sonia Delaunay as well as Paula Rego (I was her first tutee at the Slade 1982-84 and she has remained a good friend) were important influences.
After leaving the Slade in 1984, I made paintings that were made up of parts suggesting a quality of collage, influenced by the first Turner Prize winner, the painter Malcolm Morley. I very soon then began to make large papercuts that became increasingly intricate. These formed the basis for my solo exhibition, Fragmented Images at the Wallace Collection in 2007, then under the directorship of Dame Rosalind Savill, the result of two fabulous years as Associate Artist at the Collection. The papercuts that I exhibited alongside a group of ornately worked ceramics were the result of visual research into the eighteenth-century fête galante paintings and Sèvres porcelain in the Collection.
I have used many archives and collections as source material for artworks including being the only contemporary artist to work at the Spode ceramic factory, where subsequent research in their archive of copper engravings led to my project Spode Trees & Dressed Silhouettes 2015 and Dressed in Pattern2016.
My iconography has become increasingly centred on the female figure featuring as a silhouette, juxtaposed with motifs loaded with female associated references such as the vessel, the dress and the domestic. I trawl from the fine and decorative arts, drawing from photographs, fashion, dance and 'home' life magazines.
---
Recent solo exhibitions include Remember Me: Charlotte Hodes Papercuts & Ceramics Wolverhampton Art Gallery, 2017, Grammar of Ornament: Papercuts & Ceramics jaggedart, London & New Hall Art Collection, Cambridge 2014; grants include AHRC 2005 & 2007, Arts Council England 2004 & 2013; awards include the Jerwood Drawing Prize 2006 and appointment as Professor in Fine Art at London College of Fashion, University of the Arts London, 2012.
Sign up to our email newsletters