Navigating the Old English Poor Law: The Kirkby Lonsdale Letters, 1809-1836
by Peter Jones and Steven King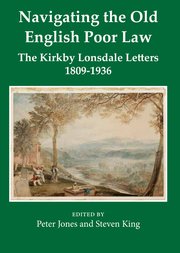 Date

24 Dec 2020

Price

£100

ISBN

9780197266816
This edition of over 600 letters written by or for the poor in the early nineteenth-century Cumbrian town of Kirkby Lonsdale provides a unique window onto the experiences, views and conditions of a much-neglected group in English society. At the most human level, these letters are replete with sickness and suffering, the inability of mothers and fathers to fulfil their basic roles, claims that people were starving and naked, writers who were at death's door and those who were homeless and desperate.

The letters also provide a sense of the emotional landscape of those who have largely escaped the attention of historians of emotion. Here we find anger, suffering, gratitude, hopelessness, fear, humiliation and humility, largely in the words and voice of those who experienced such emotions. And above all we find agency - a group of poor people and their advocates who were willing and able, indeed saw it as their right, to challenge those who administered welfare and attempt to shape a system which notionally at least afforded them no power. Here, then, are ordinary lives played out on a canvas that will be appealing to a wide readership.
Navigating the Old English Poor Law: The Kirkby Lonsdale Letters, 1809-1836 is available to purchase from OUP.
Also available in the Records of Social and Economic History series are Norfolk Pauper Inventories, c. 1690-1834, and Essex Pauper Letters, 1731-1837.
Sign up to our email newsletters