The Right Skills: Celebrating Skills in the Arts, Humanities and Social Sciences (AHSS)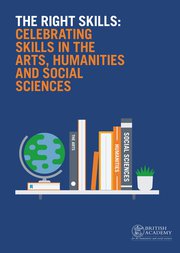 Date

20 Nov 2017

ISBN

978-0-85672-621-7

Number of pages

70
The British Academy's Skills project has sought to articulate and celebrate the skills gained through studying arts, humanities and social sciences (AHSS), and to lead a high-level debate about the value of these skills to the individual, to society and to the economy.
Despite the uncertain future ahead for the economy and labour market, high-skilled jobs will become increasingly essential to guarantee the UK's success. Demand is growing for individuals to be equipped with higher level skills which they can deploy in different contexts, whether in a career which may cross many sectors of employment or within a research community which is increasingly interdisciplinary. Improving the UK skills base is critical to increasing productivity and meeting the challenges created by the decision to leave the EU and the constantly changing world of work.
The Academy believes the arts, humanities and social sciences provide a rich context for the development of higher level skills and lifelong learning that will allow the workforce of the future to cope, adapt and thrive.
The report looks at how these skills are taught, learnt and applied in society, drawing on existing evidence and generating new evidence through commissioned research. It includes recommendations of areas for further action which will set the agenda for the Academy's programme of work on skills to 2020, but also create a context for developing new partnerships with policy makers, organisations and businesses across the sector.
We believe there has never been a better time for Government, businesses and education professionals to work together to rise to the challenge of creating the highly-qualified workforce of the future and delivering a modern industrial strategy.
The report's Summary is given below.
The full portfolio of evidence that underpinned this report is available to download here. 
For more information, please contact Maxime Delattre (m.delattre@britac.ac.uk)
---
SUMMARY
Introduction
The arts, humanities and social sciences help us to understand ourselves, our society and our place in the world. They are vital to our ability to understand and learn from the past and analyse the present, in order to innovate and build for the future.


The services sector represents 80% of the UK's economy, and it has a crucial role to play in the UK's current and future economic growth. The financial services, legal services, professional services such as IT, accountancy and architecture, heritage, hospitality, retail and advertising, and the rapidly growing creative industries, depend on the skills which study of the arts, humanities and social sciences develops. These are areas in which the UK has a strong competitive advantage, and which can contribute to raising the productivity of our economy and to growing the nation's overall wealth.


We need a better understanding of whether the UK has the right balance of skills for the future. So it is timely to hold a debate about the place of education and skills in securing prosperity for society. It is critical that the arts, humanities and social sciences are included at the heart of this debate.


This is the first overarching study of the skills developed through the study of the arts, humanities and social science. In this report we identify the skills which are innate to the study of these disciplines, and look at the contribution which their graduates make, to the economy through the employment routes they take and in other ways they engage with society.


The study is underpinned by a body of evidence which includes new analyses of data on employment outcomes of graduates and focus groups with students, as well as existing literature.


What skills does the study of AHSS develop?
We have identified a common core of skills shared across the arts, humanities and social sciences (AHSS).


Our analysis has shown that this core of skills is shared by undergraduate and postgraduate students, and early career researchers, although the level of proficiency changes as an individual becomes more advanced in their study.


These can be divided under three broad headings:


communication and collaboration;


research and analysis and;


attitudes and behaviours characterised by independence and adaptability.





In addition to this set of core skills, there are skills more specific to individual AHSS disciplines, including languages, high-level numeracy, qualitative analysis and data processing skills, geospatial skills and practical production skills, content production, recording and broadcasting and archival retrieval skills.


The arts, humanities and social sciences provide a particular context for the development of skills with an understanding of the human dimension in which they can be applied. AHSS students are able to use their skills in employment, research, education and broader social contexts in ways which are complementary to the skills and knowledge gained from other disciplines.


Communication and collaboration
Communication
Clear and coherent explanation and description


Persuasive argument underpinned by evidence


Appropriate to purpose and audience, in tone and format, using technology in ways which help convey the message


Working with others
Listening to and recognising different viewpoints, being sensitive to cultural contexts


Working with others to achieve common goals, using diplomacy and negotiation Taking on different roles and respecting others' views


Leading and motivating others, by understanding how to influence human behaviour


Research and analysis
Designing research and collecting evidence
Formulating a research question and determining the evidence needed to answer it


Locating and retrieving textual, numerical and visual information from existing sources


Generating information through primary data collection


Organising information from multiple sources, recognising its relevance and identifying gaps


Analysing
Manipulating information and data, using technology where appropriate


Applying qualitative and quantitative methods of analysis


Assessing what the evidence might mean, recognising where it is incomplete, ambiguous or unreliable


Evaluating findings to come to a conclusion, taking into account different perspectives and evaluating the complexity of the material


Critical thinking and reflection on taken-for-granted 'answers' to problems and value assumptions


Decision making
Establishing criteria and evaluating evidence against them


Generating a range of recommendations and assessing the merits of each


Taking responsibility for the decision reached


Attitudes and behaviours
Independence
Working autonomously and motivating themselves


Enthusiasm for enquiry, using initiative and taking responsibility for achieving goals


Self-discipline, organisation and time management


Problem solving
Applying knowledge to find solutions, in a creative and innovative way


Using resources effectively


A positive, proactive and receptive attitude


Adaptability and creativity
Willingness to try different approaches, open and receptive to new ideas


Ability to anticipate and accommodate change


Commitment to ongoing learning and development, building on strengths and addressing weaknesses


What contributions do AHSS graduates make?
To the economy…
Our evidence shows that AHSS graduates are employed in a wide range of sectors and roles across the workforce, from financial services to education, social work, the media and creative industries. AHSS students have skills which open up a wide range of options, across the private, public and third sectors.


AHSS graduates are able to move between careers over their working life, using their generic skills to adapt to different industries and become successful leaders and managers. In addition, there are a number of discipline-specific employment routes, and AHSS graduates are also found throughout the creative industries and the cultural sectors, where they apply the skills and knowledge of their disciplines more directly.


---
The results of research from the British Council in 2015, showed that over half of global leaders have either a social sciences (44%) or arts or humanities (11%) bachelor's degree.
A closer look at the education background of Chief Executives of FTSE 100 Index Companies revealed that 58% have studied AHSS at some stage in higher education.
A recent survey conducted by NESTA in relation to the last UK General Election demonstrated that 62% of the candidates had an AHSS background.
The 2015 Fast Stream and Fast Track Annual report revealed that over 65% of the successful candidates in the Civil Service had an AHSS background (humanities (24.3%), economics (20.5%) and social sciences (20.4%).
---
To society…
AHSS graduates contribute to society in many ways:
They are a highly-skilled workforce employed in sectors which underpin society's cohesiveness;


They become academics who produce world-leading research which underwrites the social and economic health, wealth and reputation of the UK;


They are active and engaged citizens and responsible media professionals;


They contribute to arts and culture and the wellbeing of the wider population.


Their skills of critical analysis, problem solving, negotiation and communication, speaking other languages and understanding other cultures has intrinsic value with huge benefits for society, contributing to social cohesion at home and the UK's prosperity and security abroad.


Are AHSS graduates fit for the future?
Technological, socio-economic, geopolitical and demographic changes are transforming the way we work. New jobs are constantly being created, and existing roles evolve.


We have found that AHSS graduates are well placed both to shape the future and to take advantage of the opportunities the future will present.


Growth in high-skilled jobs and increasing demand for high-level skills
Skills such as teaching, social perceptiveness and coordination, and related knowledge from disciplines including psychology and anthropology, will be vital for organisations to operate in a cultural context where globalisation and digital technology are at the forefront.


AHSS graduates are well placed to meet this demand, with skills in collecting and analysing evidence, decision-making, creativity and recognition of multiple perspectives.


AHSS graduates also bring an understanding of the human consequences of developments such as artificial intelligence, which can be used to shape the legal, moral and ethical frameworks which need to be created as part of the new digital age.


The UK must recognise and invest in these high-level skills, which are crucial for the jobs of the future, the UK economy, and ensuring that our graduates are ready and can flourish in a global marketplace.


We recommend that Government continues to invest in research and education in AHSS to enable the disciplines to make a difference in solving the challenges of the future.
Adaptability, flexibility and life-long learning
We know that in future we will need to be ready to adapt to changing circumstances and demands, and be comfortable navigating uncertainty.


AHSS graduates develop the skills to deal with this: a positive, open mindset, and willingness to try different approaches, anticipating and accommodating change. They also demonstrate a commitment, desire and ability to constantly improve their own learning and performance.


Our evidence shows the depth and diversity of AHSS graduates' careers, across many different sectors of the economy, and the private, public and third sector. But our research has also shown that it is difficult to track the varied career paths that many AHSS graduates take, particularly for postgraduate research students in employment outside higher education.


It is vital that the future development of data sets to measure the contribution of graduates recognises all the dimensions of the contribution AHSS graduates make and do not become crude metrics based on salary.


We recommend that Government, universities, higher education sector bodies, learned societies and employers work together to build a collective strategy for collecting evidence about the career paths of AHSS students so that the contribution they make to society and the economy can be properly measured and celebrated.
Entrepreneurial skills
Entrepreneurial skills, the ability to generate new ideas and turn them into a new venture or business, will be key for future workers, whether self-employed or within an existing company.


AHSS graduates have the latent skills to allow them to flourish as entrepreneurs. Their positive attitude, originality, creativeness and openness to new ideas, flexibility, ability to work autonomously and motivate themselves, combined with their strong communication, collaborative and team working skills make them ideal entrepreneurs.


Support is needed to enable this huge potential to be fully realised.


We recommend that universities continue to encourage and support AHSS students to develop a mindset of innovation and enterprise, to prepare them for roles in a global future where change is constant and where working environments are likely to be more fluid than they were for previous generations of graduates.
The ability to reason and thrive in a data and digital-driven environment
The ability to understand and interpret data developed through the study of AHSS is an essential feature of life in the 21st century: vital for the economy, for our society and for us as individuals.


With the explosion of videos, blogs, podcasts and social media publications, in the future we will not only need to be digitally literate but will need to be able to manage a world rich in information streams and deal with cognitive overload.


AHSS disciplines offer a rich context for developing these skills and applying them to real-life situations, as well as making the acquisition of such skills open to a far wider range of students.


The ability to thrive in a global context
We live in an increasingly diverse, multicultural society. In an increasingly global labour market and with more mobility in the workforce, the world is more interconnected than ever. Language skills, intercultural understanding, global awareness and an international mind set will be crucial for the future of the UK economy, society and for UK security and diplomacy.


AHSS graduates are already equipped with many of the skills required to thrive in a global context. These skills are not just limited to language and area studies graduates, but are found in many AHSS disciplines, including for example in history and geography, along with the broader skills of communication, diplomacy, negotiation and empathy which are shared across AHSS disciplines.


We recommend that Government, universities and learned societies work together to realise the potential and added value of AHSS as a context in which language, digital and data skills can be developed to ensure that the UK has the skills needed for productivity and growth in the 21st century.
An interdisciplinary approach
In an age of rapid and far-reaching social and technological change, the big challenges facing society will only be resolved through the application of multiple perspectives and insights from a range of disciplines. Individuals will need to interpret and understand concepts across several disciplines as well as be able to work alongside those from other disciplines to combine and integrate knowledge and skills together to solve complex problems.


AHSS graduates are effective communicators and listeners, with the knowledge and expertise necessary to work with others to achieve a common goal and understand their own and others' unique contributions. Their openness and willingness to try different approaches are essential skills for effective interdisciplinary work and working with colleagues from other disciplines.


Education at all stages needs to provide opportunities in which these skills can be applied and refined.


We recommend that Government and universities, working with learned societies, ensure that the curriculum at all stages of education in schools and higher education has opportunities for breadth and interdisciplinary working, in order to create a rounded, balanced population and workforce.
An engaged society embracing the challenges of the future
AHSS graduates participate in and contribute to civil society, both in the UK and globally, drawing on their understanding of the human dimensions of society. Engagement with the arts and culture helps individuals understand themselves and their lives and appreciate the diversity of human experience and cultures.


AHSS graduates are valued in a wide range of professions, not necessarily dependent on the specific knowledge of the subject they have studied. Their strong generic skills and flexibility mean that they are able to adjust to the requirements of work in many different areas. Others go into specialist employment routes which are vital to society, or go on to become the next generation of researchers enabling the disciplines to continue to contribute to the cultural, social and economic health, wealth and reputation of the UK.


It is vital that this contribution continues to be recognised and valued.


We recommend that the AHSS subject community, universities and employers work together to recognise, promote and signal the distinctiveness of the skills which students of AHSS demonstrate, and to increase understanding of their contribution to the economy and wider society among employers, prospective students and the public.
---
Sign up to our email newsletters